The University of Michigan (UM) has commissioned Preston Scott Cohen and Integrated Design Solutions to design a $28 million expansion for its 40-year-old design building. Primarily planned to be used by the school's architecture program, the new addition will include classrooms, studios and offices, as well as the renovation of existing studios. The news comes five years after schematic designs for the original expansion were abandoned. More information, here.
Known as an architect, artist and cartoonist, Jimenez Lai has lectured on and exhibited his work nationally and internationally. He is known for his imaginative cartoon narratives and architectural installations. He is the founder of Bureau Spectacular and currently an assistant professor at University of Illinois at Chicago. His graphic novel, Citizens of No Place, will be published by the Princeton Architectural Press with a grant from the Graham Foundation this year.
Check out his past installations, previously featured here on ArchDaily.
As many of us have already realized, sustainable design contributes to an awareness of environmental patterns and thereby creates communities that are more resilient to the devastating effects of the natural disasters that we have seen across the globe in recent months.  Many people have accepted the cause and effect relationship that exists between current practices – those that pollute water and food sources, strip minerals, disturb fault linesand throw off ecosystems – with the rapidly increasing changes in climate.  For those that do not, U.S. Green Building Council and the University of Michigan  released this report:  Green Building and Climate Resilience: Understanding Impacts and Preparing for Changing Conditions, which addresses pre- and post-emergency management situations while stressing a consciousness about the environment and ways in which to design and build communities that are physically and structurally prepared for natural disasters.
More on this report after the break.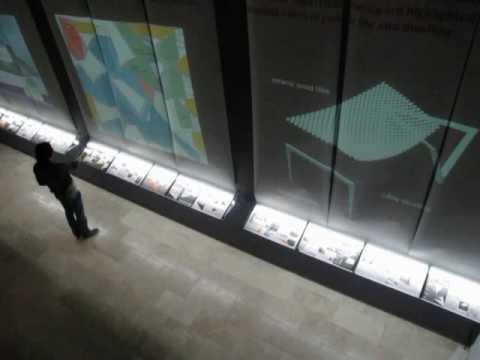 "Monuments + Bits; Work by Khoury Levit Fong" is an exhibition that combines parametric modeling and fabrication techniques with emerging responsive media to present architecture and urban design projects in an interactive and digitally augmented environment.
The exhibition opened at the University of Toronto's Eric Arthur Gallery on September 28 2009 and is currently at the CMYK Gallery of the University of Michigan's A. Alfred Taubman College of Architecture and Urban Planning, running until the end of December 2009.
"Monuments + Bits" dramatizes the event of collective monuments and their tense relationship to the immediacy of individual experience. Conventions are recast through new parametric capacities in the production of architectural form, while current developments in interactive media refashion perceptions of the fixity of the built environment.