Italian architects Anton Pramstrahler and Alex Niederkofler plan to construct a "Lookout Tower" in a woodland near the town of Bruneck, Italy. Comprised almost entirely of wood, the twisting structure will provide a scenic space for respite and contemplation while blending into the surrounding growth with a fanned façade that mirrors the trees' roots and canopies.
BLUE TAPE, the winning proposal of an international competition to design an Architecture School adjacent to the American University in Dubai, "is a vertical re-imagining of the typical architecture school typology." Submitted by USC alumni Evan Shieh and Ali Chen, BLUE TAPE, which transforms a horizontal pin-up space into a vertical 'conceptual connector,' is inspired by USC's 'Blue Tape Reviews' (their method of pinning up work for design reviews).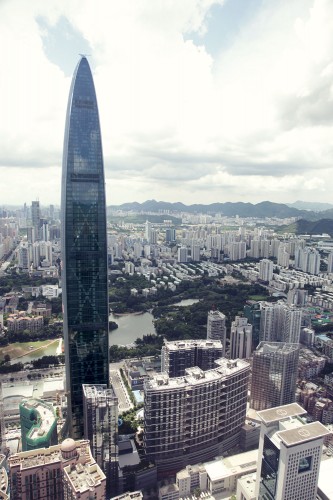 Every January the Council on Tall Buildings and Urban Habitat conducts a review of skyscraper construction and compiles all the data from the previous year. The trend since 2007 has seen record breaking years for buildings taller than 200 meters completed, with 88 skyscrapers completed in 2011. Even as the global economy is slowly recuperating from the 2008 financial crisis, it would appear as though this trend will remain relatively stable. China, leading the pack at 23 completed towers is predicted to remain at the forefront of skyscraper market, followed by Middle Eastern countries in the next decade.  UAE, South Korea, and Panama City – an up and coming cosmopolitan city – rounded out the top four. Of the towers completed in 2011, 17 have made their way into the top 100 tallest buildings – Shenzhen's Kingkey 100, at 442 meters crowning this year's list. More after the break.