Developer X is an installation piece by Reigo & Bauer that chronicles a fictional, philanthropic, vigilante developer, who during the night anonymously drops Pre-Fab modern houses on empty lots throughout the city.
Troubled by the disconnect between our present day lifestyles and new housing that emulates the past, Developer X believes that Torontonians, given the chance, will embrace contemporary houses – houses designed to suit our current ways of living and adopt new and innovative technologies in construction and design.
Residential architecture that looks forward, not backwards, is a plausible alternative. This installation will be included in Neighbourhood Maverick, an exhibition that opens at Toronto's Harbourfront Gallery today until June 12. For more information, click here.
Architects: Montgomery Sisam Architects
Location: Toronto, Canada
Principal in Charge: Santiago Kunzle
Project Manager: Geordon Green
Collaborator: Leslie Parker
Project area: 12,000 sq. ft.
Project year: 2007
Photographs: Tom Arban
Architects: nkA (Nelson Kwong Architect)
Location: Toronto, Ontario, Canada
Architect team: Nelson Kwong, Neal Prabhu, Leroy Shum, Eline Lu
Collaborators: Red Box Design – Branding, Signage, Packaging Design, Graphics(Amy Czettisch, Tatjana Green)
Project area: 2,600 sq. ft.
Project year: 2010
Photographs: Abel Gill
Department of Unusual Certainties is a Toronto-based research and design collective working at the interstices of urban design, planning, public art, spatial research and mapping  have shared with us their contribution to the John Street Ideas Competition, held by the Toronto Entertainment District BIA,  entitled StairSpace. The competition called for a new public space concept as the center point of what has been dubbed a major cultural axis in the Toronto – John Street. More details of DoUC's submission after the break.
The John H. Daniels Faculty of Architecture, Landscape, and Design at the University of Toronto is collaborating with the Design Exchange to present the Daniels / DX FORA: a series of moderated debates focusing on new ideas, design practices and designers who are working at the intersection of Architecture, Media, Science, Politics and Urbanism in various international arenas. Following upon the success of the first fora, The Ends of Design, which was filled to capacity and featured Toronto luminaries Bruce Kuwabara and Bruce Mau, the second fora will take place Tuesday, November 23rd, 2010.
Breaking the Surface will explore the new science and aesthetic of the architectural surface, especially in regard to how the study of biomimetic form and the parametric turn in design are informing new modes of design and construction. The panelists include Cecil Balmond, an architect and designer, hailed by London's Guardian as "one of the most important forces in contemporary architecture today,"; Professor Harry Ruda, a "surface" breaking scientist and Director of U of T's Centre for Advanced Nanotechnology; and Nader Tehrani of Office dA, one of the designers of the new Daniels Faculty expansion and the head of MIT's Architecture Department. This thought-provoking discussion will be moderated by Dean Richard Sommer.
For more information, click here.
Authors: United Visual Artists
Location: Toronto, Canada
Commissioners: Cadillac Fairview, Lanterra Developments, Maple Leaf Sports
Public Art Consultants: Public Art Management – Karen Mills and Justin Ridgeway
Dimensions: 90 metres x 3 metres
Project Year: 2010
Photographs: James Medcraft, United Visual Artists, 2010
WORKshop will present its second exhibition from July 9th through October 2nd. Designed by the Toronto architecture firm Khoury Levit Fong, Scentscapes: Immersive Environments Inspired by Xi'an, will feature drawings of a public garden currently under construction in one of China's ancient capitals, Xi'an, along with a site-specific installation titled Scent Squadron.
The team of Khoury Levit Fong, with students Drew Adams, James Dixon, Lindsay Hochman, Fadi Masoud, Khalid al-Nasser, and Farhana Sharmin will install a 'vaulted pine forest,' an array of suspended scent-dispensing vials. The title 'Scent Squadron' obliquely invokes the famous 210-209 BC Terracotta Army near Xi'an, one of the world's great works of funerary art. WORKshop's Scentscapes is being presented simultaneously with the Royal Ontario Museum's nearby exhibition, The Warrior Emperor and China's Terracotta Army, which runs from June 26, 2010 to January 02, 2011.
Hariri Pontarini Architects shared with us their project One Bloor East, a 753,968 sf residential project in Toronto, Canada. The 687 units are currently under construction. You can see more images and architect's description after the break.
It starts with one can. To feed the hungry. To lift the spirit. To change the world. Canstruction, an event committed to ending hunger, is using 'one can' as a catalyst for change.
Canstruction® is the most unique food charity in the world! The 12th annual Toronto event hosted annually at the Toronto Dominion Centre. So far, Toronto has raised almost 500,000 lbs of food for the Daily Bread Food Bank.
Think you have what it takes to design and build a structure made of nothing more than canned food, ingenuity, and luck? Enter today and download the call for entries at http://www.canstructiontoronto.org. Seen at Bustler.
Toronto-based architectural firm Hariri Pontarini Architects in collaboration with Great Gulf Homes has recently revelaed the new design for One Bloor, a mixed-use residential condominium tower in Toronto, Canada.
More images and architect's description after the break.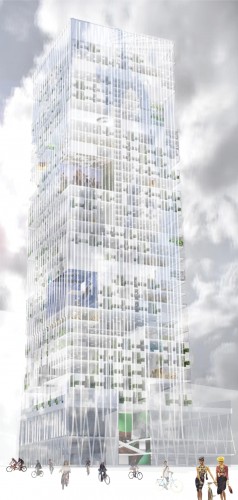 Swedish architects We Are You were recently awarded 1st price in a competition for their proposal "Have a Nice Day" for a new student residential house in Toronto, Canada. You can see more images, a video, and the architect's description after the break.
Currently in construction, Sherbourne Park is built upon the abstraction of an iconic Canadian Great Lake landscape. Integral to the park is the Teeple Architects designed Pavilion. This 227m2 sculpturally shaped, zinc-clad structure will function both as an iconic moment in the park and as an abstracted arch that frames views to the lake. I
t will also serve as an urban connector that fuses the various elements of the park together. The Sherbourne Park Pavilion is an instrumental component of large scale initiatives to revitalize the City of Toronto's waterfront.
Full architect's description and more images after the break.
Design Challenge: The elevated Frederick G. Gardiner Expressway has been a controversial element of the Toronto skyline since it was completed in 1966. In recent years, public debate has been intensifying over whether its future should be a renovation, relocation, or complete removal. While many plans and proposals have been put forth over the years, none have produced a sufficiently compelling vision for a new urban identity and truly functional transportation system.
Waterfront Toronto and the City of Toronto are seeking input from the world's most talented and creative design and engineering professionals in developing bold new concepts for the future of the elevated Gardiner Expressway and Lake Shore Boulevard, including the adjacent lands. The goal of the Innovative Design Competition is to produce a bold solution or series of bold solutions that can generate broad consensus on the best way forward for the eastern portion of the elevated Gardiner Expressway.
The intent of the Innovative Design Competition is to infuse the Environmental Assessment process with incisive design ideas and bring creative new solutions to the table. For more information about the submission requirements, click here.
Architects: Levitt Goodman Architects
Location: Toronto, Canada
Client:  Janna Levitt and Dean Goodman
Design Team: Dean Goodman, Janna Levitt, Daniel Bartman
Structural Engineering: G.D. Jewell Engineering Inc.
Landscaping & Green Roof: Gardens in the Sky
Lighting Design: in collaboration with Castor Design
General Contractor: Boszko & Verity Inc.
Project Area: 144 sqm
Project Year: 2006
Photographs: Ben Rahn/A-Frame
Nestled among the Forest Hill neighborhood in Toronto, Paul Raff Studio's latest sustainable residence is "a marriage of environmentally responsible building strategies and elegant architectural composition."  The 353m2 residence, entitled the Cascade House, is designed in an I-formation around an outdoor swimming pool and offers a high quality of aesthetics in addition to environmentally friendly strategies.
More about the home after the break.