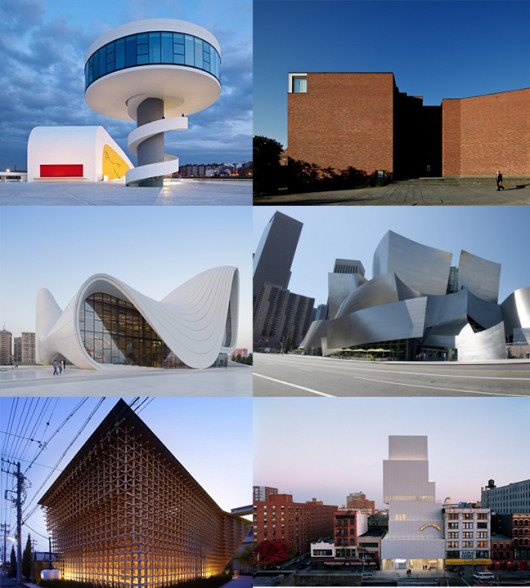 In case you missed it, we're re-publishing this popular post for your material pleasure. Enjoy!

To celebrate the recent launch of our US product catalog, ArchDaily Materials, we've coupled six iconic architects with what we deem to be their favourite or most frequently used material. From Oscar Neimeyer's sinuous use of concrete to Kengo Kuma's innovative use of wood, which materials define some of the world's best known architects?
Architects: Claesson Koivisto Rune
Location: Kyoto, Japan
Project team: Mårten Claesson, Eero Koivisto, Ola Rune, Kumi Nakagaki, Patrick Coan
Client: Shigeo Mashiro, Ricordi & Sfera co., ltd.
Contractor: Sugawara Construction co., ltd.
Total floor area: 1,200 sqm
Project Year: 2003
Photographs: Åke E:son Lindman, Nacasa & Partners inc., Johan Fowelin
In Beijing is not all about Olympics. The National Grand Theater, by Paul Andreu is a magnificent and gigantic project finished a few months ago, complementing all the infrastructure been built for the big sports event.
The project description after the break.
Architects: Sponge Architects & Rupali Gupta in cooperation with IOU Architecture
Location: Amsterdam, Netherlands
Client: Ronald McDonald VU-Kinderstad
Area: 1000sqm
Construction start: May 2006
Completion: February 2008
Building contractor: BAM Utiliteitsbouw, Amsterdam
Structural Engineer: DHV, Rotterdam
Installations: Kropman, Utrecht
Photos: Kees Hummel