A marketplace is typical for most Turkish city districts. They provide a point of cohesion for the community, acting as an economic hub, a landmark, and an impromptu park. In the rapidly developing Sultangazi district of Istanbul, however, such a public place has yet to be seen. To remedy this, Suyabatmaz Demirel Architects have recently proposed a combination market hall and car park for the middle of this populous residential area.
Suyabatmaz Demirel Architects shared with us their design for the Goksu Rope Factory Lofts in Istanbul. The new owner of this derelict factory wanted to turn his investment into a high-end residential project consisting of various sized lofts. After visiting the site, our major concern became clear. Since the 17.000m2 building was used many years for industrial production, it should still deliver the authentic atmosphere even after it has been rehabilitated for new functions. In order to keep the intangible precipitation of this place, a subtle and humble design strategy was necessary. More images and architects' description after the break.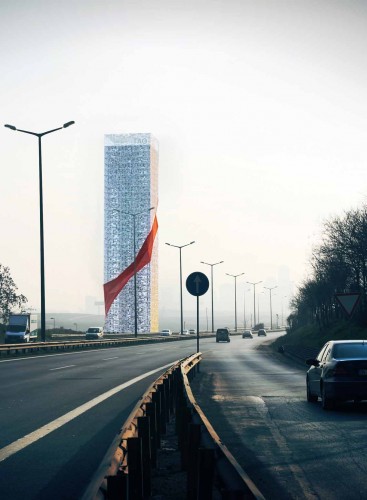 The TAO Office Tower, designed by Suyabatmaz Demirel Architects, has been designed as a high-rise building so as to play a symbolic figure in the Financial Center Project where it is located. Located on a sloped land on the northwest side of Atasehir Financial Center area in Istanbul, TAO Office Tower has many determining features to be a part of a mega finance district in the context of location, topography and urbanism. More images and architects' description after the break.
Istanbul based architecture office Suyabatmaz Demirel designed the Walk-in Cinema inside the SALT Beyoglu building which is almost a cul-de-sac attached to Istiklal Street, one of the most important pedestrian zones of Istanbul. The 19th century apartment located here was refurbished to be the home of SALT, a non-profit cultural institution which opened just last month and in a very short time became one of the most active cultural institutions in the city. This open platform is designed to host the events, screenings and impromptu public projects that SALT will program and encourage. More images and architects' description after the break.