Concrete construction has been an important part of architectural practice since the Roman Empire. Extremely malleable, fluid concrete is capable of being poured into almost any conceivable form. In theory, this makes it an ideal building material. In practice, however, creating complex forms out of concrete is extremely inefficient. Pouring on sight requires formwork that is painstakingly made by hand, and precast concrete is usually limited by orthogonal molds. Concrete has become restricted to a few simple forms that are easy and cheap to produce when, in many cases, a building would benefit from concrete casting that is optimized for its structural and economical needs. How do we make such optimization feasible? This is the question that the EU sponsored TailorCrete has attempted to answer. A research consortium lasting for four years, TailorCrete is exploring new technologies that could make non-standard concrete structures commonplace.
As the culmination of a 14-month initiative to examine new architectural possibilities for rapid growth in six megalopolises – Hong Kong, Istanbul, Lagos, Mumbai, New York, and Rio de Janeiro – the Museum of Modern Art is preparing to open Uneven Growth: Tactical Urbanisms for Expanding Megacities on November 22. The exhibition will present mappings of emergent modes of tactical urbanism from around the globe alongside proposals for a bottom-up approach to urban growth in the highlighted cities by six interdisciplinary teams made up of local practitioners and international architecture and urbanism experts.
Curator Pedro Gadanho, in collaboration with the Austrian Museum of Applied Arts (MAK), states: 
"The exhibition features design scenarios for future developments that simultaneously raise awareness of the prevailing inequalities in specific urban areas and confront the changing roles of architects vis-à-vis ever-increasing urbanization. Each team in the exhibition was asked to consider how emergent forms of tactical urbanism can respond to alterations in the nature of public space, housing, mobility, spatial justice, environmental conditions, and other major issues in near-future urban contexts." 
A synopsis of each team's work, after the break.
Last week we went to Ingolstadt, Germany, to attend the launch of the Audi Urban Future Initiative. The program, now in its second version, invited a group of six architecture offices from different regions of the world, all with big urban populations, to think about the future of mobility. During this stage, the architects presented their initial research and diagnosis of their respective regions. In October, the architects will present their projects and an overall winner will be announced.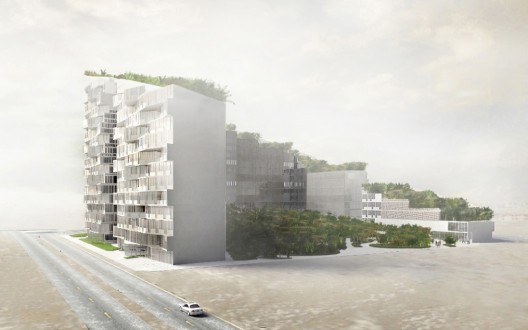 A few weeks ago Superpool surprised me with one of the best library designs I have seen in a while: the Open Library in Istanbul. A small area, a rich public space.
But the office has also been working on two large scale residential projects in Turkey: Konya Residence and Dagos Tower (will be featured on a future article). Both projects propose innovative strategies in terms of dense housing. I´m eager to see how this projects develop and materialize in the future.
About the Konya Residence: