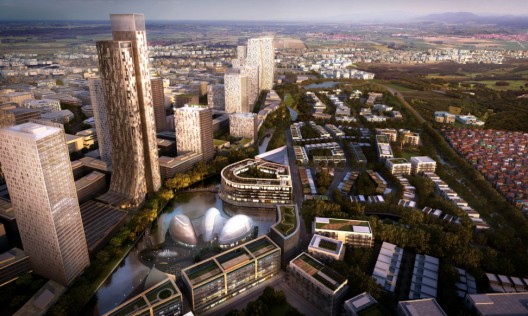 The commission for a Green Tech City in Hanoi, Vietnam was recently awarded to Skidmore Owings & Merrill.  SOM's preliminary master plan focuses on reducing demand for non-renewable resources while integrating local traditions and utilizing the existing green urban character of Hanoi.  At the heart of this new green district is a riverfront park.  A series of landscaped green spaces, formed from existing agricultural water channels, would connect into this linear riverfront park creating a well connected network of public parks.
More information on this news after the break.
We are headed to the windy city of Chicago for this weeks Architecture City Guide series.  Jam packed with architecture from Frank Lloyd Wright and Mies van der Rohe, here are our 12 recommendations if you are visiting Chicago.  Head to the comment section and share your recommendations for additional buildings to include on our list!
The Architecture City Guide: Chicago list and corresponding map after the break!
SOM's principal design objectives were to create a focused learning and working environment that would give the New York Jets a competitive edge by constantly reminding the players and business staff that football is their business, and creating a campus that would prioritize work, education and health.
More photographs of the Atlantic Health Jets Training Facility and drawings following the break.
Architects: Skidmore, Owings & Merrill LLP/ New York
Location: Florham Park, New Jersey, USA
Design Partner in Charge: Roger Duffy
Project Manager: Christopher McCready
Project Architect: Darrell Puffer
Project Area: 133,275 sqf Campus Building 84,286 sqf Field House
Project Year: 2008
Photographs: Florian Holzherr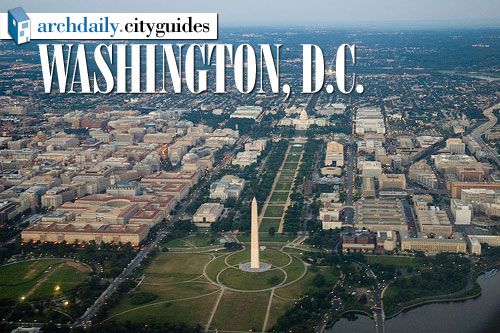 Welcome to the Architecture City Guide series.  Here at ArchDaily we thought this series could especially be put to use during the upcoming holiday season.  Many will be traveling to see family, having family visit, or taking a New Year's vacation to a new city.  Here is a small City Guide list, starting with Washington D.C.
We want to hear from you, share with us your City Guide list for buildings in Washington D.C.  More cities to come, so be sure to check back.
Follow the break for our Washington D.C. list and a corresponding map!
When I visited Chicago, I had to visit one of the key actors on shaping a city that breaths architecture, from big part of the skyline to the Millenium Park: SOM.
I have visited SOM before, to interview Craig Hartman at the San Francisco office, but Chicago was were it all started back in 1936 with Louis Skidmore and Nathaniel Owings, and John O. Merrill who joined in 1939.
This time I interviewed Philip Enquist (FAIA), the partner in charge of urban design and planning. Philip has been involved in development and redevelopment initiatives for college campuses, existing city neighborhoods, new cities, rural districts, downtown commercial centers, port areas and even in a master-plan for the entire nation of Bahrain.
It was amazing to hear from him on different processes that have been shaping the most important cities in the world, such as Beijing's Central Business District or the master plan for the Millenium Park. But I was also surprised about a project we presented to you earlier, the vision for the Great Lakes area, a project that shows a lot of responsibility  as an architect and an example that we still have a very important role in our society.
After the break, the usual questions a bonus with what's a good city, and some photos of the office.
This past July Philip Enquist of SOM spoke to the city of Minneapolis, Minnesota as a part of TEDxTalks Mill City series.  His focus was to raise awareness and also challenge the Great Lake and St. Lawrence watershed residents to "imagine there are no borders".  This video hits close to home, as I grew up in the Great Lakes watershed region.  His lecture is informative and revealing of the responsibility there is to utilize and protect this great resource of the United States.
At the end of the video you find yourself wondering why haven't we already created a plan for the Great Lakes region.  Possibly the size of this region or the international boarder running through it has failed to put it on many people's radar screens.  Either way Enquist lays out an achievable ten point plan (overview after the break) to focus on where this 100 year vision could be a global example of human balance with nature, beyond two nations.
Following Enquist's lecture the mayors of the Great Lake and St. Lawrence Cities Initiative voted to approve a regional sustainability program.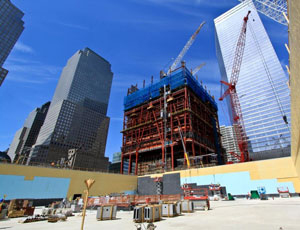 One World Trade Center has reached a construction milestone by rising 260 ft above street level. Upon its completion in 2013, it will become the tallest office building in the United States reaching 104 stories.
Currently standing at the 26th floor level, the 1,776-ft-tall office building is being designed by David Childs of Skidmore, Owings and Merrill (NY office) and developed by the Port Authority of New York and New Jersey and is scheduled to reach a height of 50 stories by the end of 2010. To date, more than 67,000 cubic yards of concrete have been poured for the tower, both above and below ground exceeding the amount of concrete used to build the entire Empire State Building.
One World Trade Center will incorporate design elements based on LEED Gold criteria with energy efficiency running 20% higher than city codes presently require. Seen at GreenSource.
Over the weekend I took some time to assemble my LEGO Sears Tower
, the legendary skyscraper located in Chicago designed by SOM.
This LEGO set was designed by Adam Reed Tucker, who has also put out more complex sets such as the Guggenheim Museum
and the Fallingwater House
.
This one looks great on my desk, and will shortly join the
Empire State Building
, the John Hancock Center
, and not much of a fan, but just to complete the series, the Seattle Space Needle
.
More photos after the break:
SOM is in the process of retrofitting their 1958 Inland Steel Building to meet modern sustainability and landmark restoration goals.  The idea for the upgrade, although headed by SOM, was actually conceived in 2007 when, non other than Frank Gehry and New York real estate player Richard Cohen purchased the 19-story, 232,450-square-foot property for approximately $57 million, and set out to transform the aging structure into Class A space.
More after the upgrade after the break.
Located in Greenwich Village, The New School is an artistic academic institution where thousands of students continue their education in varying facets of design, whether it be music, drama, jazz, liberal arts etc. Within the past few days, the school has unveiled their newest proposal for a University Center designed by New York based SOM. Adding over 365,00 sqf for academic and public programs, a new library and a 600+ student dormitory, the project will create a major campus hub at 65th Fifth Avenue between 13th and 14th Streets when it opens for the Fall 2013 semester.
More about the addition after the break.
The San Francisco office of Skidmore, Owings & Merrill LLP (SOM) has received a 2010 "Good Design is Good Business" China Award for the new U.S. Embassy Complex in Beijing, China. Architectural Record and McGraw-Hill Construction recognized 17 projects with their third bi-annual program. The awards celebrate projects that demonstrate the power of design in the advancement of business and civic objectives.
The U.S. Embassy in Beijing, which opened for the 2008 Beijing Olympics, received its award in the Best Public Project category. Working with the U.S. Department of State, SOM responded to the building's diplomatic role by creating a space that is welcoming, secure, and respectful of local traditions. As a sovereign U.S. presence on Chinese soil, the Embassy reflects American cultural, social and political values while paying respect to the host country's ancient and extraordinarily vibrant culture.
More images and information after the break.
With its final height kept as a secret until the last minute, we witnessed the incredible opening of the tallest building in the world.
The Burj Dubai, an engineering masterpiece designed by Skidmore Owings & Merrill (SOM), was finally renamed Burj Khalifa in honor to Khalifa bin Zayed Al Nahyan, the ruling sheik of Abu Dhabi who helped Dubai during the financial crisis with over US $25 billion.
The 828m tall structure established quite a distance from the Taipei 101, which used to hold the title for the tallest building in the world with 509m, that's almost an extra 320m… almost like putting another skyscraper on top of the Taipei 101. This will secure its title for at least a few years.
For more on how the tallest building in the world is structured, you can read this interview with Bill Baker, engineer at SOM.