Published in 2008 this book details the SOM's design of the International Terminal at the San Francisco International Airport. The mid-rise terminal is a case study in light and lightness. It has plans, sections, elevations, models, text by Anne-Catrin Schultz, and photographs by Timothy Joseph Hursley.
This week our Architecture City Guide is headed Kansas City. With more boulevards than any other city except Paris, Kansas City is commonly called "Paris of the Plains." Although its architecture might not rival Paris, there is plenty of great architecture, and as always it was difficult to keep our list to only 12 designs. Kansas City is also the headquarters of this year's AIA National Firm Award, BNIM. Take a look at the list and add to it in the comment section below.
The Architecture City Guide: Kansas City list and corresponding map after the break.
This week our Architecture City Guide is headed to Columbus; Indiana that is. We have already made the trip to Columbus, Ohio. This lesser known Columbus only has a population of 44,000 people, but for what it lacks in size it makes up in architecture. Columbus, perhaps, has more notable modern architecture buildings per capita than any city in the United States. In fact, it was much harder narrowing the list down to 12 projects than finding enough for the city guide. With the buildings not on the list, it will be impossible to please everyone. Notably our list doesn't even include Romaldo Giurgola's Columbus East High School, Cesar Pelli's Commons Centre and Mall, and SOM's Republic Newspaper Building. Take a look at the 12 on our list and add your favorites in the comment section below.
The Architecture City Guide: Columbus list and corresponding map after the break.
The Beijing Central Business District (CBD) plan by SOM can now add 2011 AIA Institute Honor Award for Regional and Urban Design to its list.  The ongoing 4,200,000 sqm project is the winning design from the international design competition expanding the Beijing CBD
The plan calls for the establishment of three new districts anchored by signature parks and green boulevards. New modes of public transportation are proposed, including express commuter rail service between the Beijing Capital International Airport, the CBD, and high speed rail service at Beijing South Station. A new streetcar system is proposed to conveniently link all areas of the CBD, and every street would be bicycle friendly. To establish a pedestrian-friendly scale for development, the plan calls for a network of small, walkable blocks.
Last week, as the NY Times reported, the interior of 510 Fifth Avenue received landmark protection by the Landmarks Preservation Commission. The building, designed by Gordon Bunshaft of Skidmore, Owings, and Merrill back in the 1950s, served as a branch of the former Manufacturers Trust Bank (later the Chase Bank Building) and is situated on a dense Manhattan block near the New York Public Library, Cook+Fox's recent One Bryant Park, and the park itself.
More about the landmarked interior after the break.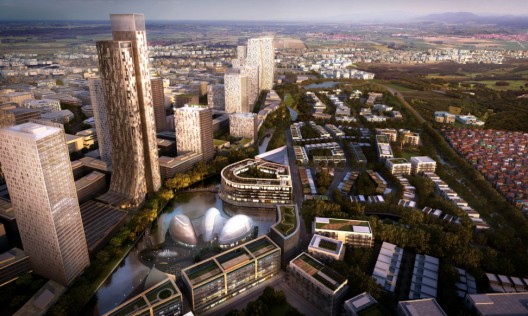 The commission for a Green Tech City in Hanoi, Vietnam was recently awarded to Skidmore Owings & Merrill.  SOM's preliminary master plan focuses on reducing demand for non-renewable resources while integrating local traditions and utilizing the existing green urban character of Hanoi.  At the heart of this new green district is a riverfront park.  A series of landscaped green spaces, formed from existing agricultural water channels, would connect into this linear riverfront park creating a well connected network of public parks.
More information on this news after the break.
We are headed to the windy city of Chicago for this weeks Architecture City Guide series.  Jam packed with architecture from Frank Lloyd Wright and Mies van der Rohe, here are our 12 recommendations if you are visiting Chicago.  Head to the comment section and share your recommendations for additional buildings to include on our list!
The Architecture City Guide: Chicago list and corresponding map after the break!
SOM's principal design objectives were to create a focused learning and working environment that would give the New York Jets a competitive edge by constantly reminding the players and business staff that football is their business, and creating a campus that would prioritize work, education and health.
More photographs of the Atlantic Health Jets Training Facility and drawings following the break.
Architects: Skidmore, Owings & Merrill LLP/ New York
Location: Florham Park, New Jersey, USA
Design Partner in Charge: Roger Duffy
Project Manager: Christopher McCready
Project Architect: Darrell Puffer
Project Area: 133,275 sqf Campus Building 84,286 sqf Field House
Project Year: 2008
Photographs: Florian Holzherr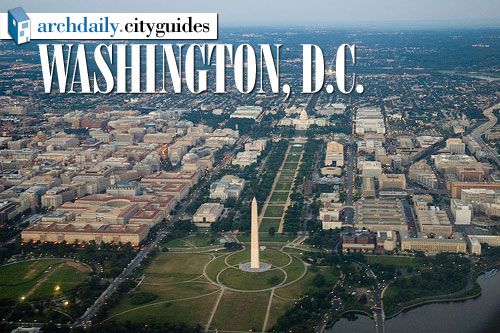 Welcome to the Architecture City Guide series.  Here at ArchDaily we thought this series could especially be put to use during the upcoming holiday season.  Many will be traveling to see family, having family visit, or taking a New Year's vacation to a new city.  Here is a small City Guide list, starting with Washington D.C.
We want to hear from you, share with us your City Guide list for buildings in Washington D.C.  More cities to come, so be sure to check back.
Follow the break for our Washington D.C. list and a corresponding map!
When I visited Chicago, I had to visit one of the key actors on shaping a city that breaths architecture, from big part of the skyline to the Millenium Park: SOM.
I have visited SOM before, to interview Craig Hartman at the San Francisco office, but Chicago was were it all started back in 1936 with Louis Skidmore and Nathaniel Owings, and John O. Merrill who joined in 1939.
This time I interviewed Philip Enquist (FAIA), the partner in charge of urban design and planning. Philip has been involved in development and redevelopment initiatives for college campuses, existing city neighborhoods, new cities, rural districts, downtown commercial centers, port areas and even in a master-plan for the entire nation of Bahrain.
It was amazing to hear from him on different processes that have been shaping the most important cities in the world, such as Beijing's Central Business District or the master plan for the Millenium Park. But I was also surprised about a project we presented to you earlier, the vision for the Great Lakes area, a project that shows a lot of responsibility  as an architect and an example that we still have a very important role in our society.
After the break, the usual questions a bonus with what's a good city, and some photos of the office.
This past July Philip Enquist of SOM spoke to the city of Minneapolis, Minnesota as a part of TEDxTalks Mill City series.  His focus was to raise awareness and also challenge the Great Lake and St. Lawrence watershed residents to "imagine there are no borders".  This video hits close to home, as I grew up in the Great Lakes watershed region.  His lecture is informative and revealing of the responsibility there is to utilize and protect this great resource of the United States.
At the end of the video you find yourself wondering why haven't we already created a plan for the Great Lakes region.  Possibly the size of this region or the international boarder running through it has failed to put it on many people's radar screens.  Either way Enquist lays out an achievable ten point plan (overview after the break) to focus on where this 100 year vision could be a global example of human balance with nature, beyond two nations.
Following Enquist's lecture the mayors of the Great Lake and St. Lawrence Cities Initiative voted to approve a regional sustainability program.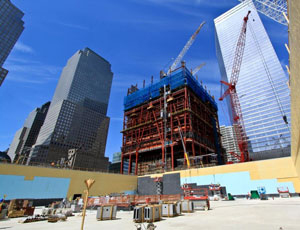 One World Trade Center has reached a construction milestone by rising 260 ft above street level. Upon its completion in 2013, it will become the tallest office building in the United States reaching 104 stories.
Currently standing at the 26th floor level, the 1,776-ft-tall office building is being designed by David Childs of Skidmore, Owings and Merrill (NY office) and developed by the Port Authority of New York and New Jersey and is scheduled to reach a height of 50 stories by the end of 2010. To date, more than 67,000 cubic yards of concrete have been poured for the tower, both above and below ground exceeding the amount of concrete used to build the entire Empire State Building.
One World Trade Center will incorporate design elements based on LEED Gold criteria with energy efficiency running 20% higher than city codes presently require. Seen at GreenSource.