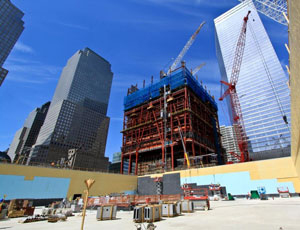 One World Trade Center has reached a construction milestone by rising 260 ft above street level. Upon its completion in 2013, it will become the tallest office building in the United States reaching 104 stories.
Currently standing at the 26th floor level, the 1,776-ft-tall office building is being designed by David Childs of Skidmore, Owings and Merrill (NY office) and developed by the Port Authority of New York and New Jersey and is scheduled to reach a height of 50 stories by the end of 2010. To date, more than 67,000 cubic yards of concrete have been poured for the tower, both above and below ground exceeding the amount of concrete used to build the entire Empire State Building.
One World Trade Center will incorporate design elements based on LEED Gold criteria with energy efficiency running 20% higher than city codes presently require. Seen at GreenSource.
Over the weekend I took some time to assemble my LEGO Sears Tower
, the legendary skyscraper located in Chicago designed by SOM.
This LEGO set was designed by Adam Reed Tucker, who has also put out more complex sets such as the Guggenheim Museum
and the Fallingwater House
.
This one looks great on my desk, and will shortly join the
Empire State Building
, the John Hancock Center
, and not much of a fan, but just to complete the series, the Seattle Space Needle
.
More photos after the break:
SOM is in the process of retrofitting their 1958 Inland Steel Building to meet modern sustainability and landmark restoration goals.  The idea for the upgrade, although headed by SOM, was actually conceived in 2007 when, non other than Frank Gehry and New York real estate player Richard Cohen purchased the 19-story, 232,450-square-foot property for approximately $57 million, and set out to transform the aging structure into Class A space.
More after the upgrade after the break.
Located in Greenwich Village, The New School is an artistic academic institution where thousands of students continue their education in varying facets of design, whether it be music, drama, jazz, liberal arts etc. Within the past few days, the school has unveiled their newest proposal for a University Center designed by New York based SOM. Adding over 365,00 sqf for academic and public programs, a new library and a 600+ student dormitory, the project will create a major campus hub at 65th Fifth Avenue between 13th and 14th Streets when it opens for the Fall 2013 semester.
More about the addition after the break.
The San Francisco office of Skidmore, Owings & Merrill LLP (SOM) has received a 2010 "Good Design is Good Business" China Award for the new U.S. Embassy Complex in Beijing, China. Architectural Record and McGraw-Hill Construction recognized 17 projects with their third bi-annual program. The awards celebrate projects that demonstrate the power of design in the advancement of business and civic objectives.
The U.S. Embassy in Beijing, which opened for the 2008 Beijing Olympics, received its award in the Best Public Project category. Working with the U.S. Department of State, SOM responded to the building's diplomatic role by creating a space that is welcoming, secure, and respectful of local traditions. As a sovereign U.S. presence on Chinese soil, the Embassy reflects American cultural, social and political values while paying respect to the host country's ancient and extraordinarily vibrant culture.
More images and information after the break.
With its final height kept as a secret until the last minute, we witnessed the incredible opening of the tallest building in the world.
The Burj Dubai, an engineering masterpiece designed by Skidmore Owings & Merrill (SOM), was finally renamed Burj Khalifa in honor to Khalifa bin Zayed Al Nahyan, the ruling sheik of Abu Dhabi who helped Dubai during the financial crisis with over US $25 billion.
The 828m tall structure established quite a distance from the Taipei 101, which used to hold the title for the tallest building in the world with 509m, that's almost an extra 320m… almost like putting another skyscraper on top of the Taipei 101. This will secure its title for at least a few years.
For more on how the tallest building in the world is structured, you can read this interview with Bill Baker, engineer at SOM.
Architects: Skidmore, Owings, & Merrill, LLP
Location: Deerfield, Massachusetts, USA
Client: Deerfield Academy
Project Team: Roger Duffy, FAIA / Design Partner, David Childs, FAIA / Design Partner, Anthony Vacchione, AIA / Managing Partner, Christopher McCready, AIA / Project Manager, Ursula Schneider / Senior Designer, Scott Kirkham / Senior Designer, Reiner Bagnato / Technical Coordinator
Collaborators: Frank Ruggerio, Alexandra Cuber, Vivian Lee, Thomas Behr, Terry Hudak
Construction Manger: Gilbane Building Company
Structural Engineer: Le Messurier Consultants
MEP Engineer: Ove Arup & Partners
Civil Engineer: Tighe & Bond, Inc.
Lighting: Ove Arup & Partners
Landscape Architect: Brown Sardinia, Inc.
Planetarium Consultant: Spitz, Inc.
Communications Consultant: Valley Communications Systems, Inc.
Structural Consulting Engineers: John Born Associates
Surveyor: Sherman & Woods
Commissioning: BVH Integrated Services, Inc.
Collaborating Artist: James Turrell
Astronomer: Richard Walker
Geologist: Richard Little
Building Size: 7,400 sqm
Design Year: 2001–2003
Construction Year: 2004–2007
Photographs: Courtesy of SOM
SOM recently unveiled the design for the Digital Media City Landmark Tower in Seoul, Korea. The 2,100 foot (640m) tall tower will be the tallest tower in East Asia when completed in 2014.
The iconic building is located in the north of the Han River, which crosses the city, and will dominate the skyline becoming a important icon for Seoul… which is what you will expect if you commission a tower this tall.
In 2006, with its centennial approaching, St. Albans School, a private boys' school founded in 1909, decided to embark upon its first new construction project in nearly 30 years. The institution hired Skidmore, Owings & Merrill (SOM) to complete a 25,000-square-foot expansion and 30,00-square-foot of renovations to provide a student center, new classrooms, faculty offices, library and auditorium. The school, which had developed slowly over the years and did not follow a rational plan, also hoped that the architects could create a cohesive linkage between four of its existing buildings.
John Jay College of Criminal Justice, an active college in the City University of New York, currently occupies a former Public School building, Haaren Hall, on 10th Avenue between 58th and 59th Streets. With ownership of the entire Manhattan block, the college has ambitions to grow over two phases into the full Zoning capacity of the block. The charge of this project is to occupy the entire site with an integrated campus while providing a base for future growth.
The Chicago and Shanghai offices of Skidmore, Owings and Merrill (SOM) won the international design competition to expand the Beijing Central Business District (CBD). This project was also awarded an AIA Honor Award.
Basically, their plan proposes the creation of 3 new districts anchored by parks and green boulevards as you can see on the renderings. But the an important aspects of this project is on the small scale, a network of walkable blocks to offer pedestrian (and bike) friendly scale for development. Because sustainable doesn´t have to mean just "green", but also to offer an environment on which people can actually establish social relations on a neighborhood scale.
The plan also proposes an express commuter rail service between the Beijing Capital International Airport, the CBD, and high speed rail service at Beijing South Station. A new streetcar system is proposed to conveniently link all areas of the CBD.
Sometimes, a good transportation system and focusing on the pedestrian scale sound obvious, but they are the foundations to establish neighborhoods that can bring life to parts of the city 24/7, instead of business districts that die at night with dormitory cities with a lack of services.
More images after the break.
Architects: Skidmore, Owings & Merrill LLP
Location: Suitland, Maryland, USA
Project team: David Childs, FAIA / Gary Haney, AIA / Peter Magill, AIA / Elias Moubayed / Anthony Fieldman, AIA / Rod Garrett, AIA / Mark Igou, AIA / Aybars Asci, AIA / Kim Van Holsbeke / Takuya Yamauchi / Magd Fahmy / Noppon Psjutharnon / Devawongs Devakul Na Ayudhya / Joyce Ip / Michael Carline
Interior Design Team: Skidmore, Owings & Merrill LLP: Stephen Apking, AIA / Peter Magill, AIA / Nazila Shabestari Duran, AIA / Nestor Santa-Cruz / Donald Holt / Dale Greenwald / Nicholas Cotton / Mary Broaddus / Catherine Haley / Cynthia Mirbach / Elizabeth Marr, AIA / Amber Giacometti / Ya Ching Hsueh / Celine Jeanne / Jennifer Lee / Ashley O'Neill / Michele Pate / Jeremy Singer
Total Building Area: 2.5 million gross square feet
Project Cost: $331 million (total of two phases)
Project year: 2004-2007
Photographs: Eduard Hueber/Arch Photo, Inc. / Skidmore, Owings & Merrill LLP
Curious about how the lobby for the world´s tallest building will look like? SOM shared with us some renderings of their design.
The building was designed by the Chicago office of Skidmore, Owings & Merrill LLP, who also designed the interiors for all the lobbies, public and common spaces for the tower. The design team is lead by Ms. Nada Andric (Associate Director with SOM) and reinterprets the region's heritage in a contemporary way.
The materials used include glass, stainless steel, polished dark stones, Silver Travertine flooring, Venetian stucco walls, handmade rugs, and stone flooring. Commissioned local and international fine art pieces will be used to decorate these spaces.
I can´t wait to see actual images of this building completed, and see how both the structure and these interiors are materialized. The Burj Dubai is expected to be completed by December, 2009.
You can see some photos during the construction on our previous article.
More images after the break: