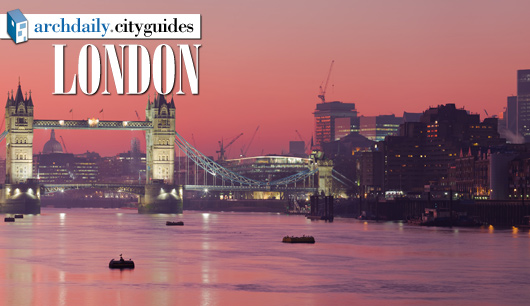 This week, with the help of our readers, our Architecture City Guide is headed to London. This is our second stop in Europe, and once again I had to capitulate and double the number of buildings that we normally feature. We could not feature all of the suggestions, and will be adding to the list in the near future. We really appreciate those readers who offered their suggestions and the use of their pictures to make up this list.
Samuel Johnson famously said, "When a man is tired of London, he is tired of life." As home to a long tradition of kings and queens, the Royal Society, and the roots of the Industrial Revolution, it is not surprising that there is a rich tension and collaboration between the historic and contemporary architecture in London. This reflects a city and culture that has a strong history of celebrating the past while also moving forward. Conflicts often emerge, as the goals of one side clash with those of the other. This relationship, however, is why I find walking the streets of London so appealing - those beautiful moments when history and progress collide.
Once again, thanks to all our readers for your help. We encourage you to add more of your favorites in the comment section below.
The Architecture City Guide: London list and corresponding map after the break.
One New Change, Jean Nouvel and Sidell Gibson Architects' mixed use facility, has just opened in Cheapside, London.  The project includes over 340,000 ft of office space and an additional 220,000 sqf for commercial use.  It is set to become London's newest shopping destination and bring life to the area, "all set overlooking London's most famous landmark, St. Paul's Cathedral."  The project has sparked controversy as Sian Disson shared, "…staunch traditionalist Prince Charles made his feelings towards the glass and steel hulk clear from an early stage, attempting to have Nouvel thrown off the project when he learnt of the architect's appointment." Contrastly, as we reported earlier this year, the project was awarded by the MIPIM with the jury noting that the project will transform the area bringing a refreshing contrast.  While the public voiced their opinion about the color selection, Nouvel's use of glass provides blurred reflections of the Cathedral to be seen in its facade, gently referencing the historic landmark within its contemporary presence.  Which side are you on?
More images after the break.