Architects: Shuhei Endo
Location: Kita Ward, Japan
Project Staff: Aoi Endo, Aya Houri
Area: 127.7 sqm
Year: 2012
Photographs: Stirling Elmendorf
Japanese architect Shuhei Endo sent us some impressive images of his latest project: the Guangzh Culture Center in China.
You can see more renders after the break.
Shuhei Endo just shared with us another of his "tecture" series. Bubbletecture M is an amazing bubble-like wooden structure that houses a kindergarden in Osaka, Japan.
More info after the break.
Architects: Shuhei Endo
Location: Shioya Tarumi-ku Kobe, Hyogo-Pref., Japan
Consultants: Masashi Ooji, Design-Structure Laboratory
Project year: 2005
Principal use: House
Site Area: 130 sqm
Constructed Area: 65.7 sqm
Photographs: Shuhei Endo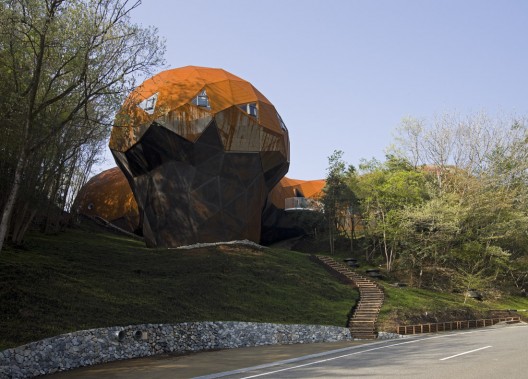 Architects: Shuhei Endo
Location: Sayo-cho, Hyogo, Japan
Project team: Kengo Sasamoto, Aya Umemoto
Design year: 2005-2006
Construction year: 2006-2008
Principal use: Institution and exhibition of earth environmental
Site Area: 5,000 sqm
Constructed Area: 968 sqm
Architects: Shuhei Endo
Location: Hyogo, Japan
Collaborator: Wataru Horie
Project year: 2008
Client: Hyogo Prefecture
Consultant: Masashi Ouji,Design-Structure Laboratory (structure) / Setsubi Giken (service)
Structural System: Steel truss
Site Area: 1,124,000 sqm
Constructed Area: 16,168 sqm