Dogchitecture is an exhibit inspired by "Architecture for Dogs", a project by Japan's Kenya Hara that sought to reinvent the doghouse and integrate it into the world of design.
10 Mexican offices took part in the initiative, including: BNKR Arquitectura, Rojkind Arquitectos, Broissin, PRODUCTORA, a-001, Taller 13, PMS Arch Buro, ROW Studio, Laboratorio Arquitectura Básica y ESOS.
Dogchitecture will be on display at Polyforum Siqueiros, in Mexico City, until August 18th, 2013. It will then travel on to other important museums in Mexico. A book about the exhibit, with photographs and descriptions of the projects, will also be made available.
More "Dogchitecture" Proposals, after the break…
Architects: ROW Studio – Álvaro Hernández Félix, Nadia Hernández Félix, Alfonso Maldonado Ochoa
Location: Polanco, Mexico City, Mexico
Client: Wax Revolution 
Design Team: Midori Calvo, Francisco Mota, José Manuel Garín
Built Area: 1,399 sq. ft. (130 Sq. Mts.)
Completition: May 2012
Photographs: Sófocles Hernández
Architects: ROW Studio / Álvaro Hernández Félix, Nadia Hernández Félix, Alfonso Maldonado Ochoa
Location: Mexico City, Mexico
Project Year: 2011
Project Area: 23.97 sqm
Photographs: Sófocles Hernández
ROW Studio designed a new luxury apartment complex in a heavily wooded area in southern Mexico City. The buildings are placed around the existing trees and all facades are covered with plants to conceal the structures.  This strategy gives the interiors "the sensation of living in the treetops".  Parking and service areas are located below the buildings to maximize the porosity of the soil and to avoid any visual obstruction on the ground level.  There is a visual continuous garden, from the entry of the complex to the back of the site, as greenery flows from the ground level, up the facades of the buildings and into the surroundings.   The ground level apartments are protected with a "land fold" of bushes for privacy which also screen their private patio.     Wooden rooftop decks provide great areas for gatherings, meals, parties or to just simply enjoy garden views.
More images after the break.
ROW Studio shared with us their new Fine Arts School design for the Universidad Autonoma Benito Juarez de Oaxaca.  Their proposal in posed as an alternative to contrast the actual project for the state school, which is already under construction.  For ROW's proposal, the school aims to create all the necessary spaces for the teaching the varying techniques and fields of artistic study, while preserving the green areas of the campus.
More about the school and more images after  the break.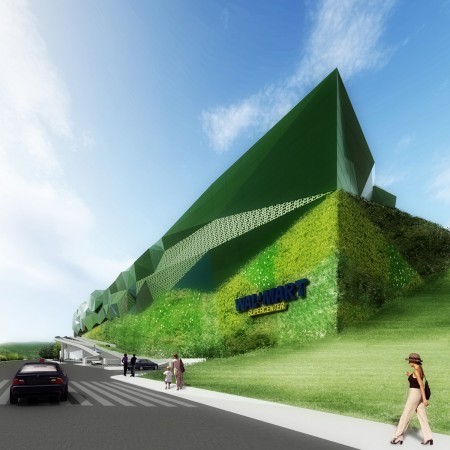 With a shopping center already under construction, ROW Studiowas asked to design the facade for the center in Zona Esmeralda, in Mexico City. The clients asked for an interesting, and almost contradictory mix of requirements: the façade must be both dynamic and eye-catching, while still blending into the surrounding forest line.
More images and more about the facade after the break.
Architects: ROW Studio– Álvaro Hernández Félix, Nadia Hernández
Félix, Alfonso Maldonado Ochoa
Location: Mexico City, Mexico
Client: Coca Cola FEMSA – Brenda Grissel González Aguilar, Gerente de
Capacitación. Ramón Gorbea Chávez, Project leader
Construction: INMOSUR SA de CV – Arq. Álvaro
Hernández Cabada
Graphics: Carlos Ortega Quezadas
Collaborators: Cecilio Hernández, Isaac Cielak, Félix Cañez
Ceramics: Ariel Rojo
Flower design: Flora Inc. – Gloria Maldonado
Clothes: T.E.M.O.R.E.S.
Project Area: 120 sqm
Project year: 2009
Photographs: Juan Marcos Castañeda