Architects: Shjworks Architectural
Location: Darupvej, Roskilde, Denmark
Architect In Charge: Simon Hjermind Jensen
Design Team: Christian Bøcker Sørensen
Photographs: Simon Hjermind Jensen, Christian Böcker Sörensen, Lasse Ryberg
Architects: Kristoffer Tejlgaard + Benny Jepsen
Location: Roskilde, Denmark
Engineer: Henrik Almegaard
Area: 148 sqm
Year: 2011
Photographs: Courtesy of Kristoffer Tejlgaard
Architects: Cornelius + Vöge
Location: Roskilde County, Denmark
Project Year: 2012
Photographs: Adam Mørk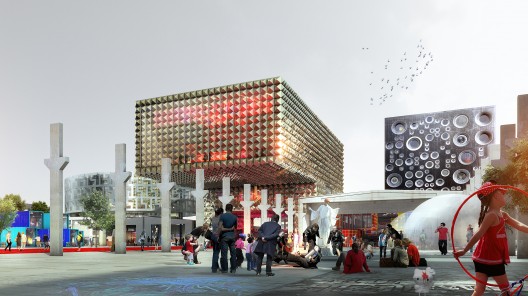 The MVRDV and COBE scheme for the transformation of a former concrete factory into a multifunctional creative hub was chosen as the winner of an international design competition. The masterplan proposes an informal transformation of the 45.000m2 site into a dense neighborhood, incl. 8.000m2 existing factory halls, organized around a plaza for events. Three new volumes will be added on top of the halls: The 11.000m2 ROCKmagneten consists of The Danish Rock Museum, The Roskilde Festival Folkschool incl. student housing, and the headquarters of the famous Roskilde Rock Festival. They share program in a public creative communal house. The museum with a total of 3.000m2 will be completed as the first phase in 2014. More images and architects' description after the break.
'Why Don't We Do It On The Stairs?' is the winning proposal for won the architectural design competition 'Build What Here?' organised by the Danish Architecture Centre and Roskilde Festival, to create an architectural design for the Culture Zone at Roskilde Festival 2011.  The project is designed by architecture collective Re-Make / Re-Model consisting of Anders Grivi Norman of Oslo, Norway and Victor Serrander of Stockholm, Sweden.  The design will be built for the Roskilde Festival and will be featured in an exhibition in the Danish Architecture Centre in Copenhagen opening on the 7th of May.
More on this project after the break.