The proposal for the Kyiv Urban Wildlife Park by Katya Larina, Yevgeniya Pozigun, Irina Klixbull, and Roman Pomazan responds to what the place means for the thousands of people who cross the area which is nestled between two fast developing banks. Therefore, the design becomes a development of a decision-making instrument which is intended to guide the future development of Kyiv Islands. More images and architects' description after the break.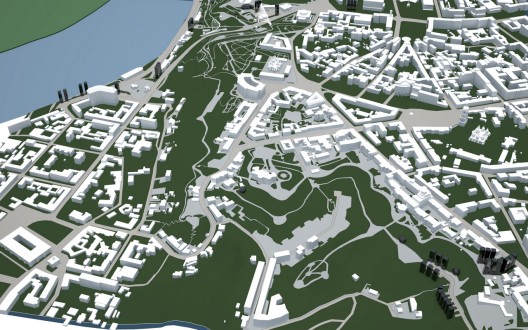 This competition entry for the redevelopment of the Kiev Edge Park's infrastructure was submitted by architects Bablowsky & Wlasenko Architects, Roman Pomazan and Peter Vlasenko.  The main goal of this project was to define strategic lines of the Kiev Edge's development for short- and a long-term performance.  It's mission was to redefine and create a new connections between and inside the Edge along Kiev, Ukraine prominent River Dnepr.
Catch us after the break for more on this project.
Architects Roman Pomazan and Eugene Vashchenko shared with us their proposal for the "Library of the name of Kushnaroyv in Kharkiv Competition", for which they received an honour diploma in singularity. The library, located in Liberty Square, Khrakiv, Ukraine will combine a research center, huge library storage, a kid club, cafe, a bookstore, business area and work studios. See more images after the break.