Images have been released of what will be one of Adjaye Associates' largest UK commissions – London's £600 million Piccadilly Redevelopment. The competition-winning scheme, selected over proposals by Rem Koolhaas, Jean Nouvel and Frank Gehry, will replace a post-war office building on 70-73 Piccadilly with a mixed-use project designed for Crosstree Real Estate Partners.
More images after the break…
Images have been unveiled of BIG and Heatherwick Studio's design for Google's Mountain View headquarters. The plan, submitted to city council today, proposes to redevelop and expand the company's home office with a series of lightweight canopy-like structures organized within a flexible landscape of bicycle paths and commercial opportunities for local companies. 
"It's the first time we'll design and build offices from scratch and we hope these plans by Bjarke Ingels at BIG and Thomas Heatherwick at Heatherwick Studio will lead to a better way of working," says Google. "The idea is simple. Instead of constructing immoveable concrete buildings, we'll create lightweight block-like structures which can be moved around easily as we invest in new product areas… Large translucent canopies will cover each site, controlling the climate inside yet letting in light and air. With trees, landscaping, cafes, and bike paths weaving through these structures, we aim to blur the distinction between our buildings and nature."
A video about the design and a statement from Bjarke Ingels and Thomas Heatherwick, after the break. 
Global design, architecture, engineering and planning firm HOK has recently been selected as lead designer and masterplanner for the redevelopment of Fort Regent, a former fortress turned community center in St. Helier on Jersey, the largest of the Channel Islands of the English Channel.
The redevelopment of the 22-acre (9-hectares) site will make Jersey's largest leisure and entertainment venue a premiere destination, and includes a masterplan that aims to strengthen the economic value of the site and encourage public funding for the redevelopment.
A recent, well-written article for The Guardian chronicles the story of Sydney's East Darling Harbour (also known as 'Barangaroo'), from the city's optimism in 2003 to the relative disappointment of today. David Shoebridge, a New South Wales Greens MP and the party's planning spokesperson, recounts the series of compromises and sellouts that have turned what was meant to be a "prime public space" into – to add insult to injury – the site for a casino.You can read this cautionary tale in full here.
After decades of contention between residents and politicians, the Bloomberg administration will announce on Wednesday plans of constructing a six-acre complex by SHoP and Beyer Blinder Belle Architects over a ten year period. Nine vacant lots in New York City's Lower East Side will be erected into a mega-development of retail, office, entertainment, cultural and housing units. The complex will be located in rapidly gentrifying neighborhood, once home to working-class Italians, Jews, Puerto Ricans and Ukrainians, and has struggled to preserve affordable housing against an encroaching luxury market. In response, developers have collaborated with local community groups agreeing that half of the projected 1,000 apartments will be for low-, moderate-, and middle-income families.
However, is this enough to sustain a balance of varying incomes?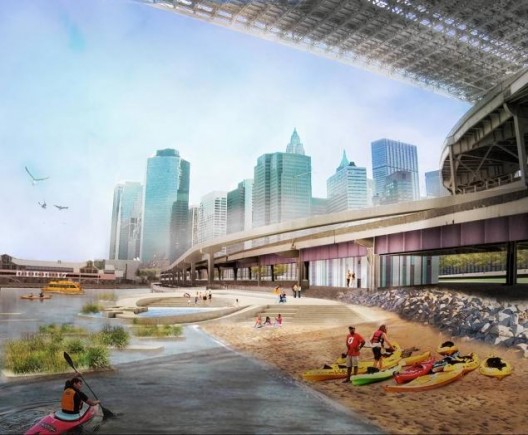 NYDaily News reports that the New York City Council has allocated $7 million to redevelop a 11,000 square foot swath of forgotten land into a beautiful, sandy beach beneath the Brooklyn Bridge. Originally conceived as part of New York's "Blueway" plan, the waterfront project will grant access to terraced seating, wading pools and fishing areas, along with a kayak launch and concession stand via tree-lined walkways. See what else the "Blueway" entails, here on ArchDaily.
Five London-based firms - AHMM, Allies & Morrison, Foster & Partners, Keith Williams Architects and Lifschutz Davidson Sandilands - have been selected to compete for the "Scotland Yard" redevelopment of the abandoned Curtis Green MPS building on the Victoria Embankment. As reported by BDOnline, the shortlisted firms will each propose a "landmark building for London" that will provide a "modern and efficient working environment" for the new Metropolitan Police Service Headquarters. The judging panel, spearheaded by architect Bill Taylor and RIBA Adviser Taylor Snell, will review the proposals in September. 
New York's City Council have unanimously backed a proposed plan to restore and redevelop the aging giant that is Pier 57. Built in 1952, the 300,000 square foot pier was hailed by Popular Mechanics as a 'SuperPier' for its vast size and unconventional construction, as most of the pier's weight is supported by 'floating' air-filled concrete cassions. The pier was originally used as a bus depot by the New York City Transit Authority, however it has been lying vacant since 2003. The latest decision brings a concrete end to years of speculation as to what the fate of the pier would be.
Read more about the proposal after the break…
A controversial plan to redevelop a large area of Liverpool's waterfront has received an effective green light after the Communities Secretary of State, Eric Pickles, chose not to call in the scheme for a public inquiry. The £5.5 billion scheme is designed by Chapman Taylor and provides 9,000 homes, 300,000 square meters of office space and 50,000 square meters of hotel and other facilities. The scheme also includes the 55-story 'Shanghai Tower' and a cruise ferry terminal.
The plan has attracted criticism, in particular from English Heritage and UNESCO who worry that the size of the developments will negatively affect the Liverpool skyline, dominated for almost a century by the 'Three Graces' a trio of listed buildings that have come to define the view from the Mersey River. UNESCO has strongly opposed the development, placing Liverpool's world heritage site on it's 'endangered' list and threatening that if the scheme goes ahead, the area could lose its world heritage status.
Read more about the reaction to the scheme after the break…
Hoffman‐Madison Waterfront, the master developer of the 3.2 million square foot Southwest Waterfront project - "The Wharf" - that stretches across 27 acres of land along the historic Washington Channel, has announced the approval of its Phase1 Planned Unit Development (PUD) by the District of Columbia Zoning Commission. The Zoning Commission's action approves all of the architectural designs and specific plans for each parcel of the project's first phase encompassing 1.5 million square feet of residential, hotel, office and retail uses along with three piers, numerous open spaces, gathering places and a 3‐acre waterfront park. 
"The unanimous approval last night by the commissioners participating in the hearings is exhilarating. It creates momentum for ground breaking later this year," said Monty Hoffman, Managing Member of Hoffman‐Madison Waterfront. "After more than six years of planning and substantial investment, we are preparing to launch one of the highest profile redevelopments in the country. We are ready to put shovels in the ground for this $2 billion redevelopment of the Southwest Waterfront."
More on Washington D.C.'s Southwest Waterfront project after the break.
New York City's Midtown West will be experiencing a large makeover over the coming years.  Shortly after Hudson Yards broke ground in late 2012, Brookfield Properties initiated the first phase of its 5.4 million-square-foot master plan for Manhattan West on the corner of 33rd Street and 9th Ave.  Hovering over Penn Station's Railroad tracks, an engineering feat will support two 60-story towers that will encompass residential and commercial functions, as well as public and community space.
The redevelopment of Sydney's an inner-city waterfront precinct of Barangaroo is making progress, as the Barangaroo Delivery Authority (BDA) has announced the five teams shortlisted for the master planning services for Barangaroo Central. The project will complete the long term vision for Barangaroo, which was masterplanned by Rogers Stirk Harbour & Partners, by forming the "heart of the site" that will be the transition along the waterfront walk from the southern urban and commercial spaces to the natural form six hectare of the Headland Park.
The full shortlist includes: