What is the true value of architecture in today's society? According to this article by Anna Katz, rare pieces of architectural history have recently soared in value. Katz discusses the booming world of architecture at auction, featuring pieces by Mies Van Der Rohe and Frank Lloyd Wright among others. The article gracefully compares some of the most important architecture of our time against current real estate prices, exploring the catalyst of rising values in architecture of the recent past, while deliberating on the pitfalls of owning a delicate piece of architecture history. Read the story in full on Blouin Art Info.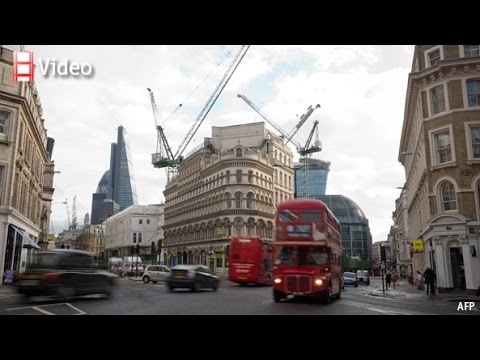 London is the world's most expensive city to build in, but the reasons may surprise you. The city is well known for its high cost of living despite being far less crowded than cities such as Tokyo and New York. In fact, commercial real estate in London's West End costs nearly twice as much as similarly sized spaces on New York's Madison Avenue.
This video from the Economist reveals how these high costs arise thanks to the city's historic infrastructure. Vast networks of underground tunnels, unexploded World War II bombs, ancient Roman ruins, and narrow medieval roads all make construction in the city a highly specialized endeavor. These difficulties, combined with strict historical preservation regulations drive up costs even more. However, architects and developers are not deterred, and are willing to pay high prices for the privilege of building in London. 
New York City's notoriously space-hungry real estate market is converting the cantilever – perhaps made most famous in Frank Lloyd Wright's floating Fallingwater residence of 1935 – from a mere move of architectural acrobatics to a profit-generating design feature. Driven by a "more is more" mantra, developers and architects are using cantilevers to extend the reach of a building, creating unique vistas and extended floor space in a market in which both are priced at sky-high premiums.
The list of architects that have collaborated with Zhang Xin's development company, SOHO China, reads like the roster of an architectural dream team (which includes Zaha Hadid, Yung Ho Chang, Bjarke Ingels, Kengo Kuma, Kazuyo Sejima, Herzog & de Meuron, Thom Mayne, David Adjaye, Toyo Ito and others). So it's no surprise that the self-made billionaire lectured to a packed house at Harvard University's Graduate School of Design last Thursday. Xin spoke about her commitment to and love of design, explaining that her company's mission is to bring a variety of architectural languages to China. And though SOHO's projects are certainly experimental, Xin contends that her developer mindset actually helps meliorate the architect's propensity to take the experiment too far—all without sacrificing the impressive and iconic forms of SOHO's building portfolio.
Watch Zhang Xin link her practice in real estate to larger global issues and catch a glimpse of two Zaha Hadid-designs currently under construction: Wangjing SOHO and Sky SOHO.
A recent study by the Real Estate Board of New York (REBNY) concluded that by preserving 27.7% of buildings in Manhattan, "the city is landmarking away its economic future." REBNY is challenging the Landmarks Preservation Commission, arguing it has too much power when it comes to planning decisions, and that by making business so difficult for developers it is stifling the growth of the city.
Yet not three days before releasing this study, president of REBNY Steve Spinola said in an interview with WNYC that "if you ask my members, they will tell you [the twelve years of Mayor Bloomberg's tenure] has been a great period of time for them". The conclusion of WNYC is that the past decade has actually been a period of increased growth for developers, rather than a period of stagnation.
It would be easy to echo the opinion of Simeon Bankoff, executive director of the Historic Districts Council, who believes the actions of REBNY come down to greed, even comparing its members to Gordon Gekko, the anti-hero of the film Wall Street. But is greed really what's behind this attack on the Landmarks Preservation Commission? Find out after the break.
An interesting phenomenon is taking place in London: the priciest tiers of its housing market are increasingly being driven by overseas investment, primarily from the Far East. The most interesting – and perhaps most concerning – aspect of these investments is that at least 37% those who buy property in the most expensive neighborhoods of central London do not intend to use that property as a primary residence. This results in upscale neighborhoods and residential properties that are largely abandoned and contribute almost nothing to the local economy of the city. Parts of Manhattan are experiencing similar behavior, leading us to ask the question "what is happening to our cities as they become more and more globalized and how will this trend affect city economies around the world?"
Read more after the break…
"Let's dump the word "zoning," as in zoning ordinances that govern how land is developed and how buildings often are designed. Land-use regulation is still needed, but zoning increasingly has become a conceptually inappropriate term, an obsolete characterization of how we plan and shape growth." - Roger K. Lewis 
Zoning, a concept just over a century old, is already becoming an outdated system by which the government regulates development and growth.  Exceptions and loopholes within current zoning legislation prove that city planning is pushing a zoning transformation that reflects the current and future goals and needs of city building.  To determine how zoning and land use needs to evolve we must first assess the intentions of future city building.  
Planners, architects, legislators and community activists have already begun establishing guidelines and ordinances that approach the goals of sustainability and livability.  For example, the AIA has established Local Leaders: Healthier Communities through Design and has made a commitment to the Decade of Design: Global Solutions Challenge. New York City has come up with Active Design Guidelines: Promoting Physical Activity and Health in Design and its Zone Green initiative in regards to updating its zoning resolution. In addition, Philadelphia has augmented its zoning to include urban farms and community gardens and it is safe to assume that many other cities will follow this precedent.  
So what is it about current zoning codes that makes it so outdated?  Follow us after the break for more.
PORTLAND–A recent study by Portland-based Earth Advantage Institute reveals that Energy Star and LEED certification for new and existing homes not only saves money but might also raise resale value. The study, conducted over four years in the six-county Portland metropolitan area, found that newly constructed homes with third-party certifications for sustainability and energy efficiency sold for 8% more on average than non-certified homes, and existing homes with certifications sold for 30% more. A similar study was also conducted Seattle, showing 9.6% price premium with certification. While the results are inconclusive, they are compelling.
From the Washington Post Writers Group VIA Los Angeles Times:
http://articles.latimes.com/2011/aug/28/business/la-fi-harney-20110828