Architects: Patkau Architects
Location: Quadra Island, British Columbia, Canada
Design Team: John Patkau, Patricia Patkau, and David Shone with Mike Green, Dimitri Koubatis, and Greg Boothroyd, James Eidse, Marc Holland, Tony Mah, Henry Murdock, Ben Raimes, Thomas Schroeder, Craig Simms, Tony Wai.
Area: 4350.0 ft2
Year: 2012
Photographs: James Dow, Courtesy of Patkau Architects
UPDATE: Three teams have been selected to move forward in the competition: Allied Works Architecture (Portland/New York), Tod Williams Billie Tsien Architects (New York), and the team of Patkau Architects (Vancouver, B.C.) and Fong & Chan Architects (San Francisco). The finalists will present their proposals April 3 and a winner will be announced shortly after.
Seven high-profile teams have been shortlisted to design a new research, museum and performing arts center for the University of California, Santa Cruz (UCSC). Planned for a stunning site overlooking the Pacific Ocean, the $32 million project is intended to be "an innovative educational experiment" that will "blur the lines between disciplines to beautiful effect." The shortlist ranges from Steven Holl to Tod Williams Billies Tsien. The complete list of competitors, after the break.
In August, we reported a Request for Qualifications for the renovation of Mies van der Rohe's Martin Luther King (MLK) Jr. Memorial Library in Washington D.C. - Mies' only library and the only building in D.C. A few days ago, the District of Columbia Public Library (DCPL) narrowed down the list of potential firms from 26 to 10 and revealed that it was looking for community input on the library's future spaces and services.
The ten firms that made the cut are:
Almost two years ago, on November 13th 2010, I had the chance to attend to a very special seminar to celebrate the 80th birthday of Kenneth Frampton at Columbia's GSAPP. During that intense day, five north american practices presented their work followed by an interesting debate: Rick Joy Architects, Stanley Saitowitz / Natoma Architects, Patkau Architects, Steven Holl, and Shim Sutcliffe Architects.
For the 13th Venice Biennale, Kenneth Frampton was invited to have his exhibit at the Arsenale, where the works of these five practices was presented on a series of videos, on a simple installation designed by Steven Holl.
While we don't have the videos shown during the Biennale, we present you the full video of the seminar (almost 6 hours), made available online by the GSAPP.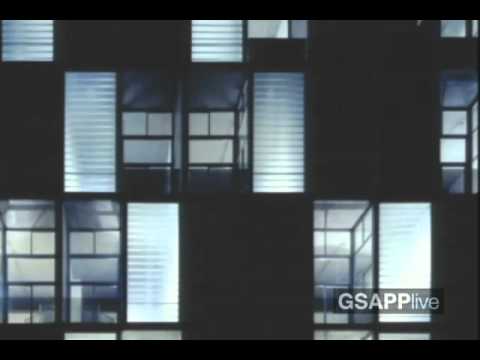 More information about the "Five North American Architects as a Common Ground" videos shown at the Biennale:
Architects: Patkau Architects
Location: Vancouver, Canada
Architect Team: Michael Cunningham, John Patkau, Patricia Patkau, Peter Suter
Structural Engineer: Fast +Epp Structural Engineers
General Contractor: Glover Co.
Photographs: Paul Warchol, Undine Prohl
The Beaty Biodiversity Center and the Aquatic Ecosystems Research Laboratory are located on Main Mall, the central north/south spine of the University of British Columbia. Together they form a complex of related environmental science functions; a new campus precinct organized around a generous exterior courtyard space which is bisected by new cross-campus pedestrian and bicycle connections.
The principal exhibition space of the museum located within the Beaty Biodiversity Center is a glass "lantern" featuring an enormous skeleton of a Blue Whale creating a public face for the complex towards the Mall.  Follow the break for drawings and photographs.
Architects: Patkau Architects
Location: Vancouver, British Columbia, Canada
Client: University of British Columbia
Project Year: 2002 – 2009
Photographs: James Dow
Architects: Patkau Architects
Location: Vancouver, British Columbia, Canada
Project Team: Greg Boothroyd, Michael Cunningham, Joanne Gates, Samantha Hayes, Maureen Kwong, Thomas Lee, Davis Marques, Patrick O'Sullivan, John Patkau, Patricia Patkau, David Shone
Model Makers: Oliver Birett, Anike Duffner, Gregory Graemiger, Julianne Heinrich, Craig Simms, Christian Schulte, Jan Rasche, Tokimi Ota
Photographs: James Dow 
Architects: Patkau Architects
Location: Salt Spring Island, British Columbia, Canada
Lead Designers: John Patkau, Patricia Patkau, Peter Suter
Team: Greg Boothroyd, Christina Gray, Steffen Knab, Hiro Kurozumi, Renee Martin
Structural: Read Jones Christoffersen Ltd.
Contractor: Spratt Emanuel Engineering Ltd.
Project year: 2006 – 2009
Photographs: James Dow
Architects: Patkau Architects
Location: Winnipeg, Manitoba, Canada
Project team: Tyler Brown, Matthew Bunza, James Eidse, John Patkau, Patricia Patkau, Thomas Schroeder, Luke Stern, Peter Suter
Structural advisor: Annalisa Meyboom
Project year: 2010 – 2011
Photographs: James Dow
The Grand Library of Québec consolidates a number of collections dispersed throughout the province to create a resource library for the region as well as a central public library for the city of Montreal. The building contains four major components: a general library, a children's library, the collection Québécoise (historic documents pertaining to Quebec), and an assortment of public spaces outside the library control zone.
Architects: Patkau Architects in collaboration with Croft Pelletier and Menkès Shooner Dagenais architectes associés
Location: Montreal, Quebec, Canada
Client: Bibliothèque et Archives nationales du Québec
Project Area: 350, 000 sqf
Project Year: 2005
Photographs: James Dow, Bernard Fougeres, and Patkau Architects
Winnipeg Centennial Library was originally constructed in 1976 as a three-story building occupying a city block and an adjacent public park. The existing library, constructed of reinforced concrete exposed to the interior and pre-cast panel exterior, felt very disconnected from its surroundings including the park. The addition to the library, which began in 2002 as the winning entry in an invited design competition, includes reorganization and expansion of the collections, reconfiguration of the circulation systems, and creation of new social spaces, as well as renovation of the existing library.
The Winnipeg Library Addition received a Lieutenant-Governor of BC Medal and
Canadian Architect Award of Excellence. Follow the break for more photographs and drawings.
Architects: Patkau Architects and LM Architectural Group
Location: Winnipeg, Manitoba, Canada
Project Team: Samantha Hayes, Maureen Kwong, Hector Lo, Imke Maron, Tokimi Ota, John Patkau, Patricia Patkau, Christian Schulte, Craig Simms, Yong Sun, Peter Suter (Patkau Architects), David Kressock, Ken Duchnycz, Andrew Brimble, Greg Tomaszewski, Lloyd Mymko, Brent Mehyden, Robert Winslow, Ron Kinash (LM Architectural Group)
Structural Engineering: Crosier Kilgour & Partners Ltd.
Mechanical Engineering: SMS Engineering Ltd.
Electrical Engineering: MCW/AGE Consulting Professional Engineers
Landscape Architecture: Hilderman Thomas Frank Cram
Code: Gage-Babcock and Associates Ltd.
Acoustic: Daniel Lyzun Associates
Media: McSquared System Design Group, Inc.
Signage: Gallop/Varley
Contractor: Manshield Construction
Owner: City of Winnipeg Library Services, City of Winnipeg Planning, Property, and Development Department
Project Area: 115,000 sqf (renovation) 45,000 sqf (addition)
Project Year: 2005
Photographs: James Dow
The Gleneagles Community Center is located on a small, gently sloping site adjacent to a public golf course. Patkau Architects organized the program on three levels to minimize the building footprint. By subtly reshaping the cross-sectional topography of the site, the lower level and the intermediate level are both located on grade. More photographs and drawings following the break.
Architects: Patkau Architects
Location: West Vancouver, British Columbia, Canada
Client: Corporation of the District of West Vancouver
Project Team: Omer Arbel, Greg Boothroyd, Joanne Gates, Samantha Hayes, Patrick O'Sullivan, John Patkau, Patricia Patkau, David Shone, Craig Simms
Project Manager: Maurice J. Ouellette Consulting
Landscape Architect: Vaughan Landscape Planning & Design
Structural Engineering: Fast & Epp Structural Engineers
Mechanical and Electrical Engineering: Earth Tech Canada Inc.
Civil Engineering: Webster Engineering Ltd
Code Consultant: Gage-Babcock & Associates
Specifications Consultant: Susan Morris Specifications
Audiovisual Consultant: McSquared System Design Group
Signage Consultant: Gallop/Varley
Contractor: Country West Construction Ltd.
Photographs: James Dow