The Queen's College, Oxford is delighted to announce the launch of the Florey Design Competition. The College seeks a dedicated team to restore and add new facilities to James Stirling's modernist masterpiece, The Florey building, which is Grade II listed.
Admired worldwide for its boldness and heroism, the Florey has been beset with infamous technical and practical failings since it opened forty years ago. Despite this, the building has remained largely popular with undergraduates for its sociable spaces and views of the river setting.
Teams must also address the wider site for the inclusion of new accommodation, social and modern facilities, as well as improving and refreshing the overall river setting. For further details please click here.
Malcolm Reading Consultants (MRC) recently announced the results of the first stage of the design competition to re-program and re-design Oriel College, Oxford's social spaces. The shortlist, a fascinating cross-section of British architectural talent ranging from the contextual to the contemporary, is made-up of established practices with extensive portfolios. More than sixty teams submitted Expressions of Interest for the competition, which was launched in late June. The shortlisted teams include: AL_A, Allies and Morrison, Caruso St John Architects, Panter Hudspith Architects, and Wright & Wright Architects. More images and information after the break.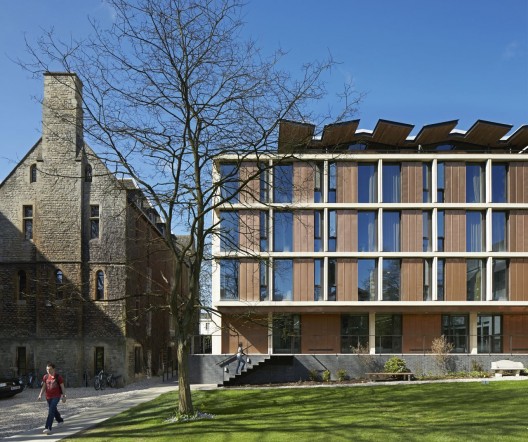 Architects: Bennetts Associates Architects
Location: Oxford, Oxfordshire, England
Engineer: Buro Happold
Quantity Surveyor: Northcroft
Contractor: Kingerlee
Year: 2013
Photographs: Hufton + Crow
Architects: Níall McLaughlin Architects
Location: Somerville College, Oxford, Oxfordshire, UK
Area: 2,541 sqm
Year: 2011
Photographs: Courtesy of Níall McLaughlin Architects, Nick Kane
Rafael Viñoly Architects have just announced the official groundbreaking of their Math Institute at the University of Oxford.  Prior to the project, Oxford's mathematics department was scattered across the University in different locations.  RVA was commissioned to provide a design solution that provided a centralized building for the entire department, to create a balanced environment for academics' need for privacy with the increasing importance of interdisciplinary collaboration.  
More about the design after the break.
The University of Oxford has received planning permission for a new £170M chemistry laboratory complex designed by Francis- Jones Morehen Thorp (FJMT). This follows a unanimous vote in favour of the scheme by Oxford City Council's West Area Planning Committee where the scheme was described as one of the most striking new buildings in Oxford. More images and complete press release after the break.