Architects: Openbox Company
Location: Bangkok, Thailand
Project Year: 2012
Photographs: Wison Tungthunya
The site of this project was on the edge of a small, man-made lake, inside a property adjacent to Kaoyai National Park. The selected placement of the cluster was to maximize the views, ventilation and privacy. With part of the land curving around the lake, and a gentle slope towards the lake, the best lake view scenery was selected and framed to be the main view of the living and dining compound.
Architect: Openbox Company,ltd
Location: Kaoyai, Nakornratchasima, Thailand
Project Team: Ratiwat Suwannatrai, Akeanan Janieum, Jurayu Suepattima
Structural/M&E Engineer: Openbox Co.,ltd
Lighting Designer: FOS lighting studio: Thaneeya Yuktadatta
Contractor: Tweemongkol Construction 2000
Project area: 450 sqm
Project year: 2010
Photographer: Pruk Dejkhamheang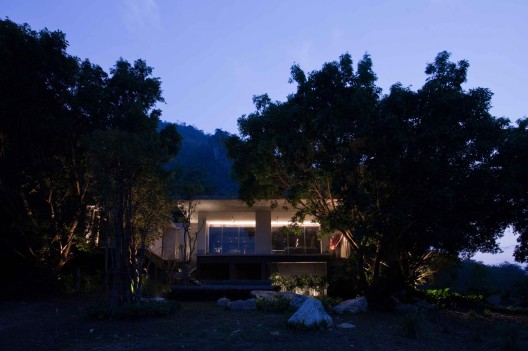 Located on the edge of Thailand's largest national park, Kaoyai National Park, the design for the Hilltop House revolved around the rocky and forested landscape. Hilltop House is a small house in a big plot of land; the total site area is approximately 8,000 sqm. The first requirement from the client was simply to design a 350 sqm house, and find the best spot for it. The remote end of the land was adjacent to Kaoyai Nation Park, and is home to a pile of 40 years old abandoned chunks of rocks, and couple of magnificent full-grown Ficus tree.
Architect: Openbox Company, ltd
Location: Nakornratchasima, Thailand
Project Team: Ratiwat Suwannatrai,Jirasart Pinjai,Akechai Jumnoun, Wannaporn Suwannatrai
Structural Engineer: Openbox Company, ltd
M&E Engineer: Openbox Company, ltd
Lighting Designer: FOS lighting studio: Thaneeya Yuktadatta
Contractor: Tweemongkol Construction 2000
Project area: 300 sqm
Project year: 2008-2010
Photographs: Pruk Dejkhamheang