Paul Katz, president and managing principal of Kohn Pedersen Fox (KPF), has died at the age of 57. The "mastermind" behind some of the world's tallest mixed-use buildings, such as the Shanghai World Financial Center and International Commerce Centre in Hong Kong, Katz was praised by colleagues for his attention to detail and ability to foresee a building's impact on the larger urban scale. "For Paul, it was the entire assemblage, not triumphant individual pieces, that gave the project its urban value," said KPF design director James von Klemperer, who will succeed Katz as president.
Other notable projects influenced by Katz include Tokyo's Roppongi Hills, London's Canary Wharf redevelopment, and the masterplan of New York's Hudson Yards. You can read his complete obituary here on the New York Times.
Judith Edelman, FAIA, an American architect and feminist who hoped to rid architecture of its "gentleman's club" status, has passed away at 91. Starting her career in an era when hiring "girls" wasn't the norm, Edelman's work to elevate women in architecture has paved the way for many of today's leading architects; She was the first woman ever elected to the executive committee of the AIA's New York chapter and she helped co-found the Alliance of Women in Architecture in 1972. Edelman's built work, also highly admired, ranged from affordable housing to schools and health clinics, mostly in the New York City area. You can read Edelman's obituary here.
Professor Andy MacMillan, one of Scotland's most important post-war architects, died suddenly this weekend during this year's Royal Incorporation of Architects in Scotland (RIAS) Andrew Doolan Awards visits. Macmillan was a professor at the Glasgow School of Art from 1973 to 1994, and a partner at Gillespie, Kidd & Coia in 1966. More on MacMillan's legacy after the break.
U.S. architect Robert Hull, FAIA, has passed away at 68 due to a stroke. Always to remembered by his peers as a "beloved colleague," the Seattle-based practitioner, together with his business partner David Miller, was a national leader of sustainable design and architecture in the Pacific Northwest. You can review some of Hull's work here and read The Miller Hull Partnership's official obituary, after the break.
Pedro Ramírez Vázquez, one of the most important Mexican architects of the 20th century, died yesterday on his 94th birthday in Mexico City. Ramírez headed the construction of many of Mexico's modernist landmarks including several museums, the nation's largest sports stadium and a shrine that attracts the most pilgrimages in the country.
Read more on Pedro Ramírez Vázquez and his architectural legacy after the break.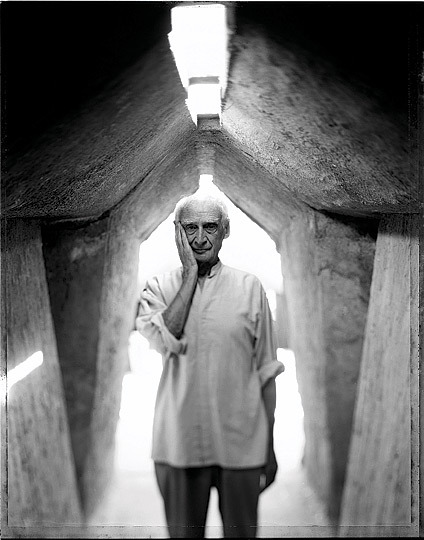 Today the world has lost one of its great minds. Paolo Soleri, architect, builder, artist, writer, theorist, husband, father, born on Summer Solstice, June 21, 1919, has died at age 93.
Paolo Soleri spent a lifetime investigating how architecture, specifically the architecture of the city, could support the countless possibilities of human aspiration. The urban project he founded, Arcosanti, 65 miles north of Phoenix, was described by NEWSWEEK magazine as "…the most important urban experiment undertaken in our lifetimes."
His own lifetime of work is represented in models, drawings, books, lectures and museum exhibits throughout the world. Soleri's exhibition in 1970 at the Corcoran Museum in Washington DC – and the concurrent publication of his landmark book, CITY IN THE IMAGE OF MAN – changed forever the global conversation about urban planning on our living planet. His term, "Arcology" joining the words architecture and ecology to represent one whole system of understanding human life on the earth is meant to serve as the basis for that conversation.
More on the life of Paolo Soleri after the break…
Japanese architectural photographer and editor Yukio Futagawa (1932-2013) lost his battle to cancer on March 5 at the age of 80 in Tokyo, Japan. Futagawa was best known as the founder of the distinguished Global Architecture (GA) Publishing Group, which he established in 1970, and director of Global Architecture (GA) magazine. Throughout his 60-year-long career, Futagawa photographed modernist works from some of the world's most famous architects and presented them in elegant magazine and book series. Two of his most important works include a ten-volume collection of "Japanese Traditional Houses" in the 1950s and a lavish twelve-volume collection that illustrates the complete works of Frank Lloyd Wright.
GA will continue to operate under the direction of Yukio's son Yoshio.
via Informador 
On January 15, 2013, illustrious architect and photographer Balthazar Korab (1926-2013) lost his prolonged battle with Parkinson's disease. Although he managed to keep a low profile throughout most of his life, Korab was one of the most prolific and celebrated architectural photographers of midcentury modernism. 
Ada Louise Huxtable (1921-2013), known as "the dean of American architectural criticism", has passed away at the age of 91 at Memorial Sloan-Kettering Cancer Center in Manhattan. Winner of the first Pulitzer Prize for Criticism, Huxtable began her legendary career when she was appointed as The New York Times' first architecture critic in 1963. Her sharp mind and straightforward critiques paved the way for contemporary architectural journalism and called for public attention to the significance of architecture.
As Paul Goldberger describes in his 1996 Tribute to Ada Louise Huxtable, "Ada Louise Huxtable has been more than just the most important pioneer of architectural criticism in newspapers in our time: she has been the most important figure in communicating the urgency of some kind of belief in the values of the man-made environment in our time, too. She has made people pay attention. She has made people care. She has made architecture matter in our culture in a way that it did not before her time."
Get an understanding of Huxtable's influential voice with her latest critique on Foster+Partners' proposed renovation for the New York Public Library here.
The profession has lost an influential voice that has undoubtedly left a profound impact on the way we think about architecture. Scholar, critic, and practitioner Alan Colquhoun (1921-2012) passed away last week in London at the age of 91.
More after the break…
Architect, designer and theoretician Gae Aulenti (1927-2012) died late Wednesday night in her Milan home at the age of 84. The Palazzolo della Stella native will always be remembered as being one of the few well recognized women that worked in Italian postwar design. Throughout her career, Aulenti's multi-faceted talent contributed greatly to the evolution of art, architecture and design.
continue reading for more…
German-born, New York-based architect Ulrich Franzen (1921-2012) was one of the most creative American architects in the second half of the twentieth century. As reported by the New York Times, Franzen died in his Sante Fe, New Mexico, home on October 6 at the age of 91.
A graduate of Williams College and the Harvard GSD (MArch'48), Franzen entered the world of architecture first as an understudy for I.M. Pei. In 1955, he established his own practice – Ulrich Franzen and Associates – in New York City and has since created distinguished contributions to to architecture, urban design and the theoretical and critical literature of design.