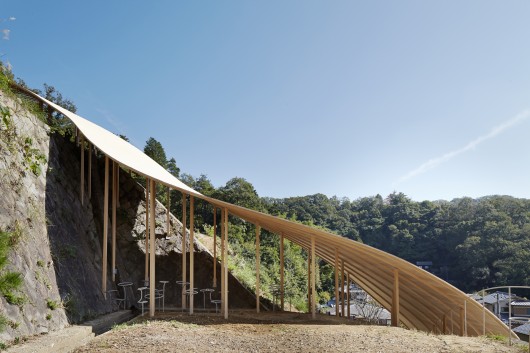 Architects: Ryue Nishizawa, Nendo
Location: Kyoto University of Art and Design, 2-116 北白川瓜生山 Sakyo Ward, Kyoto, Kyoto Prefecture 606-8271, Japan
Year: 2013
Photographs: Daici Ano
Architects: Nendo
Location: 522 5th Avenue, New York, NY 10036, USA
Year: 2013
Photographs: Jesse Goff
This week at the 52nd edition of the Salone Internazionale del Mobile in Milan, over 2,500 exhibitors showcased an endless collection of the latest international products and home-furnishing designs. Among them included a variety of elegant and intelligently designed items envisioned by some of our favorite architects. Continue after the break to scroll through a list of the best architect-designed products featured at the Milan Design Week 2013.
Architects: Nendo
Location: Omotesando, 4丁目-3 Jingumae, Shibuya, Tokyo 150-0001, Japan
Project Year: 2012
Photographs: Daici Ano, Hiroshi Iwasaki
This year as part of London Design Festival's Landmark Projects Japanese design studio Nendo have installed Mimicry Chairs, a series of sporadically placed chairs, in the Victoria and Albert Museum. Rising stars of Japanese design, Nendo have already exhibited in Madrid, Milan, Paris, Tokyo and New York. Crane.tv follow the installation of Mimicry Chairs before speaking with head designer Oki Sato about the project and why Japanese designers always think with their heads, not their hands.
Nendo in Japanese means free forming clay almost like Play-Doh, founder Oki Sato goes on to further describe the meaning to represent in the end 'flexibility'.  The company, which he established in Tokyo in 2002 after graduating with an architecture degree from Waseda University, has steadily gained momentum (they now have a second office in Milan) and recognition.  Focusing on small ideas that provide a strong impact, Sato shares, "we don't specialize in anything it is the story that is important."  Nendo's designs, are able to simultaneously remain clean and minimal while remaining friendly or as Sato describes it, "he doesn't want to make them cold, it needs a pinch of humor."
Take a look at nendo's work featured on ArchDaily.  The PUMA House design incorporated vine like staircases giving the space a unique character and key display stands for PUMA sneakers.  The resulting effect is in the words of the firm, "a strong reminder that we exercise our bodies daily going up and down stairs, and has a visual connection with stadium stairs and podiums too, to bring in PUMA's important relationship with sports. The stairs bring a sense of movement to the interior, enabling a three-dimensional product display that fully uses its space and allows visitors to experience PUMA's worldview."
Architects: nendo
Location: Tokyo, Japan
Construction: Loop Planning Studio
Project year: 2011
Photographs: Daici Ano