Architects: NADAAA
Location: Seoul, South Korea
Principals In Charge: Nader Tehrani, Katie Faulkner, AIA
Project Coordinator: Kevin Lee
Project Team: : Dan Gallagher, Ellee Lee, Richard Lee, John Houser, Ryan Murphy, Samuel Jacobson, Tom Beresford, Tim Wong
Area: 105000.0 ft2
Year: 2012
Photographs: John Horner
Architects: NADAAA
Location: 2450 Fillmore Street, San Francisco, CA 94115, USA
Principal In Charge: Dan Gallagher
Design Principals: Nader Tehrani, Katherine Faulkner
Project Manager: John Chow
Team: Jonathan Palazzolo, Parke MacDowell
Project Year: 2012
Photography: Juliana Sohn
The Gwangju Swarms installation by NADAAA was designed as part of the Urban Folly Exhibit, 2011 Gwangju Design Biennale. The installation site is characterized by a road crossing with a diverse set of scales and building types that anchor each corner, a site in transition. Inhabiting this corner, the installation is chameleonic; encrytped within the logic of the branches, a seemingly animated structure floats overhead, peeking around the corners giving body to the space that was once occupied by the city wall. More images and architects' description after the break.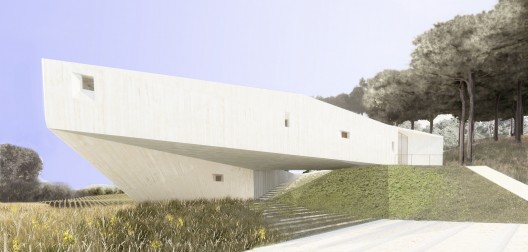 The Dortoir Familial, designed by NADAAA, focuses on merging with the landscape as the slipped court provides simultaneous interiority and exteriority—protected and private as well as extroverted and engaged. The most significant result of this integration of landscape and house is the production of a monumental vaulted threshold to a central courtyard. More images and architects' description after the break.
Nader Tehrani, a principal and founder of NADAAA, a practice dedicated to the advancement of design innovation, inter-disciplinary collaboration, and an intensive dialogue with the construction industry, will be delivering a lecture at the ASA Forum in Bangkok on April 29. He also is a professor and the head of the Department of Architecture at MIT School of Architecture and Planning. As the founding principal of Office dA, Nader Tehrani's work received many prestigious awards, including the Cooper-Hewitt National Design Award in Architecture, the American Academy of Arts and Letters Architecture Award, the United States Artists Architecture and Design Award, and thirteen Progressive Architecture Awards. More information on the event can be found here.
MIT's Festival for Art Science and Technology will culminate this weekend May 7th and 8th with FAST Light, a series of innovative site specific installations around the MIT campus and along the Charles River. Installations by MIT Department of Architecture Head, Nader Tehrani (founder and principal of Office dA and of the newly formed NADAAA), Professor Sheila Kennedy (Principal of Kennedy & Violich Architecture), and Professor Meejin Yoon (Principal of Höweler + Yoon Architecture and MY Studio) are among the final river front projects that will light up the night along the river this Saturday and Sunday in front of Killian Court at MIT.
More information, photographs, and videos following the break