Architects: Allmann Sattler Wappner Architekten
Location: Annette-Allee 4, Münster, Germany
Project Manager: Ulrich Schimtenings
Architects Case Study: Olga Ritter, Mathias Astrom, Kilian Jockisch
Architects Realization: Heinz Josef Döpper, Mathias Astrom, Olga Ritter
Area: 1,700 sqm
Year: 2008
Photographs: Günther Wett / FRENER & REIFER Metallbau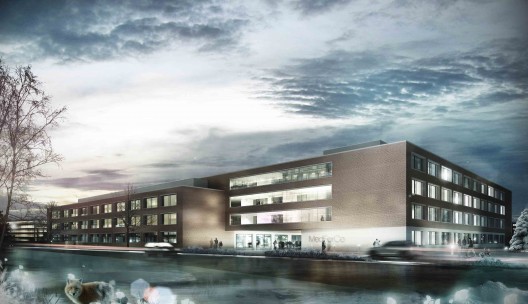 Henn Architekten shared with us their first prize winning proposal in the architectural competition to design the new medical research center of Münster's University Hospital, which is the main facility for the Institute for Microbiology and Hygiene. The new building defines the north-eastern edge of the medical faculty site and its southern end is connected to the main axis of the planned campus. It comprises two interlocking, annular complexes, each surrounding an interior courtyard accessible from a forecourt. More images and architects' description after the break.
Architects: Modulorbeat Ambitious Urbanists & Planners
Location: Münster, Westphalia, Domplatz, Germany
Collaborators: Students at the Msa | Münster School of Architecture
Design Team: Marc Günnewig and Jan Kampshoff with Hélène Bangert, Andre Becker, Rainer Borgmann, Daniel Gardeweg, Anne Gerling, Marta Hristova, Frederick Rode, Eric Sievers
Client: LWL State Museum for Art and Art History, Münster (D)
Completion: February 2012
Building Cost: € 160,000
Utility Space: approx. 95 sqm
Photographs: Christian Richters