Ten kilometer south from the Porsche Museum we featured last week, we find the Mercedes Benz Museum, designed by dutch architects UN Studio and photographed by Michael Schnell.
The 35,000sqm project designed by UN Studio between 2001-2006, includes also a restaurants, stores, offices and an auditorium.
The design is based on the geometry of a clover, with the spaces connected between two helical ascending ramps, around a central atrium.
According to Ben van Berkel, joint founder and director of UNStudio "The Mercedes‑Benz Museum sets up an interface for a series of radical spatial principles in order to create a completely new typology".
And by this, he refers to how visitors experience the museum: They do not begin their visit to the exhibition at a conventional entrance at the base of the building. They are transported by lift to the top floor. Here they have the choice of two tours, during which they descend through the building. The paths of each tour meet on each floor, enabling visitors to switch between tours – the Collections tour and Legend tour – should they wish to do so.
After this project was completed, several tried to imitate it and these kind of circulations became a cliché among architects (and students).
You can see more details of the lift system at NotCot.
More photos by Michael Schnell after the break: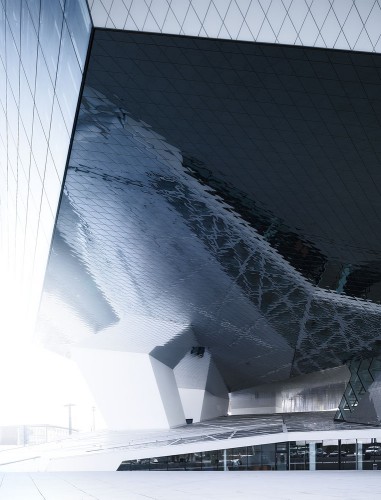 Architecture photographer Michael Schnell shared with us his interior photos of the  Porsche Museum in Stuttgart, Germany, designed by Austrian architects Delugan Meissl. The project was completed in 2008, after being awarded with the 1st prize in a 2-stage competition back in 2005.
The exhibition space we see on these photos in contained by a monolothic volume supported by a steel structure, which spans 5,600sqm to a dramatic effect as you can see on the above photo.
More photos after the break: