Architects: Manuelle Gautrand Architecture
Location: 138 Rue du 11 Novembre, 62400 Locon, France
Architect In Charge: Manuelle Gautrand
Area: 2082.0 sqm
Year: 2014
Photographs: Luc Boegly, Courtesy of Manuelle Gautrand Architecture
Architects: Manuelle Gautrand Architecture
Location: 0 Rue Winston Churchill, 57000 Metz, France
Year: 2014
Photographs: Vincent Fillon
Renovated numerous times during its history, Gaumont-Alésia, a Parisian cinema housed in a structure that is over 80 years old, will now be revamped by firm Manuelle Gautrand Architecture. With a design that emphasizes filmography's presence in modern culture, the Gaumont-Alésia is set to become an inviting cultural hub for the surrounding city, showcasing cinema's influence on both the interior and exterior.
Both street facades will be composed of glass curtain walls shaded by pleated metal panels. These panels will be perforated by hundreds of LED "pixels" which will create an image across the pleats. Both entrances to the building become animated walls, broadcasting film stills, movie trailers, and advertisements, all meant to entice passersby.  The LEDS are spaced fewer and farther apart toward the edges of the building, creating a stippling effect around the border of the images. At the entrances these animated panels will peel upwards, creating a canopy under which patrons can walk.
Zaha Hadid Architects, SOM, Ian Simpson Architects, Manuelle Gautrand Architects, and Wingårdhs Arkitektkontor are all competing to design what will be the tallest tower in Scandinavia. Submitted anonymously, the five shortlisted proposals have just been unveiled by Serneke, who has envisioned the skyscraper as an integral piece to a larger 32,000 square meter mixed-use masterplan in Gothenburg that has been in the making for more than ten years.
Check out each shortlisted design, after the break…
ArchDaily has teamed up with Portugal's Canal 180 to bring you their series I LIKE. Check out episode 6, I LIKE Yellow, which features João Luís Carrilho da Graça's School Of Music In Lisbon, Manuelle Gautrand Architecture's Cite Des Affaires in Saint-Etienne, Ecosistema Urbano's Ecopolis Plaza, Tham & Videgård Arkitekter's Tellus Nursery School and a project by Höweler + Yoon.
I LIKE is an original series on architecture and spatial intervention, developed in a collaboration between Canal 180 and LIKEarchitects atelier. Diogo Aguiar and Teresa Otto have created a chromatic experiment and spatial exercise—organized by color—that reveals some of the most amazing architectural interventions in the world.
Next week ArchDaily will premier the seventh installment of I LIKE. Stay tuned!
Previous episodes in the I LIKE series:
Episode 1 – I LIKE Black
Episode 2 – I LIKE Pink
Episode 3 – I LIKE Purple
Episode 4 – I LIKE Multicolor
Episode 5 – I LIKE Blue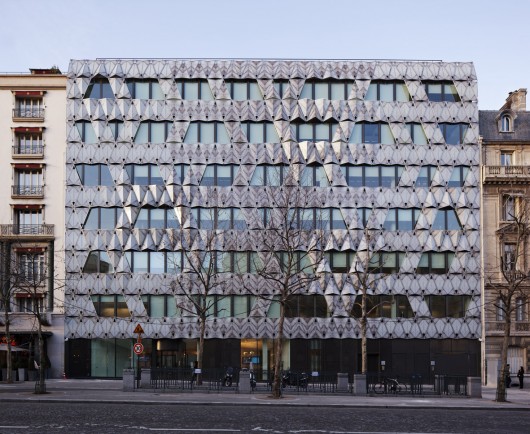 Architects: Manuelle Gautrand Architecture
Location: 36 Avenue de Friedland, Paris, France
Area: 5,800 sqm
Year: 2011
Photographs: Vincent Fillon
Architects: Manuelle Gautrand Architecture
Location: Villeneuve d'Ascq, France
Architect In Charge: Roland Simounet
Project Manager: Yves Tougard
Area: 11,600 sqm
Year: 2010
Photographs: Max Lerouge – LMCU, Philippe Ruault, Vincent Fillon
Architects: Manuelle Gautrand Architecture
Location: Saint-Etienne, France
Project Manager: Thomas Daragon
Studies Project Manager: Yves Tougard
Year: 2010
Photographs: Vincent Fillon, Philippe Ruault
Manuelle Gautrand Architects shared their Enzo Hotel in Paris with us. The hotel's strong triangular form holds different programmatic elements to engage its lively streetscape. The colorful façade took inspiration from the landscape's natural palette. The colors add a crisp aesthetic to the building as the different panels and their varying tints add a sleek texture to the form. According to the architects, "Their fragmented bands give a kinetic effect to overall volume – one can see the movement of the cars there, a certain impression of speed."
More images and more about the hotel after the break.
With more than 300,000 sqm dedicated to almost every possible brand name, the CentralPlaza is the biggest shopping mall located in Bangkok, Thailand on Chaengwattana Road.   Manuelle Gautrand's office took over the project with studies already well advanced by another firm because the client was looking to improve the overall design.  Gautrand adopted a pragmatic approach that consisted of modifying contours and overhauling façades.  The firm "concentrated on asserting a graphic presence strong enough to change the way volumes are perceived, innervating and expanding them to increase their legibility."  In an interview with Florence Accorsi about shops and leisure facilities, Gautrand explained, "We live in a consumer society, so business is all important. At the same time, retail outlets have become rendezvous places where people go to do more than just shop. They are there for an outing, to have fun, relax, meet other people… This gives us an opportunity to re-think these places and renew their identity codes, to redesign their architecture and space so as to introduce variety and unusual things in their programming."
More about the shopping mall after the break.
French architects Manuelle Gautrand Architecture shared with us their new showroom and leisure center design for Cairo, Egypt. The concrete structure consists of connecting circles and spherical cavities that create a flexible interior allowing users to seamlessly flow through different showrooms. "Most of the time, the cars are exhibited like art-pieces on those turning platforms. The entire project is imagined around this monumental way of showing cars," explained the architects.
More about the showroom and more images after the break.