Australia's creative team for the 2014 Venice Architecture Biennale, felix._Giles_Anderson+Goad, has announced 11 unrealized projects that will be showcased as part of the Augmented Australia 1914-2014 exhibition. Ranging from an inner-city cathedral to a treetop activist shelter, the country-wide selection of projects will be brought to life using three-dimensional augmented models, images, voice overs and animations.
Architects: Lyons
Location: Canberra, Australia
Year: 2012
Photographs: Dianna Snape
Melbourne-based architectural practice Lyons has brought together a panel of leading architects and designers to discuss the central theme of this year's Melbourne Architecture Annual, What makes a home?
The panel discussion, "Talking Homes", will take place at Lyons' Bourke Street office on October 25th from 5-6pm and will feature; Jill Garner, Victoria's Associate Government Architect; Dr Karen Burns, from the Faculty of Art and Design at Monash University; and Rachael Nolan, of the award winning Melbourne architectural practice Kennedy Nolan. More information on the event after the break.
The new museum proposed by Lyons has been designed in response to its context – to the park, river, city and the surrounding mountains. The concept connects the building and its spaces with the unique features of the site and its surroundings. Its form, spaces and circulation patterns have also been designed to provide a rich and scenic experience for museum visitors and to offer maximum flexibility in the display and presentation of artworks and multimedia. More images and architects' description after the break.
Architects: T&Z
Location: Leederville, Australia
Project year: 2006
Photographs: Courtesy of T&Z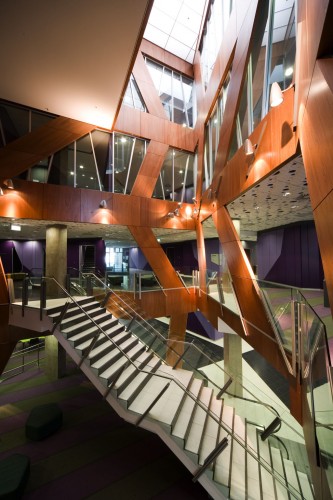 Architects: Lyons
Location: Kensignton Campus, Kensington, New South Wales, Australia
Project area: 12,000 sqm
Project year: 2006
Photographs: John Gollings Photography
Architects: Lyons
Location: Corner Liverpool and Campbell Streets, Hobart, Tasmania, Australia
Project area: 9,700 sqm
Project year: 2009
Photographs: Dianna Snape Photography
Architects: Lyons
Location: Docklands, Victoria, Australia
Project Manager: Carson Group
Structural Engineering: Robert Bird Partnership
Mechanical & Electrical Engineering: Umow Lai & Associates
Acoustic Consultant: Watson Moss Growcott
Builder: Hansen & Yuncken
Project Area: 5,000 sqm
Project Year: 2006
Photographer: John Gollings Photography
Architects: Lyons
Location: Mornington, Victoria, Australia
Project Manager: Atkinsons
Structural & Civil Engineering: Earth Tech
Electrical & Mechanical Consultant: Umow Lai & Associates
Landscape Architect: Rush Wright Associates
Project Area: 4,500 sqm
Project Year: 2007
Photographs: John Gollings & Roger Du Buisson
Architects: Lyons
Location: Kew, Victoria, Australia
Structural & Civil Consultant: Bonacci Group
Building Surveyor: City of Boroondara
Builder: Len Bogatin & Associates
Project Area: 1,350 sqm
Project Year: 2009
Photographs: Dianna Snape
Architects: Lyons
Location: Victoria, Australia
Structural & Civil Consultant: Barry Gale Engineers
Services Consultant: Umow Lai
Landscape Architects: Rush Wright Associates
Surveyor: PLP Building Surveyors & Consultants
Project Area: 2,870 sqm
Project Year: 2009
Photographs: Dianna Snape Photography