Designed by LYCS Architecture, their newly completed proposal for the Tian Tai County ChiCheng No.2 Primary School focuses on the relationship between architecture and site, site and city, form and function. Striving for a unique design to serve as a model school, their concept provides a beautiful environment for the cultivation of knowledge, culture, physical fitness, art and ethics for elementary school children. More images and architects' description after the break.
The competition winning proposal for the Jiaxing College Library & Media Center, designed by LYCS Architecture, seeks to break antiquated design conventions by intelligently negotiating contemporary architectural design into the traditional Chinese campus. Surrounded by rich woods and luscious water, the 42000m2 library plays with hierarchy – the hierarchy of multiple, increasingly private spaces; the hierarchy of the pace of spatial experience; and the hierarchy of introversion and extroversion. More images and architects' description after the break.
Writhing Tower, designed by LYCS Architecture, is a sky condo for one of the most beautiful residential zones in Lima. The proposal is for a global architectural competition initiated by ARQUIA, an international development firm interested in commissioning architecture as art. Each unit is rotated 45 degrees to create a cruciform shape in plan and the appearance of a linear hinged volume. It enables each unit to have uninterrupted views to both the public park in front of the site, and the ocean to the rear of the site. More images and architects' description after the break.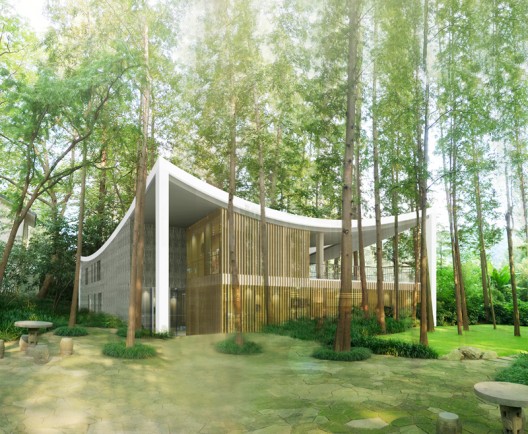 Designed by LYCS Architecture, the Spruce Art Center recently commenced construction in Hangzhou, Zhejiang, China. Flush with mature spruce trees and a pre-existing one story abandoned structure, the design is a mixture of two fundamental challenges in architecture: to evoke new spatial meaning while reconciling an existing structure, and to produce a formal language that can be dynamic and strong, yet carefully caress spruce trees. More images and architects' description after the break.
LYCS Architecture won an invited competition for a 32,000 sqm testing and assessment research center in the city of Shenzhen. It is a mixed-use building including offices, residential and commercial. The project conceptually begins with the traditional Chinese urban design idea of a 'miniature city' and divides the site into 10 equal volumes. Then, the volumes are aligned corresponding to the scattered programs across the landscape. More images and architects' description after the break.
The new office of LYCS Architecture is a renovation design of a tower penthouse in downtown Hangzhou, with a panorama view of the West Lake World Heritage. The original space with is an non-professional add-on storage room to the tower roof composed of elevator mechanical room, fire escape doors and slanted drainage surfaces. The idea of this design is to create the juxtaposition of this abandoned storage space and the new office, through the material homogeneity to heterogeneity and temporal attenuation of space.
Architect: LYCS Architecture
Location: Hangzhou, China
Project Team: Hao Ruan, Xu Li, Peng Wang
Project Year: 2011
Project Area: 350 sqm
Photographs: Courtesy of LYCS Architecture