Wood has always been Finland's preferred building material, as both nature and the forest has long provided a livelihood and enduring source of inspiration for Finnish artists and architects. Now, with the use of modern technology and new treatment methods, Finnish architects are pushing the boundaries of this conventional material to unleash new creative potential. To celebrate the reopening of the newly restored, Alvar Aalto-designed Finnish pavilion at the 2012 Venice Biennale, "New Forms in Wood" will highlight the work of young Finnish architects who have used wood inventively in their recent works.
Continue after the break to review the exhibition's featured projects and architects.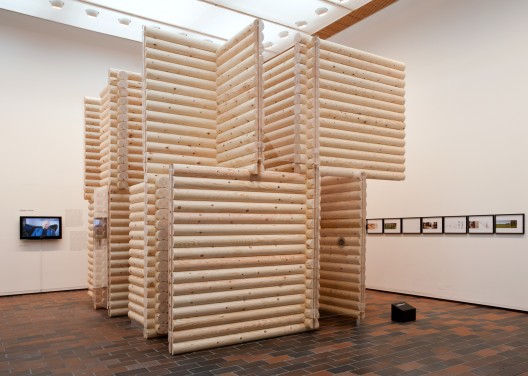 The 'New Nordic – Architecture & Identity' exhibition, which opened this past Thursday and is on view until October 21, is the first exhibition in a new series at Louisiana Museum of Modern Art. The exhibit explores the relationship of architecture to culture and identity. The series deals with architecture as a field where collective memories and narratives are reflected materially and spatially. It attempts to reveal whether certain special 'Nordic' features recur in architecture, and whether this involves a fundamental formal idiom that is regularly reinterpreted. Five Nordic architects - Studio Granda, Iceland, Johan Celsing, Sweden, Jarmund/Vigsnæs (JVA), Norway, Lassila Hirvilammi, Finland and Lundgaard & Tranberg, Denmark – have been invited to build a house that serves as an expression of the regional identity and experience from which the individual architect comes.
More images and information on the exhibition after the break.
Architects: Lassila Hirvilammi Architects
Location: Jyväskyla, Finland
Chief Architect: Anssi Lassila
Interior Architect: Teemu Hirvilammi
On Site Architect: Jani Jansson
Client: Parish of Jyväskyla
Collaborators: Virve Väisänen, Juha Pakkala, Janne Kähkönen, Matias Topi, Yoshimasa Yamada
Project Area: 1,311 sqm
Project Year: 2008-2010
Photographs: Jussi Tianen
Architects: Lassila Hirvilammi Architects
Location: Seinäjoki, Finland
Architects in Charge: Anssi Lassila, Teemu Hirvilammi
Project Area: 300 sqm
Project Year: 2004-2008
Photographs: Courtesy of Lassila Hirvilammi