The American Institute of Architects (AIA) has selected ten recipients for their 14th annual Housing Awards. Considered to be the year's most impressive works, the awards are designed to "recognize the best in U.S. housing design" and "promote the importance of good housing as a necessity of life, a sanctuary for the human spirit and a valuable national resource." The winners, after the break… 
Architects: Lake|Flato Architects
Location: LBJ Library, The University of Texas at Austin, Austin, TX 78705, USA
Area: 30000.0 ft2
Year: 2009
Photographs: Frank Ooms, Lake|Flato Architects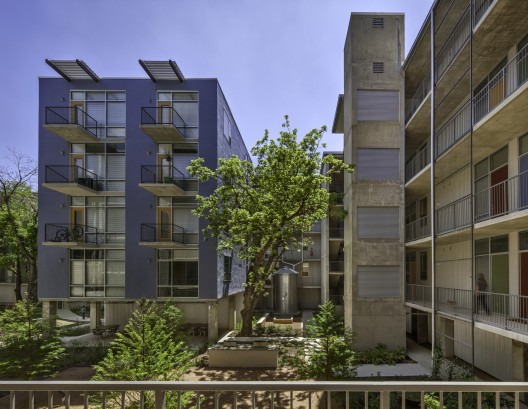 Architects: Lake|Flato Architects
Location: 1221 Broadway, San Antonio, Texas
Architects Of Record: OCO Architects
Year: 2011
Photographs: Chris Cooper, Frank Ooms, Courtesy of Lake|Flato Architects
Architect: Lake|Flato Architects
Location: San Diego, California, United States
Project Team: Greg Papay, FAIA, Brandi Rickels, Betsy Johnson, AIA, Kristin Wiese, AIA, Matt Burton, Brantley Hightower, AIA, LEED AP, Vicki Yuan, LEED AP, Laura Kaupp, AIA, Lewis McNeel, Joe Farren and Jeremy Fields
Project Area: 36,271 sqm
Project Year: 2009
Photographs: Hester + Hardaway Photographers, Frank Ooms
Architect: BNIM Architects, Lake|Flato Architects
Location: Houston, Texas, United States
Project Team: Steve McDowell, FAIA; Kimberly Hickson, AIA; Chris Koon, AIA; David Immenschuh; David Lake, FAIA; Greg Papay, AIA; Kenny Brown
Consultants:  BNIM Architects, Jaster Quintanilla & Associates, Carter Burgess, Inc., Ferguson Consulting, Inc., Supersymmetry, Clanton Associates, Epsilon Engineering, Walter P. Moore, Coleman & Associates, Apex Busby, Rolf Jenson & Associates, Philo & Wilke Architects, Arup, Pelton Marsh Kinsella, Worrell Design Group, Lerch Bates & Associates, Center for Maximum Potential Building Systems, Rocky Mountain Institute, Elements
Contractor: Jacobs/VaughnGreg Papay, FAIA
Project Area: 18,023 sqm
Project Year:  2004
Photographs: Hester + Hardaway
Architect: Lake|Flato Architects
Location: Austin, Texas, United States
Project Team: Ted Flato, FAIA, Bill Aylor, AIA
Consultants: Lundy & Associates, Stonefox
Project Area: 557 sqm
Project Year: 2003
Photographs: Hester + Hardaway, Atelier Wong 
Architect: Lake|Flato Architects
Location: Scottsdale, Arizona, United States
Project Team: Ted Flato, FAIA, Karla Greer, AIA, Brian Comeaux, AIA, Parrish Kyle, Assoc. AIA, Conor Samuels
Consultants: Datum Engineers, Lighting Consultants, Tonnessen Inc.
Contractor: Construction Zone
Project Year: 2009
Photographs: Timmerman Photography 
The design for the ASU Polytechnic Campus transformed a decommissioned airbase into an inviting pedestrian campus that celebrates the desert landscape and created a new identity for the program. Fourteen acres of asphalt and concrete were removed to transform the site into a desert landscaped mall. Storm water is slowed, captured in detention basins throughout the mall, and used to nourish the landscape. The strategy minimized the load on the existing detention basin and established an indigenous landscape as the heart of the new campus.
Architects: Lake|Flato Architects and RSP Architects
Location: Mesa, Arizona, USA
Project Team: Ted Flato, FAIA, Andrew Herdeg, AIA, Chris Krajcer, Matt Wallace (Lake|Flato Architects), Joe Tyndall, Beau Dromiack, John Williams, Chris Doran, John Grosskopf (RSP Architects)
General Contractor: DPR
Landscape Architect: Ten Eyck
MEP Engineer: Energy Systems Design
Structural Engineer: Paragon
LEED Consultant: Green Ideas
Civil Engineer: Wood Patel & Associates
Acoustics: McKay Conant Brook
AV: Jeremiah & Associates
Cost Estimating: Rider Hunt Levett & Bailey
Fire & Life Safety: Rolf Jensen & Associates
Geotechnical: Speedie & Associates
Lab Consultant: RFD
ADA Consultant: Robert Lynch
Client: Arizona State University
Photographs: Bill Timmerman
After 10 years of leasing space in a corporate office building, the Lance Armstrong Foundation found its permanent home in the 1950s Gulf Coast Paper Co. warehouse in East Austin, an underserved community in the process of revitalization. The design breathes new life and energy into both the building and neighborhood. Submitted for LEED Gold certification, the project reflects the LiveStrong mission of the Foundation—connecting to each other, constituents, community and environment.
Architects: Lake Flato Architects and The Bommarito Group
Location: Austin, Texas, USA
Interior Design: The Bommarito Group
MEP: ARC Engineering
Graphics: fd2s
Structural: Architectural Engineers Collaborative
Civil Engineering: Baker-Aicklen & Associates
Landscape architects: Ten Eyck Landscape Architects
LEED: Center for Maximum Potential Building Systems
General Contractor: Spaw Maxwell Company
Client: The Lance Armstrong Foundation
Project Year: 2009
Photographers: Hester + Hardaway
Located on a horse ranch in Sun Valley, Idaho, this simple pool pavilion appears to float in a natural clearing along the Big Wood River. The structure takes advantage of views of the aspen and cottonwood forest, a picturesque nearby horse pasture and the Saddle Mountains in the distance. While designed to function primarily as a pool house, the structure can also function as a guesthouse.
Architects: Lake|Flato Architects
Location: Sun Valley, Idaho, USA
Structural: Datum Engineering
Contractor: Bishop Builders, Inc.
Photographer: Lake|Flato Architects
The Colorado River, which dissects the city of Austin, is a precious resource that this house very much embraces. Located on a long narrow river side lot, the house is conceived as a "floating fishing village" on the edge of a man made canal, where a collection of small gabled buildings and boardwalks mask the line between land and water.
Architects: Lake|Flato Architects
Location: Austin, Texas, USA
Design Team: Ted Flato, FAIA, Bill Aylor, AIA
Structural: Lundy & Associates
MEP: Comfort Air
Interior Design: Stonefox
Contractor: Renaissance Builders, Inc.
Photographers: Patrick Y. Wong, Hester + Hardaway