The Los Angeles County Museum of Art (LACMA) will soon be rolling out the red carpet to welcome Swiss legend Peter Zumthor to the Golden State. The prized architect's debut will mark the opening of "The Presence of the Past: Peter Zumthor Reconsiders LACMA," which will unveil the ambitious, $650 million plan to transform the LACMA's "Byzantine maze of buildings and hallways" into an experience-based "village" of curvaceous modern glass structures that will produce more energy than it uses.
"The idea is to make it permeable by people," LACMA CEO and director Michael Govan says, who has been working with Zumthor for over four years on the proposal.
Founder and principal of Studio Gang Architects, Jeanne Gang, FAIA, LEED AP, will be delivering a lecture at LACMA on May 8th at 7:30pm. Reveal, the first volume on Studio Gang's projects and processes, was released in 2011 from Princeton Architectural Press. Recent projects include a proposal reimagining the suburb of Cicero, Illinois, as a part of MoMA'sexhibition Foreclosed: Rehousing the American Dream; Reverse Effect, a book intended to explore and spark a radically greener future for the Chicago River and Great Lakes; Aqua Tower, an Emporis Skyscraper of the Year; and Nature Boardwalk at Lincoln Park Zoo, an educational project demonstrating how nature and city can coexist. The event is presented by LACMA and organized by Francesca Garcia-Marques, with an introduction by Christopher Hawthorne, Los Angeles Times architecture critic. For more details and information on the event, please visit here.
On view until Marcg 25th and the Los Angeles County Museum of Art (LACMA), the installation for California Design, 1930–1965: "Living in a Modern Way" Exhibition is created by the Hodgetts + Fung Design and Architecture Studio, which is also responsible for a number of Los Angeles landmarks, including the renovated Hollywood Bowl and Egyptian Theater. The design for the exhibition is inspired by California's unique style, with lithe, sensuous lines carried throughout the installation, including the display cases and a helical construction that soars through the center of the space. Hodgetts + Fung also collaborated with curators Wendy Kaplan and Bobbye Tigerman to bring the re-creation of the Eames living room to life. More information on the design and exhibition after the break.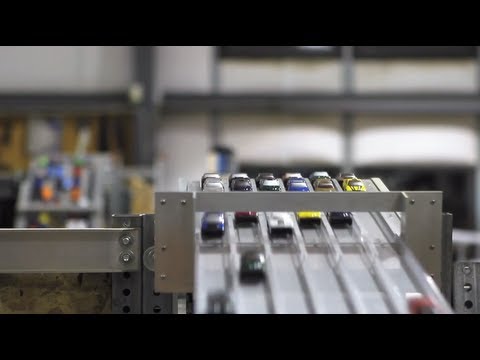 Chris Burden's massive kinetic sculpture, Metropolis II, will debut at at LACMA this fall. The project took Burden and his chief engineer Zak Cook four years to complete.
Burden, a performance artist known for crucifying himself on a Volkswagen and once hiring a friend to shoot him in the arm, doesn't have any particular interest in transportation or urban planning, he says, although he has used toys in his artworks since the 1970s. "Toys are interesting as objects — they're the tools you use to inculcate children into adults," he told Fastco Design. "They're a reflection of society." His mini-city is "modeling something that's on the twilight of extinction: the era of the 'free car,'" Burden says, referring to the idea of jumping into one's car anytime and going wherever one pleases. "Those days are numbered, but think it's a good thing. The upside is that cars can be faster and safer, and you don't have to worry about drunk drivers. Think about it: The cars in Metropolis II are going a scale speed of 230mph. That'd be great to do for real in L.A."