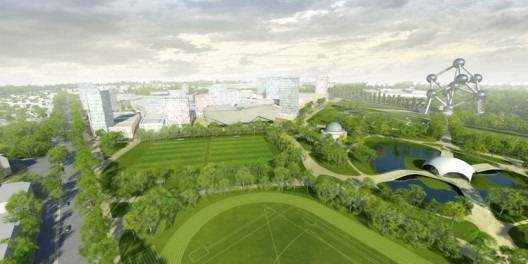 KCAP Architects & Planners present their vision today for NEO Brussels, the redevelopment of the Heysel plateau, , to the political arena, the press and the public. The team, KCAP working together with advisors Arup and Fakton, won the international design competition in September 2010. The area is one of the most strategic locations in the Brussels Metropole Region. The design for NEO Brussels aims to strengthen the significance of the Heysel, and to qualify it within a framework for sustainable development. More images and complete press release after the break.
KCAP Architects&Planners together with NEXT Architects from Amsterdam present their entry for the A101 Urban Block Competition in Moscow. The A101 urban development called for a Block City Masterplan to house 320,000 inhabitants with 13 million m2 of residential space. KCAP/NEXT's proposal – "100% Block City" – brings together the dimensions of individual elements of city life to enliven the monotonous block houses of the late socialist housing style while harmonizing the entirety into a single whole.
More about this project after the break.