Architects: K-architectures
Location: Saint-Nazaire, France
Design Team: Karine Herman, Jérôme Sigwalt, Olivier Jonchère, Alexandre Plantady
Consultants: Changement à Vue (stage design), Altia (acoustics), Alto (fluids), Khephren (structure), Bougon (economist)
Budget: 16.4 M€ of works, including tax
Area: 3,900 sqm
Year: 2012
Photographs: Luc Boegly, Patrick Miara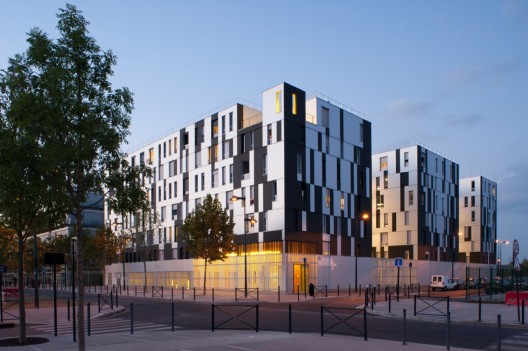 This multi-story student residence hall, designed by K-architectures, accommodates 234 apartments. The design consists of three separate buildings connected through a series of delightful external staircases.
Architect: K-architectures
Location: Bordeaux, France
Project Team: Karine Sigwalt, Jerome Herman and associate architects from K-architectures, Cecile Métaireau (first assistant architect), Sébastien Fiore and Alexander Plantady (assistant architects)
Project Area: 6,274 sqm
Project Year: 2010
Photographs: Simon Deprez
Located on the urban periphery of Granville, this musical school sits in a landscape that is both rural and urban. In this setting, the school brings together many of music schools that were scattered across several municipalities. Hidden by the terrain, the building borrows from the surrounding rural farms, barns, and small factories and translates them into a contemporary language. The details are simple and clean with a hint of rustication ie. the pre-patina copper green.
Architect: K-architectures
Location: 1301 Route de Vaudroulin 50400 Granville, France
Project Team: Karine Herman and Jérôme Sigwalt, Rebecca Pelayo and Sébastien Fiore (assistant architects)
Project Area: 1,305 sqm
Project Year: 2010
Photographs: Simon Deprez