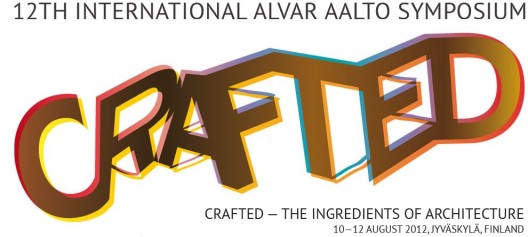 To be held August 10-12, the 12th international Alvar Aalto Symposium, entitled "CRAFTED – The Ingredients of Architecture", will discuss how architecture can rise above the ordinary. The symposium will feature 14 top experts and thinkers in their fields, offering their takes on this year's theme. The latest addition to the list of speakers is Mohsen Mostafavi, a renowned architect who is dean and professor at the Harvard Graduate School of Design.
Mohsen Mostafavi (US) will take the slot of Richard Sennett, whose appearance was cancelled earlier. In addition to Mostafavi, symposium speakers include Kjetil T. Thorsen, founding partner of Snøhetta, the agency responsible for the design of the Oslo Opera House and the Bibliotheca Alexandrina; architect Takaharu Tezuka; and Bjarne Mastenbroek, founder of the Amsterdam-based agency SeARCH. For more information about the event, please visit here.
The 12th International Alvar Aalto Symposium will be held in Jyväskylä Finland from August 10-12, 2012. With the theme of 'Crafted' – The Ingredients of Architecture', the question arises: How does architecture rise above the ordinary? Organised by the Alvar Aalto Academy, the international Alvar Aalto Symposium aims to address the complex relationship between material, craft and culture, not simply as a matter of professional practice but also as a sociological and pedagogical imperative. More information on the event after the break.
Being held at the Alvar Aalto Museum in Jyväskylä, Finland, the exhibition for the latest works by artist Ola Kolehmainen is currently on display until July 29th. A contemporary artist of international importance, Kolehmainen is known for his large abstract architectural photographs. With his work mainly associated with Aalto buildings, has been visiting Aalto buildings for years in order to become familiar with them – from Paimio Sanatorium to the Villa Mairea, to Säynätsalo Town Hall and Imatra, to buildings in and around Jyväskylä and finally to Viipuri Library. In his works, Kolehmainen is reaching out for a space-time experience on the other side of the picture plane. For more information on the exhibition, please visit here.