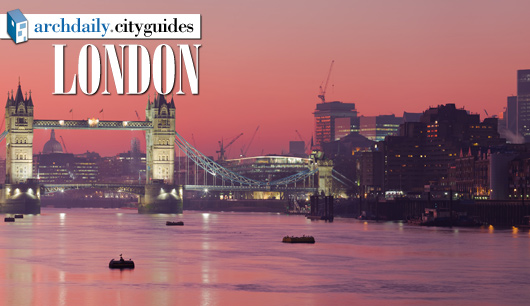 This week, with the help of our readers, our Architecture City Guide is headed to London. This is our second stop in Europe, and once again I had to capitulate and double the number of buildings that we normally feature. We could not feature all of the suggestions, and will be adding to the list in the near future. We really appreciate those readers who offered their suggestions and the use of their pictures to make up this list.
Samuel Johnson famously said, "When a man is tired of London, he is tired of life." As home to a long tradition of kings and queens, the Royal Society, and the roots of the Industrial Revolution, it is not surprising that there is a rich tension and collaboration between the historic and contemporary architecture in London. This reflects a city and culture that has a strong history of celebrating the past while also moving forward. Conflicts often emerge, as the goals of one side clash with those of the other. This relationship, however, is why I find walking the streets of London so appealing - those beautiful moments when history and progress collide.
Once again, thanks to all our readers for your help. We encourage you to add more of your favorites in the comment section below.
The Architecture City Guide: London list and corresponding map after the break.
Jonathan Clark's renovation of  the 1960s Longford Community School adds a colorful front for the two storey extension and partial conversion project.  Extending from a lifeless masonry building, the choice of using colourful timber offers a nice contrast with a more aesthetic touch. Timber was chosen because the clients desired that the main material selection include environmentally friendly materials.  The extension includes two classrooms and a fitness center on the ground level, and a library on the first floor. The interior also incorporates the vibrant color palette of the exterior, making the interior feel more "relaxed."  Aluminium grating panels provide solar control as well as some structural stiffening to the external structure.   For the roof, the timber is clad with silver 'Trespa' panels that give the impression of "floating/sliding across the exposed timber roof beams."
More images after the break.