Pixelmator, an app which has been familiar to Mac users since 2011, have released a version of their powerful photo editing software for iPad. Although the App Store is awash with photo editing and manipulation packages, Pixelmator's clean interface and collection of the most used features iPad users require, makes it a good substitute for desktop based software packages when on the move. Alongside allowing image enhancement, a "painting engine, precise colour correction, and live histograms" (allowing you to gauge real-time colour values as you edit), the app also takes step into providing "layers, non-destructive layer styles and a collection of professional-grade selection tools."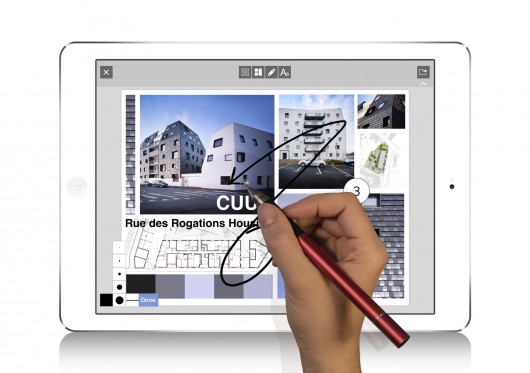 Consistently ranked as among some of the best digital tools available for architects and designers, the team behind the Morpholio Project today release Board 2.0., the second version of their moodboard and layout app for iOS. The app has been made possible by a number of collaborations with high profile interior designers in order to develop a 'gallery' of "significant design objects", with contributions from the likes of Dyson, Herman Miller, and Knoll. For the past year Morpholio have "assembled research groups and canvased design leaders worldwide" in order to better understand the power and potential of the 'board'. The general consensus was that getting style, products, and sketching onto a single platform could "change the way designers access, build, and share ideas."
Building upon our Top 10 Apps for Architects, this collection brings together some of the best quality and most valued technical apps for designing, sketching, calculating and collaborating. Although the majority of those featured here are designed solely for the iOS platform, every time we collate lists such as these it's clear that more and more high quality apps for the Android and Windows platforms are being developed. From condensed versions of large scale software packages that architects and designers use every day, to blank canvases to scratch ideas down onto, you might just find an app that could improve the way you work.
Part of an increasing trend of apps which allow precision scale drawing, Arrette Scale seeks to provide designers with a simple, familiar drawing environment usable by anyone comfortable with traditional drawing tools. Allowing users to digitally review work by sharing ideas and drawings, Arrette's platform welcomes incremental design changes and collaboration on iPad without the need for printing reams of paper.
Although tablets have opened up a whole new range of possibilities for architects and designers, using them for drawing and doodling is often a clumsy experience. In many cases there's far too little accuracy and far too much complexity when it comes to working simple operations. Archisketch, which was formerly known as Archipad, seeks to streamline this experience with a smooth, cleanly designed app for iPad that not only allows you to import drawings and doodle over them, but also draw to scale.
SketchUp have recently unveiled the latest app in their suite, SketchUp Mobile Viewer for iPad. Allowing "on the go" access to models, the app also features access to "the entire universe" of files in their 3D Warehouse. Users can use the same familiar features, such as Orbit, Pan and Zoom, to "present their own private 3D models to clients and partners." With a price tag of $9.99 from Apple's App Store, early reviews suggest that this is a good first step with some way yet to go. Being the first ever SketchUp tablet product (with a planned Android version in the works), it has been released in conjunction with SketchUp 2014 which incorporated BIM capabilities for the very first time.
ArchDaily's Architecture App Guide will introduce you to web and mobile apps that can help you as an architect: productivity, inspiration, drafting, and more.
Today we introduce you Morpholio Trace, an intuitive  drafting tool that brings one of the most frequent tools from our desk to a mobile touch device: the tracing paper. The app, developed by our friends from The Morpholio Project, lets you draw on top of images (imported from your iPad camera or other sources) as if you were using tracing paper. A collapsible menu provides you basic set of  tools (add more layers, choose from two colours, three widths, save) that enable you to to draft, sketch and review. No fancy fatures, just what you need. Functional minimalism that is not often found in many apps, related to the architectural background of Trace's creators.
Trace, essential to any design or creative process, allows users to instantly draw on top of imported images or background templates, layering comments or ideas to generate immediate, intelligent sketches that are easy to circulate.  
I tested the app, which is available at the App Store, and it was very intuitive to use. I used it with both my fingers and with a my Pogo Sketch pen, and it was very easy to grab a photo, put a tracing paper on top of it, start sketching on different layers and send it via email.
The app won't replace the good old tracing paper we have in our boards, but will rather extend its functions and make it more collaborative.
More info from the creators after the break.
The days of carrying around rolls of construction documents on site are in flux. The rapid change of both software and hardware has already dramatically changed the way architects, engineers, and general contractors communicate with each other. For those of you who do site visits on a regular basis, you are no doubt familiar with the relatively drawn out process the contractor has to take in order to get clarification on a detail or problem distillation – taking pictures of detail, scanning redlines, emailing to architect, etc. However, what if, and it is happening, you can bring out an iPad or similar device with all the drawings loaded ready to view in palm of your hand. Questions can simply be marked up right on the spot and instantly fired off for review or approval.
The field of architecture has been immersed with a digital environment for decades now, but with the advent of BIM and smarter modeling it only makes sense to take the next step forward and leave the paper trail of construction drawings behind. One can simply load up a BIM model on their portable device on site and have a resolution achieved within a much shorter time frame. In a fast paced environment where time is a critical factor, expediting the construction process from both within the office and out in the field is mutually beneficial for all parties involved.
Software currently on the market that address and take advantage of portable tablet devices include Bentley's Navigator, Autodesk's AutoCAD WS, PlanGrid, and iRhino 3D (only a viewer at this point).
References: www.techcrunch.com
Our favorite sketchbook has gone digital! Moleskine presents The Hand of the Architect – an iPad app featuring 378 sketches and drawings from 110 internationally renowned architects, such as Assadi, Botta, Fuksas, Graves, Gregotti, Hadid, Foster and Piano, "showing that every project always begins by hand". All the works were collected by FAI (Italian National Trust) with the aim of raising funds to restore Piero Portaluppi's Villa Necchi, known as a 1930s masterpiece of Italian rationalism in Milan. Sketches and drawings are accompanied by essays, captions and the biographies of the architects. You can purchase the app for $18.99 here on iTunes.
In case you missed it, check out Frank Lloyd Wright's Fallingwater iPad App and Zaha Hadid Architects iPhone & iPad App, previously featured here on ArchDaily.
Frank Lloyd Wright's Fallingwater has joined a rapidly growing list of interactive apps catered to architects and architecture fanatics. Brought to you by planet architecture, you may now explore the iconic 1930's Pennsylvania home right from your media device. Get a behind-the-scenes tour through hundreds of photographs, floor plans, archival drawings, VR panoramas and over 25 minutes of video clips from the documentary film "Frank Lloyd Wright's Fallingwater". As architecture continues to join the interactive world of apps, we cannot wait to see which architect or project will be next! Learn about the Zaha Hadid Architects app here.
Continue after the break for more screenshots and video.
On October 2nd Zaha Hadid Architects launched their much anticipated (to us architecture nerds anyways) iPhone and iPad App, made available through Apple and iTunes. This new App will allow users to browse through ZHA current portfolio of design and architecture. In a future update to the App there will be exclusive access and insight into some of the award winning buildings in the form of interactive guides (coming soon) to be used when visiting Zaha Hadid's buildings.
Straight on the heels of being named the Best Architectural Monograph of 2010 by the DAM Museum, Taschen republishes YES IS MORE as the World's 1st Architectural Monograph in an eBook edition tailored to the Apple iPad.
The digital edition of Yes is More not only includes the 400 page Archicomic which has now been translated into 6 languages, but updates several projects which have been completed since it hit bookstores in Feb 2009. In addition to the updates of the Danish Pavilion at the Shanghai Expo 2010 and the 8 House in Copenhagen, the eBook takes you behind the scenes of BIG's three most recent projects.
Over 25 short films and animations have been added to create a truly immersive experience that distinguishes the eBook from its printed kin. The $ 9.99 Yes is More eBook is available for download on the Apple iTunes App Store.