The proposal for Healthy Urbanism is a collaboration between a visionary client, a health scientist and ISA – Interface Studio Architects to investigate the potential for health outcomes to influence large-scale neighborhood and building design. The consulting team developed a conceptual tool in order to bring spatial design and health outcomes into communication with one another. "The Matrix" is a key proposal of the work which creates a bridge between health-related research and literature, factors, health impacts, program, and design parameters. More images and architects' description after the break.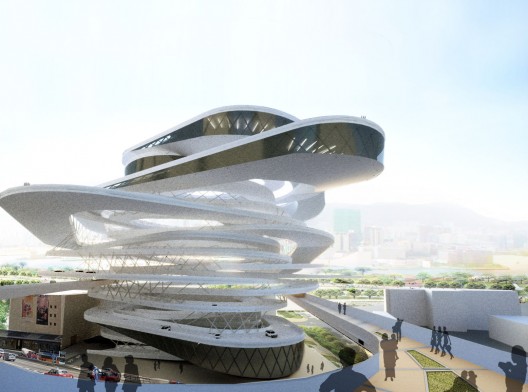 Interface Studio Architects shared with us their proposal for the Hong Kong Car Parc competition, which aims at romanticizing the car as an active urban object while simultaneously implementing sustainable strategies. In addition to including parking spaces in the rotational design, shopping, food and landscaping aspects are also included in the program. More images and architects' description after the break.
A conceptual proposal for the retrofit of an old grain silo in Center City Philadelphia, Interface Studio Architects aims to integrate an existing, vacant structure into an urban, mixed-use project. Additionally, it raises interesting questions about old building reuse and innovative tactics for sustainability. More images and architects' description after the break.
This week our Architecture City Guide is headed to Philadelphia. The list of influential architects that have either worked, studied, or taught in Philadelphia is perhaps the only list that challenges the numbers of Founding Fathers that descended on this city of "Brotherly Love." A brief list includes Sullivan, Kahn, Wright, Pei, Rudolf, Corbusier, Latrobe, Gropius, Mumford, and Furness. That being said, our list of 12 barely scratches the surface of buildings worth seeing in this great city. We would like to hear about your must not miss buildings in the comment section below.
The Architecture City Guide: Philadelphia list and corresponding map after the break!
Architects: Interface Studio Architects
Location: Philadelphia, PA, USA
Client: Templetown Realty (Jonathan Weiss)
Major Funding: Private development
Concept/Lead Architect(s)/Designer(s): Interface Studio Architects
Structural Engineers: Larsen and Landis
Electrical/Mechanical Engineers: n/a
Additional Consultants: MaGrann Associates – LEED
Project area: 80,000 sq. ft.
Project year: 2009 – 2010
Photographs: Interface Studio Architects, Sam Oberter
Architects: Interface Studio Architects
Location: Philadelphia, PA, USA
Client: Postgreen Homes
Major Funding: Private development
Concept/Lead Architect(s)/Designer(s): Interface Studio Architects
Structural Engineers: Larsen and Landis
Contractor/Manufacturer: Manor Hill Construction / Hybrid Construction
Additional Consultants: MaGrann Associates – LEED
Project area: 1,150 sq. ft.
Project year: 2008-2010
Photographs: Interface Studio Architects, Sam Oberter