Architects: Joyce Wang
Location: Hong Kong
Contractor: Wan Fang Limited
 Mr. Allan Mak
Allan
Area: 2,000 sqft
Year: 2012
Photographs: Edmon Leong
It has been twenty years since the demolition of the Kowloon Walled City. To mark this, the South China Morning Post has created an info-graphic that details the facts and figures of what life was like inside this architectural oddity. 
Read more about the madness that was KWC after the break…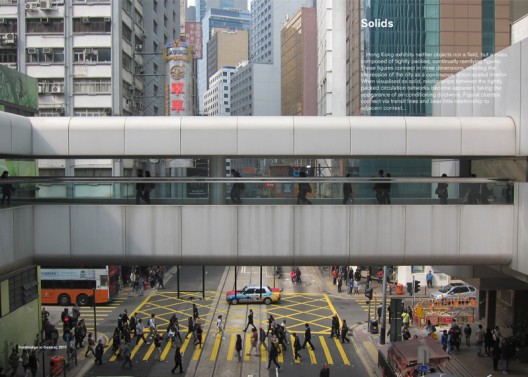 As a city, Hong Kong doesn't have it easy; impossibly dense and smothered by unsympathetic hilly terrain, the gymnastics that it performs to survive has lead to the growth of unique urban spaces. Cities Without Ground deconstructs the unfathomable spaghetti of pedestrian bridges, tunnels and walkways, which make up pedestrian Hong Kong. The book, created by motley trio of architects and academics: Jonathan Solomon, Clara Wong and Adam Frampton, graphically dissects this labyrinth in a series of snappy axonometric drawings of 32 various routes through the city.
Read more about the story of Hong Kong's pedestrian maze after the break…
Designed by Zaha Hadid Architects, the 'Shop in Shop' concept for Neil Barrett is based on a singular, cohesive project that is divided into sixteen separate pieces. Specific pieces have then been selected and installed into each of the four Neil Barrett Shop in Shop's in Seoul, and also into the Hong Kong shop; creating a unique display landscape within each store. The pieces have been carved and molded from the original solid as pairs that define each other to create an artificial landscape that unfolds multiple layers for display. More images and architects' description after the break.
Architects: LEAD
Location: Causeway Bay, Hong Kong
Project Management: 4N Architects, Laboratory for Explorative Architecture & Design Ltd. (LEAD)
Design Team: Kristof Crolla, Sebastien Delagrange
General Contractor: Kin Wah Decoration Co
Area: 25 sqm
Year: 2012
Photographs: Dennis Lo Designs
Designed by MA2, the office tower and exhibition hall concept design proposal is for Hong Kong's Kai Tak development, an airport landing strip that will be reclaimed into the city as a new cultural, business, and residential district. The tower is an expression of fluid movement that manifests into a series of folds, creases, and a bifurcation of massing creating a dual tower. More images and architects' description after the break.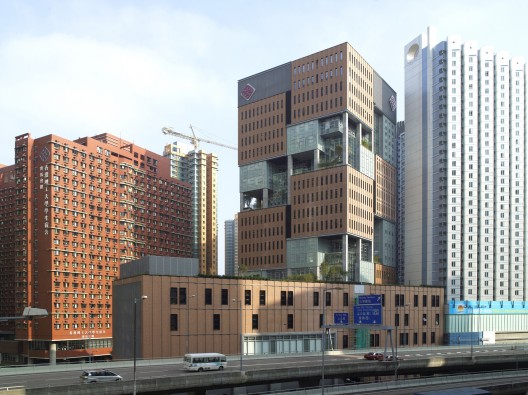 Architects: Wang Weijen Architecture, Architecture Design and Research Group, AGC Design
Location: Hung Hom, Hong Kong
Area: 26000.0 sqm
Year: 2009
Photographs: Courtesy of Wang Weijen Architecture
Architects: CAAU
Location: 3 King Ling Road, Tseung Kwan O, Hong Kong
Project Leaders: Thomas Coldefy, Isabel van Haute
Associate Architects: P & T Group Hong-Kong
Area: 42000.0 sqm
Year: 2010
Photographs: Sergio Pirrone
This design for the North Point waterfront redevelopment, which won the first prize in the competition, proposes an "organic network" of forms for the site. Designed by Chris Y. H. Chan + Stephanie M. L. Tan, the project approach is based on the study of the adjacent "community street" – Chun Yeung St., which should have human life and the life of dwellers establishing the community. In this project, they aim to transform the Chun Yeung St's urban model as part of an organic ecology. This model could affect the North Point district to become a more sustainable urban model. More images and architects' description after the break.
The West Kowloon Cultural District Authority (WKCDA) has announced seven international teams competing to design a 14 hectare, landscaped public space for arts and culture on a waterfront property in Kowloon. After the project breaks ground in 2014, the phased development is expected to only take a year. It will feature a lush, sculpted terrain that will provide a new green open space in the heart of the city and a vibrant venue for music, dance, theatre, art exhibitions and other free outdoor cultural programs.
The seven shortlisted design teams are:
The Hong Kong Polytechnic University (PolyU) chose world-renowned architect, Zaha Hadid, as Chief Architect of its new "Innovation Tower". The project, located at the northeast side of the university campus, will serve as a driving force in the development of Hong Kong as a design hub in Asia. The tower will also provide additional space to facilitate inter-disciplinary research and education in the field of design. The topping-out ceremony was held on September 24. On completion, it will be home to PolyU School of Design (SD) and the newly established Jockey Club Design Institute for Social Innovation. More images and architects' description after the break.
The 'Forest Corridor' proposal has won one of the 2nd prizes (Professional Category) in the Open International Competition for Noise Barrier/Enclosure organized by the Hong Kong Government. Designed by BREAD Studio, the project gives an alternative insight to the noise mitigation structure design in the dense urban environment of the city. More images and architects' description after the break.
Architects: Ronald Lu and Partners
Location: Chai Wan, Hong Kong
Year: 2010
Area: 25,930 sqm
Site Area: 4,400 sqm
Photographs: Courtesy of Ronald Lu and Partners
Architects: Ronald Lu and Partners
Location: Kowloon Bay, Hong Kong
Year: 2012
Area: 3,300 sqm
Photographs: Courtesy of Ronald Lu and Partners