The new exhibition space Rooms for Glass (Le Stanze del Vetro) in Italy, designed by Selldorf Architects, will open this summer in August 2012.  The first exhibit to inaugurate the space will be Carlo Scarpa. Venini 1932–1947, a collection of over 300 glassworks by architect Carlo Scarpa. The exhibit will run until November 29, 2012, after which Rooms for Glass will continue showcasing the art of Venetian glassmaking in the 20th century with other exhibits.
Read on for more after the break.
Pratt Manhattan Gallery has unveiled their exhibition "Bright Future: New Designs in Glass" featuring innovative and mesmerizing uses for the centuries-old material.  The exhibit, which features furniture, tableware, architectural elements and lighting designs, will be on display until May 5th, 2012.  The artists and firms featured here displays a refined use of glass in conjunction with metal, concrete and pigment to evoke its qualities of flexibility and transparency.  In conjunction with this exhibit, Pratt will be hosting a free panel discussion: "Glass, Light and Public Space" on April 5th at 6pm in Lecture Hall 213 of Pratt's Manhattan Campus at 144 West 14th Street, Second Floor.
Read on after the break to see previews of the exhibit and for more on the panel discussion.
Architect: RATIO Architects
Location: Indianapolis, Indiana, United States
Project Area: 700,000 sq ft
Project Year: 2011
Photographs: Bill Zbaren Photography
In 2006, the Indiana Stadium and Convention Building Authority selected RATIO Architects to create a major expansion to the Indiana Convention Center as a response to ongoing increased convention and trade show demand. The more than 700,000 sq. ft. expansion includes exhibition space, meeting rooms, and pre-function and support space – all within a tight urban site in the heart of Indianapolis, directly connected to 4,700 hotel rooms and within easy walking distance of restaurants, retail shops and at the head of a new pedestrian/event street. More about the Indiana Stadium and Convention Building after the break.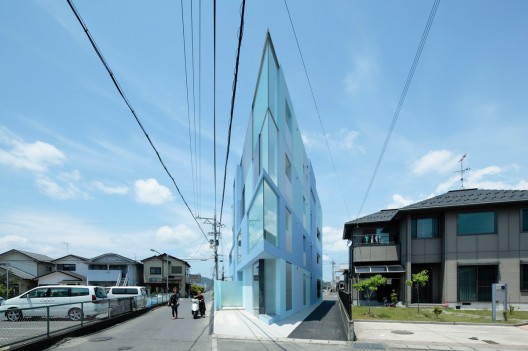 Architects: Eastern Design Office
Location: Shiga, Japan
Client: TOYO-KAIHATSU Co., ltd
Constructor: Okudakomuten Co., Ltd
Structure Planning: HOJO STRUCTURE RESEARCH INSTITUTE
Project Year: 2011
Project Area: 261 sqm
Photographs: Koichi Torimura
Architects: OLGGA Architects /  Alice Vaillant, Guillaume Grenu, Nicolas Le Meur
Location: Grande Synthe, France
Client: City of Grande Synthe
Engineering: Sogeti ingénierie
Acoustic: Abe acoustique
Project Year: 2011
Project Area: 2,433 sqm
Photographs: Julien Lanoo
Upon its Grand Opening September 4, 2011, the Stadium du Littoral, constructed in Grande Synthe, is the first facility north of Paris integrating five athletic disciplines under one roof. Designed by OLGGA Architectes, this athletic complex includes stadium seating for 617, two club houses, locker rooms, a community recreation room and administrative offices.
Architect: OPN Architects
Location: Coralville, Iowa
Project Year: 2010
Photographs: Wayne Johnson, Main Street Studio 
Designed for the University of Iowa, the Hygienic Laboratory was designed by OPN Architects and was completed in 2010 as a collaborative and interdisciplinary laboratory facility.  In addition to both closed and open laboratory space, the complex features traditional academic functions such as office space, workspaces, and group meeting space.  More images and architect description after the break.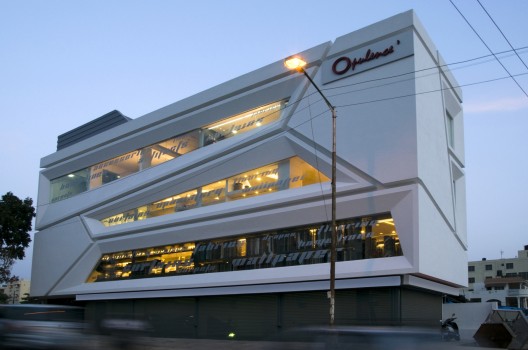 Architects: Cadence
Location: Bangalore, India
Project Team: Smaran Mallesh, Narendra Pirgal, Vikram Rajashekar, Rejin Karthik
Project Year: 2010
Photographs: Claire Arni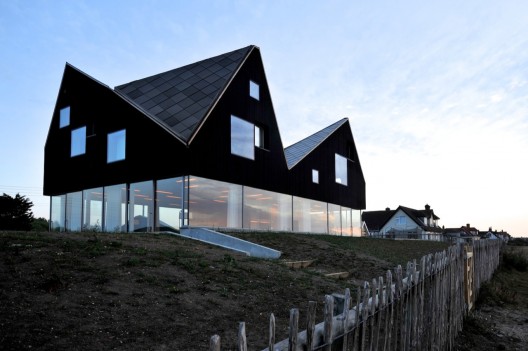 Architects: Jarmund / Vigsnæs AS Arkitekter MNAL / Einar Jarmund, Håkon Vigsnæs, Alessandra Kosberg, Anders Granli
Location: Thorpeness, Suffolk, England
Client: Living Architecture
Collaborating Architect: Mole Architects Ltd.
Project Year: 2010
Project Area: 250 sqm
Photographs: Nils Petter Dale
Architects: Senan Abdelqader
Location: Jerusalem, Palestine
Project Area: 1700 sqm
Photographs: Amit Giron
Architect: Legat Architects, Inc.
Location: Matteson, Illinois
Construction Manager: Louis Jones Enterprises, Inc.
Technology/Audio-visual/Security/Geothermal Feasibility Consultant: KJWW Engineering Consultants
MEP/Structural/Civil Engineer: Globetrotters
Photographs: James Steinkamp
Designed by Legat Architects, Inc. of Chicago, Illinois, the 122,000sf Colin Powell Middle School is an academic facility that serves grades 6-8 for Illinois School District 159.  According to the architect, "The design of Colin Powell Middle School responds to the client's desire to provide a progressive symbol of education to its students and community.  Energy efficiency, environmental conscientiousness, and openness were all driving factors in the design."  More images and description after the break.
Architects: Rstudio
Location: Valencia, Spain
Project Year: 2010
Engineering Management: Seg_Ineco
Landscape Architecture: Alfonso Peris
Photographs: David Frutos
Architects: IMB Arquitectos / Gloria Iriarte, Eduardo Múgica, Agustín de la Brena
Location: Bilbao, Spain
Project Year: 2007
Client: Diputación Foral de Bizkaia, Bizkaiko Foru Aldundia
Project Staff: Pedro Múgica, David Salvador, Mariano Ortega, Josu Iriarte, Gorka Apraiz, Iñigo Barberena, José Luis Olaeta, Felix Aguiriano, Diego Poza, Iban González
Project Consultants: Ingeniería INARGEST (Structure), Javier Mendieta (Air Conditioning)
Main Contractor: UTE Balzola Urazca
Photographs: Åke E:son Lindman
Designed by Brininstool, Kerwin, and Lynch, the Beijing Core Area Master Plan is a massive civic proposal of over 27 million square feet of building area and an additional 1.5 million square feet of public space design for the Central Business District of Beijing, China.  More images and architect's description after the break.
Architects: Reiach and Hall Architects
Location: Dundee, Scotland
Structural Engineer: Buro Happold
Main Contractor: Bovis Lend Lease
Project Year: 2011
Project Area: 12,500 sqm (Gross Internal Floor Area)
Photographs: Dave Morris, Paul Zane, Reiach and Hall Architects