A looping mixture of culture and commerce has won Joel Sanders Architect and FreelandBuck first prize in the international competition hosted by the largest media and publishing company in China, Phoenix Publishing and Media Group (PPMG).
Their 80,000 square meter winning proposal for the new Kunshan Phoenix Cultural Mall divides a large urban block into four 'cultural cores,' each five stories high and respectively housing a theater, fitness club, education center, and exhibition halls. The podium, which sits upon the glass-clad cores, spirals the length of the perimeter (comprised of stores, restaurants and cafes) and ultimately plateaus at an open park where the public and Phoenix employees would share a common space.
"Inspired by Lebbeus Woods' Slipstreaming drawings, this installation is made from over one thousand CNC cut plywood pieces that notch together to create an undulating, dynamically patterned and brightly colored wall. Developed as the extrusion of a 2-dimensional drawing through the gallery space in New York, the structure is then cut away to produce a set of interconnected 3-dimensional spaces. The project develops novel forms of digital drawing, 'egg-crate' type assemblies typical in stick built construction, and our ability to describe and produce the dynamics of flow and turbulence, a phenomena that have fascinated artists at least since Leonardo Da Vinci."
FreelandBuck's installation Slipstream (previously mentioned on AD) has been on view at New York's Bridge Gallery since mid-July. However, the exhibition has come to an end and Slipstream is in need of a new home. Interested? You have less than 24 hours to place a bid on Ebay now!
At least since Leonardo Da Vinci's first attempts to describe turbulence, architects have been fascinated by the dynamics of flow – perhaps seeking an escape from the solid, stable nature of buildings. Beginning in the 1990′s, architects have used digital software to imbue structures and spaces with some of the same qualities as Da Vinci's meticulous drawings: fluidity, undulation, instability and temporality. But while software has allowed architects to create novel, dynamic forms digitally, they have struggled to translate these qualities to the physicality of the material world. Slipstream is a physical structure that confronts that leap directly, translating a 2-dimensional digital line drawing into 3-dimensional space.
Alluding to Lebbeus Woods' 2010 'Slipstreaming' drawings of flow, the installation is a single drawing extruded through the gallery space and cut away to produce a set of interconnected spaces. The linear extrusion acts as both structure and dynamic visual filter, shifting views through the installation and between the spaces it defines. It's integrity as a structure is masked by both its redundancy and bright coloration. Employing gradients that diffuse and coalesce along its length, color amplifies the undulating lines, establishing cross currents that intensify as visual eddies. Irreducible to form, structure, or graphic, Slipstream is a combined phenomenon of the three.
Don't miss SLIPSTREAM's opening tonight, July 12th, from 7-9pm at New York's Bridge Gallery in the Lower East Side of Manhattan. Find more details here on the bridgegallery official website. The exhibit will remain on view until August 24th. 
Architects: FreelandBuck
Location: Los Angeles, California, USA
Client: Andre, Fred, and Max Guerrero
Project Year: 2010
Project Area: 2,200 sqf
Photographs: Nils Timms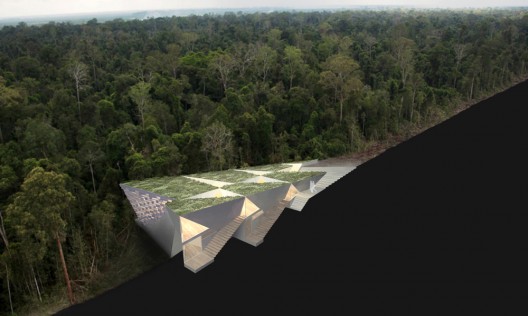 This house on a Maine woodlot is designed as a weave of volumes and courtyards that strikes a precise balance between solid and void. Neither a carved solid, nor aggregate volumes within a continuous void, the interior rooms and exterior courtyards are both continuous, but meet only at their upper and lower corners.  More renderings and drawings of the Woodlot House by FreelandBuck following the break.
Architects: FreelandBuck
Location: Falmouth, Maine, USA
Project Team: Brennan Buck, David Freeland, Kate Thatcher
Architects: FreelandBuck
Location: Venice Blvd, Los Angeles, USA
Client: Yvonne McDonald and Dean Harada
Contractor: Vandermeer Contractors
Proyect Year: 2010
Photography: Lawrence Anderson/Esto