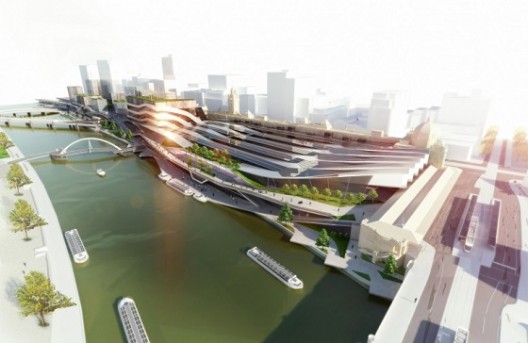 The ongoing competition for the redevelopment of the landmark Flinders Street Station in Melbourne, Australia has begun to raise some serious questions about the role of the public in architecture. The international competition, which narrowed down a total of 117 applicants to only 6 finalists, is due for completion in mid-2013. Each proposal will be put on display and the public will be invited to vote on their favorite design; what is raising eyebrows, however, is that the result of this public vote will be kept from the jury, who has the final say. The jury will not know what the public likes or dislikes when they place their own votes, and the public preference will only be revealed at the very end along with the jury's decision. 
Although there are pros and cons for keeping this information from the jury members, some Australians feel very strongly about their station - and you can certainly argue that they should have a greater say in its future.
Read more about public participation in architecture after the break… 
In November, the 6 shortlisted firms for the Flinders Street Station competition each received a letter. The letter, written by Major Projects Victoria, a division of the Victoria city government, warned them of a certain act that would not only result in their disqualification, but would also bring the entire competition into "disrepute."
What potential act could deserve such a warning? Attending an exhibit of the rejected design entries.
On November 22nd,  Fitzroy-based architecture firm Edwards Moore organized the "Long-Listers" exhibit to build on the public excitement for the competition, using the momentum to generate more conversation and debate about the project. As architect and organiser Juliet Moore put it: "We wanted peer collaboration . . . too often these things are done behind closed doors. By the time the designs are revealed [a year later] the moment has passed."
More after the break…