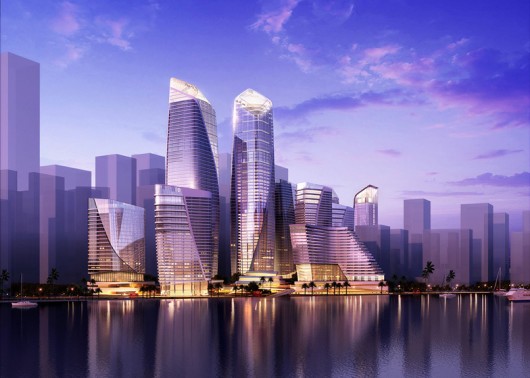 Farrells has been announced as winner of an international competition to masterplan two prominent commercial zones in Shenzhen's Qianhai financial district. Adjacent to the district's Qianhaiwan metro station, the two districts are expected to boost cross-border trade between Shenzhen and Hong Kong. The first, 460,000-square-meter masterplan will feature a 320-meter-tall skyscraper and two 185-meter gateway towers, providing high-end office, residential and retail space, as well as serviced apartments.
London-based practice Farrells will be teaming up with UK developer Stanhope and commercial developer ABP China (Holding) to regenerate London's historic docklands into a thriving, mixed-use business district. The deal, which represents one of the first direct investment by a Chinese developer in London's property market, will act as a platform for financial, high-tech and knowledge driven industries looking to establish their business in UK and European markets.
More on the Farrells' masterplan after the break…
An impressive team has been pieced together by Canary Wharf Group to design portions of the first phase for the Wood Wharf development in London's major business district of Tower Hamlets. Already home to some of the UK's tallest buildings, Canary Wharf has announced its plan to add a Herzog & de Meuron-designed residential high-rise to its glowing skyline on a redeveloped eight-hectare site.
Ascan Mergenthaler, senior partner at Herzog & de Meuron stated, "The new high-rise building will mediate between the city and the individual, the public and private, and will inject a new component of daily residential life into the evolving mixed-use Canary Wharf district. It will be both a symbol and the heart of the new Wood Wharf urban quarter, an extension of a dynamic global community and the start of a new vibrant neighborhood."
See who else has been commissioned to partake in the first phase of the Canary Wharf development after the break.