Take a virtual walk down the streets of Tel Aviv with these illustrations of the city's facades by graphic designer Avner Gicelter. "My aim is to capture the unique essence of the building's features in my illustrations, using a minimal set of graphic elements," he explained. "After the building's illustration is done I choose a background color out of a palette and a typeface that will reflect what I refer to as a Tel Avivian atmosphere."
Gicelter first had the idea to capture the unique architecture in Tel Aviv's city center when apartment hunting in 2013. "I got more interested in the building's facade than in the apartments we were looking at," he said. Since then he has illustrated over 70 different buildings.
Check out some of Gicelter's illustrations after the break and visit his website to learn more. His illustrations are also available for purchase on Etsy.
In case you missed it, we're re-publishing this popular post for your material pleasure. Enjoy!
To celebrate the recent launch of ArchDaily Materials we've brought together five projects with fantastic façades, from Viñoly's Dolby Regeneration Medicine Building in San Francisco to Holzer Kobler's PALÄON in Schöningen, Germany. A building's envelope is often people's first impression and, in recent years, have been one of the focuses of innovation in the design and construction industry. The projects we've collated show a glimpse at what's possible with façades and wall finishings.
BIQ – the world's first algae powered building – is set to be completed in Germany later this month. Built for the International Building Exhibition (IBA) in Hamburg, this zero-carbon apartment complex will sport a bright green facade-cum-algae farm, while its interior proposes a radical new theory on how we will live in the near future.
More about BIQ after the break…
Architects: Supermachine Studio
Location: Sriracha, Thailand
Design Team: Pitupong Chaowakul, Suchart Ouypornchaisakul, Santi Sarasuphab, Nuntawat Tassanasangsoon, Kasidis Puektes,Jetsada Phongwasin and Korthong Thongtaem
Area: 1,200 sqm
Photographs: Courtesy of Supermachine Studio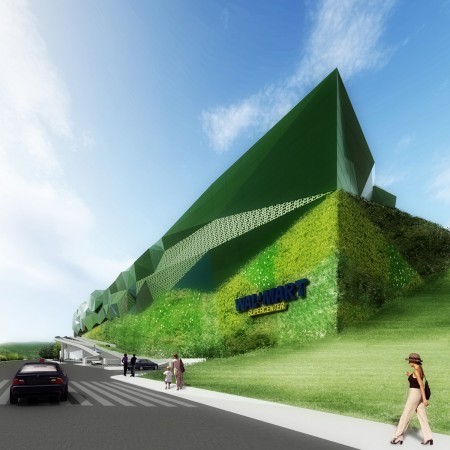 With a shopping center already under construction, ROW Studiowas asked to design the facade for the center in Zona Esmeralda, in Mexico City. The clients asked for an interesting, and almost contradictory mix of requirements: the façade must be both dynamic and eye-catching, while still blending into the surrounding forest line.
More images and more about the facade after the break.