Architects: Stanton Williams
Location: Granary Building, 1 Granary Square, London, N1C 4AA
Tenant: University of the ArtsLondon
Completion Date: April 2011
Project Value: £200M (based on cost of land, building, fit-out and expansion incl. third floor)
Photographs:  Hufton + Crow, John Sturrock
Architect: Adam Richards Architects Ltd.
Location: Plaistow, West Sussex, England
Project Year: 2010
Photographs: Courtesy of Adam Richards Architects
Currently under construction, it has been announced that the Herzog & de Meuron designed first phase of the new development of Tate Modern will open in the summer of 2012. The launch will be part of the London 2012 Festival which will be the culmination of the Cultural Olympiad.
Phase 1 of the development includes the opening of the former power station's spectacular Oil Tanks – enormous circular spaces over thirty metres across and seven metres high. These massive industrial chambers have lain unused since the power station was decommissioned. They are now being transformed into what promise to be some of the most exciting new spaces for art in the world. A further series of neighbouring galleries will provide a range of new spaces for works from the Tate Collection, including two raw concrete galleries and a unique steel-lined gallery. The Oil Tanks will also act as innovative social and learning spaces, as well as being equipped for a diverse programme of live performances and events, including a crush bar and full back of house facilities.
Architect: Zaha Hadid Architects
Location: Station Court Imperial Wharf, London, England
Client: ROCA
Project Area: 1,100 sqm
Project Year: 2011
Photographs: Courtesy of ROCA
For one night only on October 26th from 7:00-8:30pm, P.E.A.R. (Paper for Emerging Architectural Research) will be performing live for an evening of readings, discussions and performances at The Architecture Foundation in London.
P.E.A.R. is an exciting new architectural fanzine, presenting work from a variety of contemporary architectural practices, researchers and individuals working in Europe. P.E.A.R. aims to re-establish the fanzine as a primary medium for the dissemination of architectural ideas, musings, research and works. Through its presentation of a wide range of architectural discourses, P.E.A.R. seeks to present the complexity and variety of contemporary architectural practices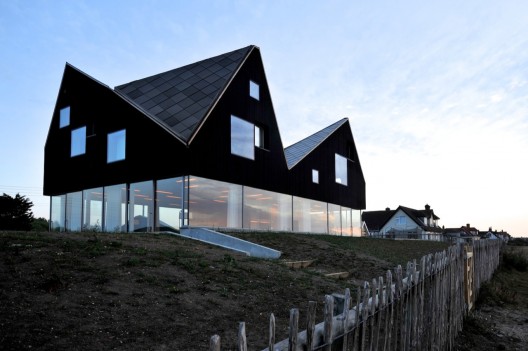 Architects: Jarmund / Vigsnæs AS Arkitekter MNAL / Einar Jarmund, Håkon Vigsnæs, Alessandra Kosberg, Anders Granli
Location: Thorpeness, Suffolk, England
Client: Living Architecture
Collaborating Architect: Mole Architects Ltd.
Project Year: 2010
Project Area: 250 sqm
Photographs: Nils Petter Dale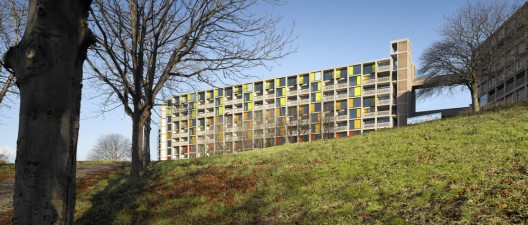 Architects: Hawkins Brown with Studio Egret West
Location: Sheffield, England
Landscape Architects: Grant Associates
Main Contractor: Urban Splash Build Ltd (North)
Structural Engineer: Stockley
Services Engineer: Ashmount Consulting Engineers Limited
Project Area: 130,000 sqm
Project Year: 2011
Photographs: Daniel Hopkinson, Keith Collie and Peter Bennett
The Architecture Foundation is pleased to be running a new open and international competition that calls on design teams to submit proposals for urban beehives, bird/bat-boxes and planters.
The competition is being organized by The AF on behalf of inmidtown, the business improvement district for the central London areas of Holborn, Bloomsbury and St. Giles. The competition calls for submissions that offer distinctive yet functional designs that help enhance biodiversity in this urban context. It is envisaged that the winning proposals will be mass-produced and installed in a variety of sites across the inmidtown area. More information on the competition after the break.
Architects: Mitchell Taylor Workshop
Location: Bath, England
Main Contractor: Piers Taylor
Structural Engineer: Structures 1
Project Year: 2008
Photographs: Courtesy of Mitchell Taylor Workshop
Architects: Mitchell Taylor Workshop
Location: Somerset, England
Mechanical and Electrical Engineer: Buro Happold
Contractor: RG Spiller
Project Area: 800 sqm
Photographs: Courtesy of Mitchell Taylor Workshop
Architect: S. Porobic Associates, Chartered Architects and Designers
Location: 28 Church Street, Wellingborough, England
Clients: Borough Council of Wellingborough
Project Area: 260 sqm
Photographs: Courtesy of S. Porobic Associates, Chartered Architects and Designers
The 9th Annual Emirates Glass LEAF Awards recently announced the winning projects and proved to be a huge success attracting a whole host of recognizable faces from the architectural community. This spectacular evening took place in the stunning surroundings of the Landmark hotel which was admired by the many guests that attended. The 2011 shortlist included some of the world's most iconic buildings and designs. More information on the lucky winners of the evening after the break.
For their inaugural show, Just the Flip Side of the Wall, Melissa Appleton and Matthew Butcher (Post Works) will create a new environment within The Architecture Foundation's Project Space that will act as a frame for a series of events that explore the relationship between architecture, the city and performance.
The exhibition, which takes place from September 30th to October 29th, will be an extension of Post Works' recent works Stage City (part of The Royal Academy's Summer Exhibition) and No Stop Statue Machine, a film that presents a world where buildings weep, infrastructures conduct people's thoughts and staircases become machines for endless exercise, recently shown at the ICA, London. More information on the exhibition after the break.
Architect: Mecanoo architecten
Location: Birmingham, England
Photographs: Paul Reynolds, Mecanoo architects
AWR recently announced the winners of the LOFT London Farm Tower Competition. Population growth and urban centralization lead to increased demand for real estate market and for food. One possible solution is vertical farming. AWR therefore proposed the design of a new kind of skyscraper on the Thames waterfront, inserted into the new city skyline.
The goals to achieve were to meet the requirements of the World Green Building Council, determine which materials are best suited for the construction of a vertical farm, identify resistant, light, transparent and long-term materials and experiment with innovative materials. Information on the competition winners after the break.