Ehrlich Architects, a Los Angeles-based practice dedicated to the philosophy of Multicultural Modernism, has been selected to receive the American Institute of Architects (AIA) 2015 AIA Architecture Firm Award. The award celebrates Ehrlich Architects' 35 years of practice, which, as the AIA notes, has become renowned for "fluidly melding classic California Modernist style with multicultural and vernacular design elements by including marginalized design languages and traditions."
The firm, originally founded by Steven Ehrlich in 1979 after working with the Peace Corps in Africa, is now led by four diverse partners: Ehrlich, alongside Takashi Yanai, Patricia Rhee, and Mathew Chaney. You can preview some of their most notable projects and watch an interview with Ehrlich, after the break.
Architects: Ehrlich Architects
Location: Laguna Beach, CA, USA
Site Area: 19042 sq ft
Area: 7500.0 ft2
Year: 2014
Photographs: Miranda Brackett, Roger Davies
Architects: Ehrlich Architects
Location: Yuma, AZ, USA
Architect In Charge: Charles Warner Oakley, FAIA
Area: 60000.0 ft2
Year: 2013
Photographs: Lawrence Anderson _ ESTO
Architects: Ehrlich Architects
Location: Center for Meteorite Studies, South McAllister Avenue, Tempe, AZ 85287, USA
Executive Architects: HDR Architecture, Inc
General Contractor: SUNDT Construction
Year: 2013
Photographs: Bill Timmerman
Architects: Ehrlich Architects
Location: Irvine, CA, USA
Landscape Architects: LRM Landscape Architecture
Project Area: 55,000 sq ft
Photographs: Lawrence Anderson
Recently awarded the prestigious Maybeck Award by the AIA California Council (AIACC), Steven Ehrlich (FAIA, RIBA) has earned international recognition for his distinctive architecture and philosophy that has greatly influenced the architectural community. As the Design Principle of Ehrlich Architects, the Los Angeles-based architect is dedicated to the philosophy of Multicultural Modernism – a unique approach to architecture and planning that is centered on architectural anthropology; an idea that strives to identify and celebrate the uniqueness of each individual culture through design.
We had the chance to have Steven in our office, and he did a very interesting presentation to the ArchDaily editorial team where we learned more about his formation and early years, and how that experience has been translated in his buildings. Ehrlich's philosophy was kindled in the seventies when he practiced as an architect for the Peace Corps in Morocco and served as a professor of architecture in Nigeria. For six years, Ehrlich lived, taught, traveled and studied indigenous vernacular architecture in North and West Africa, allowing him gain a greater understanding between the connections of architecture, culture, people and place.
Ehrlich is a graduate from Rensselaer Polytechnic Institute. He lectures extensively throughout the United States and abroad, and has served as a guest critic at USC, Harvard, Yale and UCLA. As an advocate for the arts, Ehrlich has collaborated with several notable artists, such as Ed Moses, Miriam Wosk, Guy Dill and John Okulick.
In addition to the Maybeck Award, Ehrlich Architects has won eight National AIA Design Awards and was named 2003 Firm of the Year by the AIACC, under Ehrlich's leadership. His work can be found at a recent monograph published by Monacelli Press: Steven Ehrlich Houses.
Projects from Steven Ehrlich at ArchDaily:
With a unanimous vote by the City Council on December 5, the Combined Properties, Inc./Hudson Pacific Properties, Inc./Ehrlich Architects team was awarded the 9300 Culver Boulevard (Parcel B) Development Project in Culver City, California. More images and complete press release after the break.
We recently had the pleasure of having Steven Ehrlich visit our office and give a talk about his work. He is as personable as his work is fascinating. He left us with a recently published book of his work titled Steven Ehrlich Houses. We have featured two of the houses that are covered in the book if you would like a preview of what the book has to offer. (Ehrlich Architects' projects houses and more) The book, of course, offers a far more in-depth look at the projects including a title page for each project with photographs of what inspired the design. As a world traveler who lived in west Africa for 6 years, Ehrlich's inspirational photographs are captivating and clearly illustrate the driving force behind each project.
Architect: Ehrlich Architects
Location: Beverly Hills, California
Project Year: 2009
Client: City of Beverly Hills
Contractor: Bayley Construction
Structural Engineer: John A. Martin & Associates Inc.
MEP Engineer: IBE Consulting Engineer
Civil Engineer: KPFF
Landscape Design: LRM Inc.
Acoustic Consultant: Schaffer Acoustics Inc.
Lighting Consultant: HLB Lighting Design
Cost Estimation: C.P. O'Halloran Associates
Specifications: CSI Specifications
Photography: RMA Architectural Photographers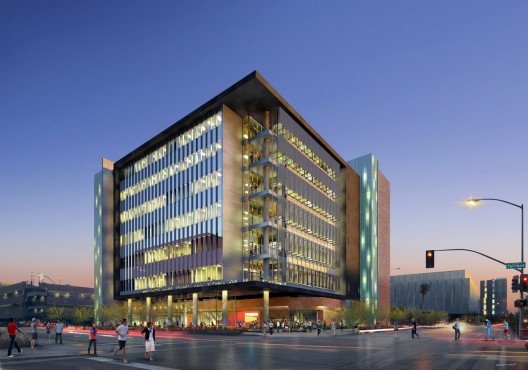 Arizona State University's new Interdisciplinary Science and Technology Building 4 (ISTB 4) was designed to be a progressive home for ASU's School of Earth and Space Exploration (SESE) and some departments from the Fulton Schools of Engineering (FSE). At 294,000 sq.-ft., this seven-story "smart" structure will be the largest research facility in the history of the university. In addition to cutting-edge laboratories and research offices, ISTB 4 will house extensive public outreach and K-12 education spaces designed to engage the Greater Phoenix community in earth and space exploration. Ehrlich Architects' new Arizona State University School of Earth and Space Exploration is a clearly organized laboratory building that will enhance the research, science and educational programs housed within.
This week our Architecture City Guide is headed to Frank Lloyd Wright's winter retreat. Taliesin West first made the "Valley of the Sun" an architectural destination by itself, but now Phoenix overflows with world-class architecture. We have provided a list of twelve, but there are plenty more that could be added. We want to hear from you, so take a minute to add your favorite can't miss buildings in Phoenix in the comment section below.
The Architecture City Guide: Phoenix list and corresponding map after the break!
Located on the bluffs overlooking the Pacific Ocean, the 3,500 sqf Zeidler Residence, designed by Ehrlich Architects, arranges interior and exterior living spaces to maximize views, natural light, and ocean breezes within a subtle, sophisticated material palette.
Project description, images, and drawings after the break.
Architect: Ehrlich Architects
Location: Aptos, California, USA
Project Area: 3,500 sqf
Photographs: Matthew Millman
Ehrlich Architects' objective for this eco-friendly residence in Venice, California was to: design a high-performance home that dissolves the barriers between indoors and outdoors; utilize raw, honest materials appropriate to the bohemian grittiness of the surrounding community; and have the smallest carbon footprint in balance with lifestyle.  This project received a 2009 AIA National Housing Award.
Project description and images after the break.
Architect: Ehrlich Architects
Location: Venice, California, USA
Photographs: Erhard Pfeiffer, Julius Shulman & Juergen Nogai, and Grey Crawford
Located in downtown Phoenix, the new six-story, 225,000 sqf, 110-foot tall, LEED Silver building has become an integral part of the fabric of ASU's energizing downtown campus and a harbinger of Phoenix's redevelopment. Delivered in a design-build, fast-track method, work began on design in October 2006 and the school opened its doors in August 2008, 22 months later. School schedules and budgets were both met.
Project description and images after the break.
Architects: Ehrlich Architects
Location: ASU, Phoenix, Arizona, USA
Executive Architect: HDR Architecture Inc
Design-Builder: Sundt Construction
Project Area: 225,000 sqf
Project Year: 2008
Photographs: Bill Timmerman
The grand prize in the international architectural competition to design the United Arab Emirates (U.A.E.) Federal National Council's (FNC) New Parliament Building Complex has been awarded to Ehrlich Architects, the Los Angeles, California, design firm. More images and complete press release after the break.