Vienna-based Delugan Meissl Associated Architects (DMAA) has been announced as winner of a competition to design a mixed-use, cultural complex in Munich. Dubbed Hanns Seidel Platz, the 40,500-square-meter scheme will provide a 160-unit "living tower," office space, a civic center, concert hall and large public plaza for the district of Neuperlach.
This winning concept was developed in collaboration with the architecture firm Wimmer un Partner. It is expected for completion in 2019.
Architects: Delugan Meissl Associated Architects
Location: Mühlgraben, Austria
Architect In Charge: Sebastian Brunke
Design Team: Jörg Rasmussen, Torsten Sauer, Eva Schrade, Simon Takasaki, Anja Vogl
Site Area: 9,700 sqm
Gross Floor Area: 10,000 sqm
Year: 2012
Photographs: Brigida Gonzalez
Architects: Delugan Meissl Associated Architects
Location: Seoul, South Korea
Design Team: Sebastian Brunke, Alejandro C. Carrera, Sabrina Miletich
Project Year: 2011
Photographs: Courtesy of Delugan Meissl Associated Architects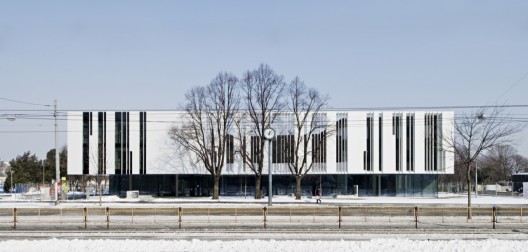 Architects: Delugan Meissl
Location: Vienna, Austria
Completion: 2012
Area: 4,046 sqm
Photographs: Herta Hurnaus, DMAA
Architects: Delugan Meissl Associated Architects
Location: Shell Terrain, Amsterdam, The Netherlands
Team: Philip Beckman, Sebastian Brunke, Alejandro C. Carrera, Ruben Van Colenberghe, Burkhard Floors, Gerhard Gölles, Daniela Hensler, Thilo Reich, Hendrik Steinigeweg
Year: 2005 – 2011
Area: 6.300 sqm
Photographs: Iwan Baan
Ajman University of Science & Technology will hosting a four-day workshop by architects Mrs. Elke Delugan-Meissl and Mr. Roman Delugan of Delugan Meissl Associated Architects – DMAA February 18-22. DMAA is known for their works involving urban development and interior and industrial design. Their most recent award was for the IF Product Design Award 2012 for their IYON LED Spotlight Series for Zumtobel. In addition, Delugan Meissl will hold a public lecture and open an exhibition for their work during the period of the workshop at the university. For more information and registration, please contact workshop coordinator Dr. Jihad Awad: dr_jihadaa@yahoo.com; j.awad@ajman.ac.ae.
Two overarching factors feed into the overarching principle of urban design: the vicinity of the terrain to a traffic-intensive street axis and the western railway line and the requirement for a high density of the resulting building. In response, Delugan Meissl Associated Architects, which won the competition for this urban master plan, characterized the new interpretation of the historic district as a compact block structure, which will enter into a dialogue with their environment and be well-connected with the surrounding urban fabric and its functional characteristics. More images and architects' description after the break.
When coming across Delugan Meissl Associated Architects's newest book I first noticed its sheer weight and size. The second thing I noticed were the words Vol. I. Most architects would be happy/lucky enough to fill a book a quarter the size with their work. The projects range from chairs and small houses to the Porsche Museum and master planning of healthcare campuses. The introduction by Karl Jormakka gives a nice lens in which to view their work. Their work is constantly trying to elicit physiological responses "from a visceral juxtaposition of the human body with the architectural setting," says Jormakka. In this way their work differs from many of the avant-garde architects who tie their work to French philosophers or abstract ideas from the natural sciences. Viewing DMAA's work in this light, readers can easily explore how each project attempts to physiologically engage its users.
Austrian architects Delugan Meissl shared with us their project for the Winter Festival Hall in Tyrol, Austria. More images and architect's description after the break.
Last month we shared with you the six designs from the shortlisted group for the future Victoria & Albert Museum in Scotland:
Delugan Meissl Associated Architects / Kengo Kuma & Associates / REX / Snøhetta / Steven Holl Architects / Sutherland Hussey Architects
The six designs are now on exhibition at the library of Abertay University on Bell Street in Dundee until November 4th.
We now have more photographs and a short description of each proposal plus a video after the break.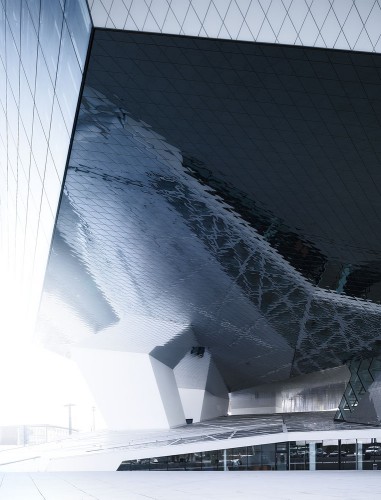 Architecture photographer Michael Schnell shared with us his interior photos of the  Porsche Museum in Stuttgart, Germany, designed by Austrian architects Delugan Meissl. The project was completed in 2008, after being awarded with the 1st prize in a 2-stage competition back in 2005.
The exhibition space we see on these photos in contained by a monolothic volume supported by a steel structure, which spans 5,600sqm to a dramatic effect as you can see on the above photo.
More photos after the break: