The design by davidclovers for the Bama Eco Resort includes two key areas of an eco-tourist resort project that intends to be a flagship project for China demonstrating how architecture can both re-work and reinvigorate sensitive habitat sites. Using innovative construction methods and design processes, both projects "farm" the existing terrain of the site finding its latent potentials. More images and architects' description after the break.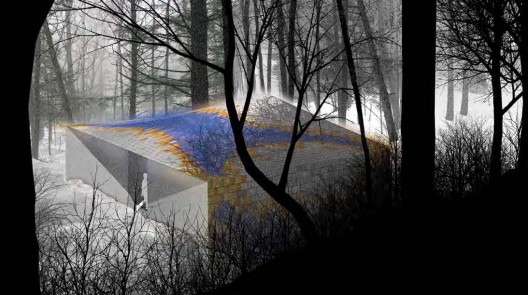 In search of the origins of architecture, Laugier presented a primitive hut using the three basic elements of architecture – the post, the lintel and the gable. Semper's pursuit of the origin resulted in a primitive dwelling that was comprised of four basic qualities – earthwork, hearth, framework/roof, and enclosing membrane. While Laugier's list of basic elements stemmed from the obsession with disciplinary origins, Semper's meditations were a vehicle to essentialize that which was previously seen as superfluous, namely the building enclosure. Semper wanted to put ornament to work. Butterfly House is an exercise in re-working three ubiquitous elements – window, door and roof – until they exceed their functional value and lead the way to new architectural effects. Butterfly House builds upon Laugier's primitive hut as a model of fitness, updated to reflect a post-bubble economic climate rather than mythical origins, as well as Semper's interest in the productive capacity of the apparently unnecessary. Our conceptual hut uses a limited quantity of elements to solicit rich qualities and characteristics and uncovers a zone of enchantment between the essential and the excessive.
Architect: davidclovers
Location: Wayne County, Pennsylvania, USA
Project Area: 1,000 sqf
Expected Completion: Fall 2011
Nestled amongst a forest of towers on Old Peak Road above Central Hong Kong, the Tregunter tower holds unique layered views of Victoria Harbor. The abundance of bay windows, structural walls and beams that are common to residential towers would appear to constrain the possibilities of the apartment. However, by turning constraints into opportunities, davidclovers re-works the volumes of this apartment by using the ceiling and the floor. Subtly elongating, pressing upward, and sloping downward, the ceiling produces variable sensations of compression and expansion – making the apartment seem larger than it is, drawing delicate lines that separate dining from living. Skillfully dodging and maneuvering around air-conditioning units and structural beams, the ceiling integrates artificial light and various materials – re-orienting the apartment toward the exterior.
Architect: davidclovers
Location: The Peak, Hong Kong, China
Project Team: David Erdman, Clover Lee, Jason Dembski, Mui Fuk Man, Kantrina Lee, Spencer Mak
Project Area: 2,400 sqf
Photographer: Courtesy of davidclovers assisted by Ziyin Zhou
House DE is an "infill" townhouse, spectacularly sited on a hillside above Clearwater Bay, Hong Kong. Combining two existing units into one, the design uses the volumes of three staircases to blend, burrow and interlock spaces vertically across four floors. Each "interaction" is materially monolithic, using stone, wood and a series of delicate aluminum fins. Defined by these fins, the texture and form of the lantern-volume subtly changes shape and depth, casting shadow and emitting light in different ways throughout the house.
Architect: davidclovers
Location: Clearwater Bay, Hong Kong, China
Project Team: David Erdman, Clover Lee, Fei Mui, Jason Dembski, Yvette Herrera, Rathi Subramanian, Lam Pui Wing, Spencer Mak
Project Area: 4,300 sqf
Photographs: Almond Chu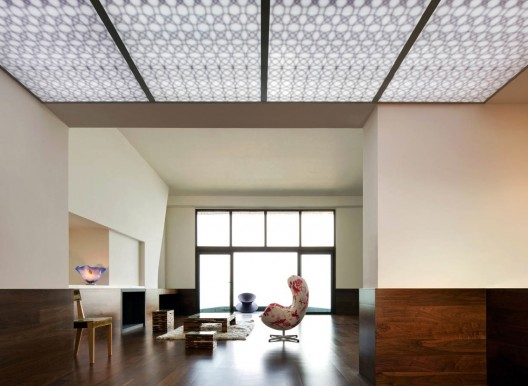 At eye-level with the top of IFC, one of the tallest buildings in Hong Kong, the Barker Residence holds stunning views of Victoria Harbor. The project is the first of a series of projects designed by davidclovers for a developer of residential properties in Hong Kong. The basic approach is to hone in on the most potent areas of the existing layout, and enhance them. At Barker Residence, davidclovers reworks the unit horizontally and vertically using a series of subtly inflected walls and artificially-lit ceilings to bend space around corners and through floors.
Architect: davidclovers
Location: The Peak, Hong Kong, China
Project Team: David Erdman, Clover Lee, Mul Fuk Man, Jason Dembski, Damlen Hannigan, Spencer Mak
Project Area: 4000 sqf
Photographs: Almond Chu
Immuring, a new exhibition by Hong Kong-based architecture firm davidclovers, will be on view from June 4 through July 18, 2010, in the SCI-Arc Gallery at the Southern California Institute of Architecture. Immuring invigorates the relationship between architectural graphic and architectural mass through the re-examination of fresco in a contemporary context.
The touch-off point for this installation is the design of a 2,500-square-foot speculative home for Hometta, Inc. (Lunar House), which started in early 2008. This exhibition showcases the culmination of davidclovers' two-year collaboration with Los Angeles-based artist C.E.B. Reas, DuPont China Ltd., Speed Top (Hong Kong) Limited, and E-Grow (Shanghai) on this project.
An exhibition discussion will take place on June 4 with architects David Erdman and Clover Lee and SCI-Arc Director Eric Owen Moss. More information can be found here.