If you haven't heard of CyArk yet, make sure to check out their recent Kickstarter project. The not-for-profit company digitally preserves some of the world's most important sites: including Easter Island, Mt. Rushmore and The Pantheon, to name a few. Now the group is headed to New York to preserve Philip Johnson and Lev Zetlin's 1964 World's Fair New York State Pavilion. Since the fair ended, the pavilion has fallen into disrepair and been heavily vandalized. With assistance from the University of Central Florida, they plan to release the digitally preserved 3D files to the public, for free. To help preserve this "National Treasure," check out their Kickstarter page.
CyArk, a non-for-profit 3D laser scanning organization, is scanning the world's greatest monuments, hoping to preserve over 500 cultural heritage sites around the globe, The Independent reports. The portable laser system creates such a detailed, digital blueprint of structures and ruins that each building can then be reproduced in 3D, with a margin of error of only two millimeters. So far, the statues of Easter Island, the Tower of London, Mount Rushmore, the Tower of Pisa have been preserved. Check out more about the technology in Ben Kacyra's TED Talk.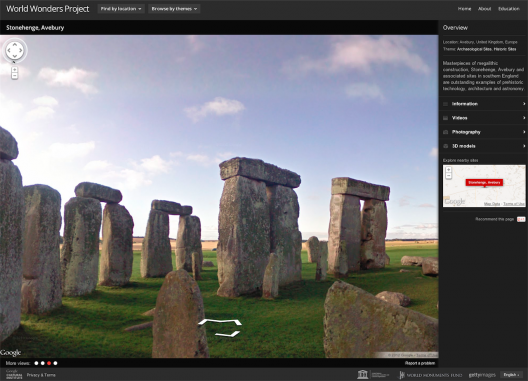 From the archeological areas of Stonehenge to the Hiroshima Peace Memorial, Google's World Wonders Project is dedicated to digitally preserving and virtually sharing the World's Heritage Sites. Users can explore some of the world's greatest places through panoramic images, 3D laser scanned models, videos and informative text. Although Google World Wonders is a new and ongoing project, they already have more than 130 sites in 18 countries featured. The project is also an educational resource, allowing students and scholars to use the materials to discover some of the most famous sites on earth. A selection of free educational packages are available to download for classroom use.
Google World Wonders is made possible through the partnership of Google, UNESCO, the World Monuments Fund and Cyark, with a shared mission to preserve world heritage sites for future generations.