Architects: meier + associés architectes
Location: Landeyeux, Switzerland
Project Year: 2007
Project Area: 1,440 sqm
Photographs: Yves André
Architects: assemblageSTUDIO
Location: Las Vegas, Nevada, USA
Landscape architect: Attanasio Landscape Architecture
Project area: 8,000 sq. f.t
Project year: 2009
Photographs: Drew Gregory
Architecture photographer Patrick Miara shared with us the Tower of Arts in the city of Les Herbiers, France designed by Forma 6 Architects with an outer skin made of copper and aluminium creating some great color changes during the day.
Check some more photographs and floor plans after the break.
Architects: Vlad Sebastian Rusu
Location: Cluj Napoca, Romania
Structural Engineering: Sc. Asiza Srl./ eng. Ovidiu Rusu
Servicess: Sc. Steve Impex, Sc Procont Impex/ Cluj
Construction: Sc. Decorint Srl./ Cluj
Project Area: 1,370 sqm
Project Year: 2007-2009
Photographs: Dacian Groza
Architects: Antonio Ravalli Architetti
Location: Ferrara, Italy
Project Team: Antonio Ravalli, Simone Pelliconi, Mauro Crepaldi, Giuseppe Crispino, Valentina Milani, Lorenzo Masini
Project Area: 110 sqm
Project Year: 2010
Photographs: Antonio Ravalli Architetti
Architects: Conran & Partners
Location: East Sussex, United Kingdom
Project Area: 425 sqm
Budget: £1.8million
Project Year: 2009
Photographs: Jim Stephenson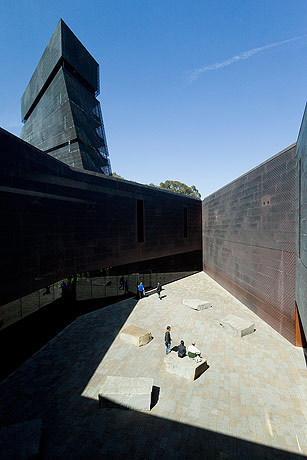 The M.H. de Young Memorial Museum by Herzog & de Meuron is a remarkable revival of a building that no longer exists. The original museum, which opened in 1895, was an outgrowth of a fair modeled on the Chicago World's Columbian Exposition the previous year known as the California Midwinter Internation Exposition of 1894. Located in the sunny San Francisco, California, the museum was formerly named for one of the city's newspapermen M.H. de Young. The old museum was a bulky structure decorated with concrete ornaments, which began falling off the building and became hazardous, leading to their removal in 1949. The building was completely destroyed, however, in 1989 by the Loma Prieta earthquake.
More on the museum after the break.
Architect: José Juan Barba (Project & Management)
Location: Valle del Órbigo, Benavente, Zamora, Spain
Collaborating Architect: Concha Llorden (Project)
Technical Collaborators: Miguel A. Vecino (Quantity Surveyor), Daniel Juan (Quantity Surveyor) Rosa Pérez Fdez. (Civil Eng.)
Collaborators: Andrés Ferrero, Alex Puigborn, Pablo Cruz (infography), Juan Carlos Yusto (model), Menelaos Yorgos
Structural Engineering: Ramón Barreiro
External Collaborators: J.M. Aller (interior models), Illione (furnishing), Alberto de Prado, Consultoría Lumínica / Hess-Iluminación (lighting), Agustín Maestro (Air Conditioning), Ferroblan S.L. (Concrete), Luis Aragoneses (PERI)
Contractors: Villar y Vara, Ferroblan (concrete vertical structure & ramp), Manuel Rubial S.L. (Stainless Steel), Terraconti (Floors), Asprosub (gardens)
Promotor: Proyectos Interreg. Unión Europea. España/Portugal
Built Area: 900,00 sqm
Garden Area: 220,47 sqm (Total 1.120,47 sqm)
Site Area: 2 Ha. (aprox. 20.000 sqm)
Budget: 1,225,000.00 €
Project Year: 2004
Furnishing & Model Project: 2005
Construction Year: 2005-2009
Educational Elements: 2009
Photographs: Ignacio Bisbal Grandal
Architect: Valerio Olgiati
Location: Scharans, Switzerland
Collaborators: Nathan Ghiringhelli (project manager office Olgiati), Nikolai Müller, Mario Beeli
Client: Linard Bardill, musician + poet
Construction Supervisor: Linard Bardill
Structural Engineer: Patrick Gartmann, partner of Conzett, Bronzini, Gartmann AG, Chur
Project Area: 285 sqm
Project Year: 2006-2007
Photographs: Courtesy of Valerio Olgiati
Architects: Archivision
Location: Tokyo, Japan
Principals in Charge: Yoshihiro Hirotani & Yusaku Ishida
Structural Engineers: Umezawa Structural Engineers
Mechanical Engineers: Azu Planning
General Contractor: Daido Housing
Site Area: 67.88 sqm
Constructed Area: 108.31 sqm
Project Year: 2008-2009
Photographs: Yuichi Higurashi
Architect: Anne Menke (Dipl.-Ing. / MSc) in collaboration with Winkens Architekten, Berlin
Location: Hameln, Germany
Year of Construction(Existing Building): 1957
Site Area: 1,550 sqm
Living Area Before/After: 124 sqm/284 sqm (excl. cellar)
Total Constructed Area: 364 sqm
Annual Heating Energy Requirements: 74 kWh/m2a
Project Year : 2009
Photographs: Monika Marasz, Norbert Priebe, Anne Menke
Architect: Smiljan Radic Clarke
Location: Talca, Chile
Collaborators: Loreto Lyon, Danilo Lazcano, Augusto Vergara, Gonzalo Torres
Contractor: Constructora Covasa Ltda.
Constructive System: Steel frame
Project Year: 2004
Construction Year: 2005
Site Area: 5,000 sqm
Constructed Area: 165 sqm
Photographs: Cristobal Palma
Architects: Jarmund/Vigsnæs AS Architects MNAL / Einar Jarmund, Håkon Vigsnæs & Alessandra Kosberg
Location: Longyearbyen, Svalbard, Norway
Design Period: 2001-2003
Construction period: 2003-2005
Collaborators: Anders Granli, Nevzat Vize, Sissil Morseth Gromholt, Thor Christian Pethon, Halina Noach, Harald Lode, Stian Schjelderup
Client: Statsbygg / Norwegian Directorate of Public Construction and Property
Interior Desgin: Jarmund/Vigsnæs AS Architects MNAL, Nina Stokset Nilsen
Landscape Architect: Grindaker A/S
Structural Engineer: AS Frederiksen
Electrical Engineer: Monstad AS
Mecanical Engineer: Erichsen & Horgen AS
Climatic Consultant: Byggforsk v/Thomas Thiis
Gross Area: 8.500 sqm
Photographs: Nils Petter Dale