Danish architects COBE have won an international competition to design the Adidas Group's "Meet & Eat" flagship building at their "World of Sports" headquarters in Herzogenaurach. The 11,000-square-meter "rhombus-shaped" structure is envisioned as a "distinctive landmark" that will provide the campus with a "flexible and user-friendly" public conference center, employee restaurant and showroom.
"The adidas brand has always been known for technique and functionality, and we have designed a building that reflects and encapsulates these values," says Dan Stubbergaard, Founder and Creative Director at COBE. "Adidas Meet & Eat will house many functions, both internal and public, and therefore we have created a design that above all is multifunctional and flexible. A design that allows for the building to change and adjust to the different social contexts that the building will house."
COBE, DISSING+WEITLING and COWI have been announced as winners of an international competition to design a 225-meter-long pedestrian bridge, station, 32,000-square-meter park and associated park-and-ride facility for the Danish city of Køge. The winning design, selected over three other invited submissions, will stretch across a unique traffic "hot-spot" where Denmark's most trafficked freeway, an existing train line and a planned double-tracked high-speed rail line meet.
More about the Køge North Station, which is expected serve 90,000 people daily as a "new gateway to Copenhagen" by 2018, after the break.
COBE has released their competition winning design for a new Volunteer House at the entrance of the Danish Red Cross in central Copenhagen. An extension to the existing headquarters, the new space will serve as a common entrance to the entire facility and offer a public "hang out" atop its pitched, terraced roof. 
Architects: COBE
Location: Copenhagen, Denmark
Area: 1927.0 sqm
Year: 2014
Photographs: Adam Mørk, Rasmus Hjortshøj
The Mayor of Tampere has announced Danish architects COBE and Finnish Lundén Architecture as winners of an international competition for the Tampere Travel and Service Centre. The winning scheme, "Reconnecting Tampere" will join two disparate districts in the heart of Finland's second largest city and establish a "new urban living room" beneath an expansive steel canopy. 
"Tampere's new Travel and Service Centre has not only the potential to become a gateway to Tampere and the rest of Finland, but also the potential of becoming a generator for the future development of the urban center of Tampere," says Dan Stubbergaard, Founder and Creative Director of COBE. 
Danish firm COBE is transforming the largest industrial building in Nordhavnen – a silo – into an apartment building with both private and public functions. For COBE, who also created the urban development plans for Nordhavnen, this project marks the beginning of the post-industrial area's future. Nordhavnen is a harbor area located only 4km from Copenhagen's city centre.
"The exciting thing about old industrial property is how to preserve their soul and at the same time use them for something else," said Klaus Kastbjerg, the owner of the silo, commenting on the adaptive reuse project. To preserve the soul of the silo, the architects will maintain a raw industrial feeling on the interior. Each of the 40 retrofitted apartments will contain visible historic remnants such as existing concrete columns and walls.
Keep reading after the break for more information and images…
Danish architects Elkiær + Ebbeskov (E+E) and Leth & Gori have won an invited competition to design a large multifunctional sports building in Langvang, Denmark. Competing against teams led by Dorte Mandrup Arkitekter, CEBRA, COBE and Kontur, their winning proposal features a combined sports hall and community centre consisting of a series of multifunctional arenas for activities and events. The scheme also includes a masterplan of the surrounding area centered around sports and recreation.
Architects: Henning Larsen Architects, COBE, SLA
Location: Lund, Sweden
Design Team From Henning Larsen Architects: Jacob Kurek (responsible partner), Michael Sørensen (lead design architect), Helle Basse Larsen (project manager), Mikkel Eskildsen, Daniel Baumann, Martha Lewis, Silke Jörgenshaus, Hanan Ghizzaui, Magnus Kramhøft, Kyd Kitchaiya, Sebastian Mardi, Grace Xu, Uyen Phan and Erlend Lindstad (model)
Design Team From Cobe: Dan Stubbergaard (responsible partner), Thomas Krarup (lead design architect), David Engell Jessen, Johanne Holmsberg, Rune Veile, Frederik Lyng, Greta Tiedje, Louise Boss Mortensen and Dimitrie Gridorescu
Design Team From Sla: Stig L. Andersson(responsible partner and lead design architect), Katrine Sandstrøm and Laura Parsons
Area: 100000.0 sqm
Photographs: Luxigon
ESS Description
The European Spallation Source (ESS) will become the world's largest and most advanced research facility for neutron-based research. ESS is located in the university city of Lund in southern Sweden.
Aimed at being a city for kids, the Prinsessegade Kindergarten and Youth Club Winning Proposal by COBE + NORD Architects, in collaboration with PK3 and Grontmij, will be the largest daycare center in all of Denmark. It also presents a big challenge – how to avoid creating a daycare factory when building an institution for so many users. Their design is not just one huge building, but rather a cluster of many small and varied buildings, grouped around two central streets that connect to the surrounding city structure. Like Copenhagen, it has different neighborhoods, different houses, different public spaces, squares and parks. More images and architects' description after the break.
Skandinavia's largest architecture prize, Nykredit's Architecture Prize of DKK 500,000, is this year awarded to the architectural practice COBE based in Copenhagen represented by architect, Dan Stubbergaard. In its choice the jury emphasised the fact that COBE spans the full professional spectrum from minor construction and urban space design to strategic planning and research. Currently, COBE is most renowned for the design and realisation of the new Nørreport Train Station and is currently detailing the development of the Nordhavn harbour area – one of Scandinavia's largest and most ambitious metropolitan development projects, says the chairman of the prize jury, Mette Kynne Frandsen, Architect and CEO.
Designed by the Danish architecture offices COBE and TRANSFORM, the new Maritime Museum and Science Center in Porsgrunn, Norway conveys Norway's transformation from a seafaring nation to a modern society based on knowledge industry. The iconic character of the new Maritime Museum and its attractive location at the river close to the city center makes this new building a natural landmark for the city. Furthermore, the new museum building is the first step towards a big new master plan development for Porsgrunn City Center, also designed by COBE and TRANSFORM. Construction for the building recently began and is expected to be completed in autumn 2012. More image and architects' description after the break.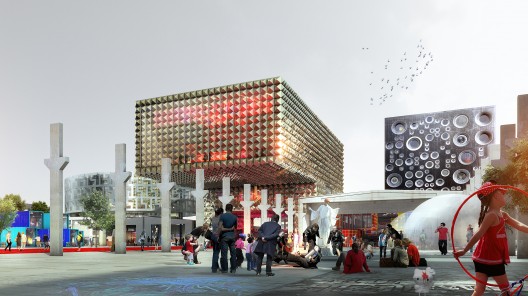 The MVRDV and COBE scheme for the transformation of a former concrete factory into a multifunctional creative hub was chosen as the winner of an international design competition. The masterplan proposes an informal transformation of the 45.000m2 site into a dense neighborhood, incl. 8.000m2 existing factory halls, organized around a plaza for events. Three new volumes will be added on top of the halls: The 11.000m2 ROCKmagneten consists of The Danish Rock Museum, The Roskilde Festival Folkschool incl. student housing, and the headquarters of the famous Roskilde Rock Festival. They share program in a public creative communal house. The museum with a total of 3.000m2 will be completed as the first phase in 2014. More images and architects' description after the break.
Architects: COBE
Location: Taastrup, Denmark
Co-operator: COWI A/S
Client: Realdania and Taastrup Municipality
Project Area: Renovation 1,400 sqm, new building 250 sqm
Project Year: 2010
Photographs: Kim Wendt, Stamers Kontor