Architects: Henning Larsen Architects, COBE, SLA
Location: Lund, Sweden
Design Team From Henning Larsen Architects: Jacob Kurek (responsible partner), Michael Sørensen (lead design architect), Helle Basse Larsen (project manager), Mikkel Eskildsen, Daniel Baumann, Martha Lewis, Silke Jörgenshaus, Hanan Ghizzaui, Magnus Kramhøft, Kyd Kitchaiya, Sebastian Mardi, Grace Xu, Uyen Phan and Erlend Lindstad (model)
Design Team From Cobe: Dan Stubbergaard (responsible partner), Thomas Krarup (lead design architect), David Engell Jessen, Johanne Holmsberg, Rune Veile, Frederik Lyng, Greta Tiedje, Louise Boss Mortensen and Dimitrie Gridorescu
Design Team From Sla: Stig L. Andersson(responsible partner and lead design architect), Katrine Sandstrøm and Laura Parsons
Area: 100000.0 sqm
Photographs: Luxigon
ESS Description
The European Spallation Source (ESS) will become the world's largest and most advanced research facility for neutron-based research. ESS is located in the university city of Lund in southern Sweden.
Aimed at being a city for kids, the Prinsessegade Kindergarten and Youth Club Winning Proposal by COBE + NORD Architects, in collaboration with PK3 and Grontmij, will be the largest daycare center in all of Denmark. It also presents a big challenge – how to avoid creating a daycare factory when building an institution for so many users. Their design is not just one huge building, but rather a cluster of many small and varied buildings, grouped around two central streets that connect to the surrounding city structure. Like Copenhagen, it has different neighborhoods, different houses, different public spaces, squares and parks. More images and architects' description after the break.
Skandinavia's largest architecture prize, Nykredit's Architecture Prize of DKK 500,000, is this year awarded to the architectural practice COBE based in Copenhagen represented by architect, Dan Stubbergaard. In its choice the jury emphasised the fact that COBE spans the full professional spectrum from minor construction and urban space design to strategic planning and research. Currently, COBE is most renowned for the design and realisation of the new Nørreport Train Station and is currently detailing the development of the Nordhavn harbour area – one of Scandinavia's largest and most ambitious metropolitan development projects, says the chairman of the prize jury, Mette Kynne Frandsen, Architect and CEO.
Designed by the Danish architecture offices COBE and TRANSFORM, the new Maritime Museum and Science Center in Porsgrunn, Norway conveys Norway's transformation from a seafaring nation to a modern society based on knowledge industry. The iconic character of the new Maritime Museum and its attractive location at the river close to the city center makes this new building a natural landmark for the city. Furthermore, the new museum building is the first step towards a big new master plan development for Porsgrunn City Center, also designed by COBE and TRANSFORM. Construction for the building recently began and is expected to be completed in autumn 2012. More image and architects' description after the break.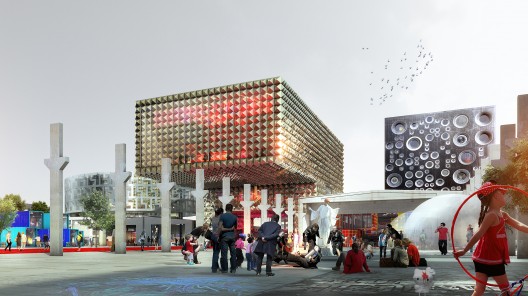 The MVRDV and COBE scheme for the transformation of a former concrete factory into a multifunctional creative hub was chosen as the winner of an international design competition. The masterplan proposes an informal transformation of the 45.000m2 site into a dense neighborhood, incl. 8.000m2 existing factory halls, organized around a plaza for events. Three new volumes will be added on top of the halls: The 11.000m2 ROCKmagneten consists of The Danish Rock Museum, The Roskilde Festival Folkschool incl. student housing, and the headquarters of the famous Roskilde Rock Festival. They share program in a public creative communal house. The museum with a total of 3.000m2 will be completed as the first phase in 2014. More images and architects' description after the break.
Architects: COBE
Location: Taastrup, Denmark
Co-operator: COWI A/S
Client: Realdania and Taastrup Municipality
Project Area: Renovation 1,400 sqm, new building 250 sqm
Project Year: 2010
Photographs: Kim Wendt, Stamers Kontor