CASE is working with HP to embark on the task of investigating the future of how the Architecture, Engineering, and Construction (AEC) industry manages information and they want YOU for their survey. Help them out by answering a few harmless questions on what tools you're using to help manage your building practices and feel free to forward this along to fellow building and design industry folk since you're being so awesome about it. You will also have the option to sign up at the end of the survey to have our findings emailed to you.
They've all participated and survived. Thanks!
SOM and CASE has formally launched AEC-APPS, the first crowd-sourced, web-based library for applications used by architects, engineers and construction professionals. This is a one-of-a-kind initiative in the AEC Industry and is a non-profit online community that allows digital tool users and toolmakers to share ideas, tips and resources covering a wide array of applications, ranging from commercially-marketed products to user-created scripts and utilities. After months of beta testing, the site currently hosts more than 500 users who have posted 800 apps that can be used in the design, construction and operation of buildings.
Read more about this new initiative after the break.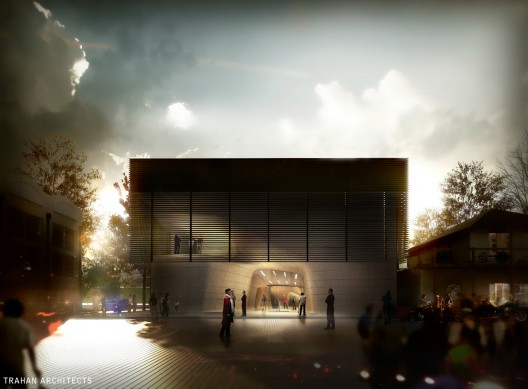 The Louisiana State Museum and Sports Hall of Fame (LSMSHOF) celebrates two seemly disconnected subjects within one contemporary venue, combining North Louisiana's profound history with its influential world of sports. Designed by Trahan Architects, in coordination with Method Design and CASE, the new $12.6 million venue will house donated memorabilia that embodies "the contributions of the diverse cultures that have shaped the state and are crucial to understanding the unique traditions and legacy of Louisiana and the Gulf South." A complex design, generated with the help of BIM technology, reflects the disparate subjects in one fluid structure encased within a locally inspired facade.
Continue reading for more information and images.
i.M.A.D.E is an institute within Ball State University, focusing on digital design and fabrication techniques for both industry and education related to architecture and allied arts.
It acts as an effective link between the academy and the manufacturing industry, with all the benefits this alliances bring: the fresh ideas on one side, and the technical capacity on the other.
With strategic industry partners, students test knowledge through team-based projects dealing with the translation of bits into atoms, shifting scales between models, prototypes, 1:1 construction, and the development of solutions to real problems by managing a complex set of design constraints.
Among this partners we find our friends from CASE, experts in applying design technology to built environments. They partner with i.M.A.D.E in technology (workshops, lectures, crits, etc.). Our friend Federico from CASE collaborated with i.M.A.D.E's director Kevin Klinger in the book "Manufacturing Material Effects".
After the jump, selected works from i.M.A.D.E.
Our dear friends over at CASE have been featured on Archinect´s Working out of the Box, a a series of features presenting architects who have applied their architecture backgrounds to alternative career paths. Personally, I don´t agree with this as I don´t feel that what they do is an "alternative" path, but something that should be into the core of any practice.
On CASE: CASE Design is a design technology consultancy based in NYC. CASE provides strategic advising to AEC firms seeking to transform their practices through technological innovation. We help our clients identify and implement technologies that enable more effective coordination, communication, collaboration and information exchange.
We featured an interview with SHoP a while ago, with Federico Negro from CASE. Also, we featured the construction progress of the 290 Mulberry St project, which was run by Federico while still at SHoP.
Read the complete article here.