The highly acclaimed Los Angeles-based practice Brooks + Scarpa Architects, along with KZF Design Studio, have released plans for a new Interfaith Chapel at the University of North Florida. Drawing inspiration from a free-flowing wedding gown, its informally shaped footprint - reminiscent of an allegorical figure such as Justice, Faith, Hope, Charity, Prudence and Fortitude – flows upward and culminates at the top with a large skylight whose light is diffused by a wooden lattice spire that is derived from the symbol of infinity.
The symbolic, 7000 square-foot structure will provide students with an intimate, spiritual space that may be used daily while also supporting a variety of diverse religious services, such as student ceremonies, weddings, lectures, meditative practices, musical performances and more.
Learn more about Brooks + Scarpa's wooden chapel after the break.
The McCarthy, Brooks + Scarpa, and HMC Architects team just released their proposal for the Design Excellence/design-build competition for new United States courthouse in Los Angeles. Selected to compete thru the General Services Administration two-stage Design Excellence Program, the team is challenged with the approximately 550,000 sq. ft. high-rise building located at 1st and Hill Street. Aiming to be certified LEED Patinum, the design delivers functional efficiency, security, and accessibility for the Court, the U.S. Marshal Service, and the other tenants and users. More images and architects' description after the break.
Architects: Brooks & Scarpa
Location: Palm Springs, California, USA
Client: Coachella Valley Housing Coalition
Project Team: Lawrence Scarpa, FAIA – Lead Designer
Angela Brooks, AIA, Omar Barcena, Mark Buckland, Brad Buter, Silke Clemens, Emily Hodgdon, Ching Luk, Gwynne Pugh, Sri Sumantri – Project Design Team
Project Year: 2011
Project area: 93,000 sqf
Photographs: John Edward Linden
Architects: Brooks + Scarpa, Clearscapes
Location of Project: 409 W. Martin St., Raleigh, North Carolina, USA
Project Team: Lawrence Scarpa, FAIA; Steve Schuster, FAIA, Mark Buckland and Jon Zellweger, AIA-Project Architects, Angela Brooks, AIA, Brad Buter, Silke Clemens, Daniel Carper, Jordon Gearhart, Ching Luk, Matthew Majack, Sarah Dickerson, Brandy Thompson , AIA, Fred Belledin , AIA, Christian Karkow, John Reese, AIA, Thomas Sayre, Michael Dosier, Jedidiah Gant.
Client/Owner: Contemporary Art Museum
Project Area: 22,300 sqf (900 SF new entry lobby)
Project Year: 2010
Photographs: John Edward Linden, Nick Pironio
Architects: Brooks + Scarpa
Location: Eight locations along 3rd Street Promenade, Santa Monica
Client/Owner: Tina Rodriguez, Project Manager – tina.rodriguez@smgov.net
Project Team: Lawrence Scarpa, FAIA – Principal-in-Charge, Angela Brooks, AIA, Omar Barcena, Mark Buckland, Brad Buter, Silke Clemens, Stephanie Ericson, AIA, Jordon Gearhart, Chris Ghatak, Luis Gomez, Emily Hodgdon, Ching Luk, Matt Majack, Gwynne Pugh, Sri Sumantri 
Architect of Record: Taylor Fierce Orne Architects
Project Area: 2,071,139 sqf
Project Year: 2011
Photographs: John Edward Linden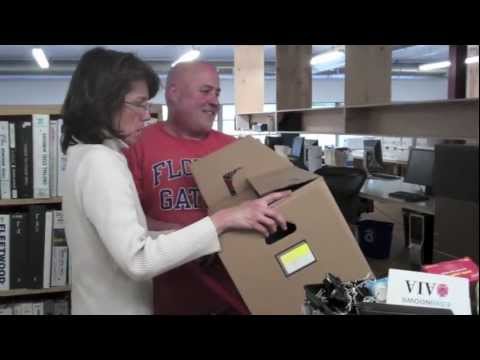 The well established and nationally recognized architecture firm Brooks + Scarpa (2010 AIA National Firm of the Year) recently decided to shake things up a bit. "Our office has turned more into a conventional office over the years, and I was just really looking for something that could become a glorified cabinet shop where we could actually work and make things, have the space to do that, and have some outdoor space to build bigger things," shares Larry Scarpa.
This video takes a look at their new home in Ladera Heights, an upscale African American neighborhood popularized by Baltimore Oriole Frank Robinson in the 1970s.
Step Up on 5th is a bright new spot in downtown Santa Monica. A 2010 AIA Honor Award winner, the building provides a home, support services, and rehabilitation for the homeless and mentally disabled population. The new structure provides 46 studio apartments of permanent affordable housing. The project also includes ground level commercial/retail space and subterranean parking.
Architects: Brooks + Scarpa
Location: Santa Monica, California, USA
Principal-in-Charge: Angela Brooks, AIA
Design Architect: Lawrence Scarpa, FAIA
Project Team: Brad Buter, Silke Clemens, Ching Luk, Matt Majack, Luis Gomez, Omar Barcena, Dan Safarik, Gwynne Pugh
Structural Engineering: John Martin Associates
MEP Engineering: IBE Consulting Engineers
Environmental Consultant: Helios International
Metal Fabrication: Breakform Design
Contractor: Ruiz Brothers
Landscape: Landscape Scenarios
Client: Step Up, Tod Lipka, President and CEO
Project Area: 31,600 sqf
Project Year: 2009
Photography: John Edward Linden
The Vasquez Rocks Nature and Interpetive Center is a vital gateway to a unique asset in the Los Angeles County Parks system. The high-desert site is one of the most significant natural areas in the region; its sculptural rock formations have inspired generations of visitors.  Its location along the Pacific Crest Trail affords hikers on a 2,650-mile walk from Mexico to Canada an unforgettable point of reference.
The new Vasquez Rocks Nature and Interpretive Center communicates the feeling that it is at one with its environment, treading lightly upon the land but leaving a significant cognitive impact upon the visitor. It is at once visually arresting and subtly integrated – it's as if it has been there as long as the rocks themselves.
More about this project after the break.
Architects: Brooks + Scarpa
Location: Agua Dulce, California, USA
Exhibit Designer: Victoria Biddle Design
Contractor: Mallcraft
Civil Engineer: Bighorn Consultants
Structural Engineer: BPA Group
MEP Engineer: IBE Consulting Engineers
Landscape Architect: PEG Office of Landscape + Architecture
Client: County of Los Angeles, Department of Public Works
Project Area: 3,000 sqf
Project Year: 2010
Photographs: Courtesy of Brooks + Scarpa
Inspired by Paul Rudolph's Umbrella House of 1953, the Solar Umbrella provides a contemporary reinvention of the solar canopy—a strategy that provides thermal protection in climates with intense exposures.  Nestled amidst a neighborhood of single story bungalows the residence establishes a precedent for the next generation of California modernist architecture. Located on a 41' wide x 100'-0" long through lot, the new addition transforms the architects' existing 650 square foot bungalow into a total 1,900 square foot residence equipped for responsible living in the twenty-first century.
More photographs, drawings, and project description after the break.
Architects: Brooks + Scarpa
Location: Venice, California, USA
Principals-in-Charge: Angela Brooks, AIA and Lawrence Scarpa, AIA
Project Architect: Ching Luk
Project Design Team: Peter Borrego, Angela Brooks, Anne Burke, Michael Hannah, Vanessa Hardy, Anne Marie Kaufman Brunner, Fredrik Niilsen, Tim Peterson, Gwynne Pugh, Bill Sarnecky, Lawrence Scarpa
Interior Design: Lawrence Scarpa and Angela Brooks
Landscape Consultant: SQLA, Inc
Energy Efficiency and Alternative Energy Consultant: Dr. John Ingersoll
General Contractor: Above Board Construction
Structural Engineering: Gwynne Pugh
Renderings: Fredrik Nilssen, Ching Luk, Lawrence Scarpa
Clients: Angela Brooks and Lawrence Scarpa
Project Area: 1,250 sqf (new) 650 sqf (remodeled)
Photographers: Marvin Rand
The award winning, LEEDTM Gold Certified, Colorado Court by Brooks + Scarpa is 100% energy independent, distinguishing itself from most conventionally developed projects. Implementing energy efficient measures above and beyond the standard practices of the time, this project was able to optimize its building performance and ensure reduced energy use during all phases of construction and continuing upon occupancy.
The initial planning and design of Colorado Court was a direct derivative of an emphasis on passive solar design strategies. These strategies include: locating and orienting the building to control solar cooling loads; shaping and orienting the building for exposure to prevailing winds; shaping the building to induce buoyancy for natural ventilation; designing windows to maximize daylighting; shading south facing windows and minimizing west-facing glazing; designing windows to maximize natural ventilation; shaping and planning the interior to enhance daylight and natural air flow distribution.
More details, photographs, and drawings following the break.
Architects: Brooks + Scarpa
Location: 502 Colorado Avenue, Santa Monica, California, USA
Project-in-Charge: Lawrence Scarpa, AIA
Project Architect: Angela Brooks, AIA
Project Team: Gwynne Pugh, AIA, Anne Marie Burke, Heather Duncan, Vanessa Hardy, Bettina Hermsen, Tim Peterson, Ching Luk, Jackson Butler, Steve Kodama, FAIA
Project Energy Engineer: Dr. John G. Ingersoll of Helios International Inc
Structural Engineering: Youssef Associates
MEP Engineering: Storms and Lowe
Landscape Architects: Dry Design, Inc
Client: Community Corporation of Santa Monica
Project Area: 30,150 sqf
Project Year: 2002
Photographs: Courtesy of Brooks + Scarpa