The University of Chicago has chosen Bing Thom Architects to design a new home for the Chicago Booth Asia Executive MBA Program in Hong Kong. The center will begin construction in October 2014 on Mount Davis, a heritage site that was originally used as a military encampment for the British Army in the 1940s and then a detention center.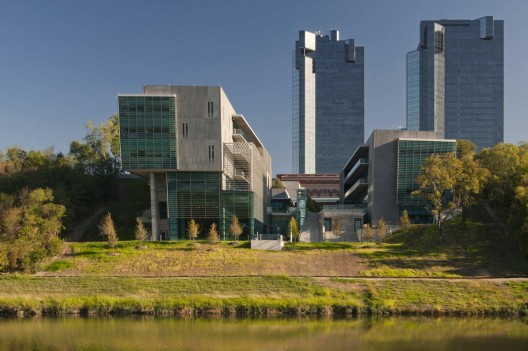 Architect: Bing Thom Architects
Location: 245 E. Belknap Street, Fort Worth, Texas, USA
Associate Architect: Bennett Benner Pettit (formerly Gideon Toal)
Design Team: Bing Thom, Michael Heeney, Venelin Kokalov, Ling Meng, Francis Yan, Shinobu Homma, Matthew Woodruff, Amirali Javidan, Bibianka Fehr, Lisa Potopsingh, Berit Wooge, Nicole Hu, Michael Motlagh
Client: Tarrant County College
Photographs: Nic Lehoux Photography
The new Surrey City Centre Library, designed by Vancouver-based Bing Thom Architects (BTA), is set to open on September 24, 2011. This new building marks the next phase of a major civic investment in the area that will continue the transformation of downtown Surrey, from sprawling suburb to the Region's next great downtown, which began with BTA's Central City project. Creating dynamic environments that look to the future of Surrey is nothing new to BTA. Nearly a decade ago, the firm designed the incredibly vibrant Central City, which sits down the street from the new Surrey Library. The architectural and social innovation evident at Central City—a fusion of office space, a shopping center and a university—is further exemplified in BTA's library design.
Architect: Bing Thom Architects Inc.
Location: 10350 University Drive, Surrey, British Columbia, Canada
Project Team: Bing Thom, Michael Heeney, Venelin Kokalov, Ling Meng, Francis Yan, John Camfield, Shinobu Homma, Robert Sandilands, Marcos Hui, Lisa Potopsingh, Harald Merk, Berit Wooge, Dan Du, Michael Motlagh, Nicole Hu
Landscape Architect: Phillips Farevaag Smallenberg
Project Year: 2011
Project Area: 82,000 sqf
Photographs: Courtesy of Bing Thom Architects

We recently received a book by Bing Thom Architects, a firm we have previously featured. Beyond the traditional display of selected projects this book provides a range of essays by Bing Thom that deal with the questions he has been asking throughout his career. "What is architecture? What is the right approach to architectural design?" These essays provide a nice backdrop to the diverse range of projects presented in this monograph. It is easy to see how Bing Thom has tried to explore these questions with different scales and programs.
Vancouver-based Bing Thom Architects has just completed a new three-level parkade on the campus of the Southern Alberta Institute of Technology. At more than 380,000 sqf and with dimensions of 260' by 560', this structure and its accompanying road realignments consolidate and rationalize the current sprawled distribution of campus parking into a central facility. In turn, this structure both frees up developable land for additional facilities and uses parking as a means of reinvigorating campus life. Given the massive size of the building, the primary design challenge was mitigating its actual and perceived scale. BTA established a profound relationship between the building and its surrounding landscape by nestling the building into an existing hillside under an existing playing field where the SAIT Trojans play year-round, leaving only the east and south sides of the parkade fully visible. The roof level is the same as the ground level of the gothic Heritage Hall – one of the centerpieces of the campus – so that the building does not obstruct views of the historic 1921 building. Glass pyramids articulate the staircases and create atria that allow natural light down into the structure.
Architect: Bing Thom Architects
Location: SAIT Main Campus, 1301 16th Ave NW, Calgary, Alberta, Canada
Architect of Record: Marshall Tittemore Architects
Project Team: Bing Thom, Michael Heeney, Venelin Kokalov, Ling Meng, Shinobu Homma, Jacqueline Wiles, Derek Kaplan, Yong Sun, Marshall (Bing Thom Architects) Bill Marshall, John Souleles, Paul O'Rourke (Tittemore Architects)
Structural Engineer: Cohos Evamy integratedesign
Mechanical/Civil Engineer: AECOM Canada Inc
Electrical Engineer: Crossey Engineering Ltd, Beaubien Maskell Engineering Inc
Landscape Architect: SWA Group, IBI Landplan
Geotechnical: EBA Engineering Consultants Ltd
Building Code: LMDG Building Code Consultants
Specifications: Marshall Tittemore Architects
Traffic: Bunt & Associates
Costing: Western Cost Consultants
Lighting: Crossey Engineering, William Lam
Construction: PCL Construction Management Inc.
Project Manager: MKT Arkle Development Management Inc
Project Area: 387,000 sqf
Project Year: 2009
Photographs: Nic Lehoux (Courtesy of Bing Thom Architects), Peter Beech
Inspired by interwoven twigs of birds' nests—a form that supports and steadies itself—Bing Thom Architects and Fast + Epp Structural Engineers joined forces to showcase a new and unexpected design innovation using wood from British Columbia. As part of the "Embassies Project" for the London Festival of Architecture (LFA), Canada House was transformed into a demonstration of Vancouver architectural and design expertise with an undulating, 30-foot-high wooden wall wrapped around the corner of the historic embassy building.
Architect: Bing Thom Architects
Location: London, England
Structural Engineer: Paul Fast & Gerry Epp, Fast + Epp Structural Engineers
Contractor: Angus Beattie & Brian Woudstra, StructureCraft Builders
Project Year: 2008
Photographs: Morley von Sternberg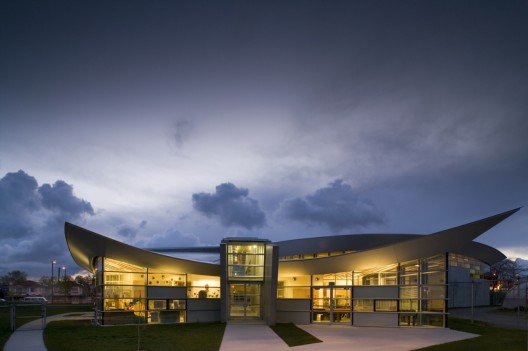 The Sunset Community Centre was conceived as a link between nature and the vibrant multi-cultural communities that surround it. Unique yet not foreign to its surroundings, Sunset Community Centre is an elegant and transparent building, carefully sited on a major thoroughfare to give the building visibility and accessibility to the community. The back and sides of the building serve as a background for outdoor activities with its spectacular southern views and setting among the fields, greenhouses and planting beds of the adjacent Vancouver Park Board site.
Architect: Bing Thom Architects
Location: 6810 Main Street, Vancouver, British Columbia, Canada
Project Team: Michael Heeney, John Camfield Venelin Kokalov, Francis Yan, Arno Matis, Eric Boelling, Shinobu Homma, Marcos Hui
Structure Engineer: Gerry Epp & John Miller, Fast + Epp / StructureCraft
Mechanical/Electrical Engineer: Jason Weir, Roger Sum, Stantec
Landscape Architect: Blair Guppy, Phillips Farevaag Smallenberg
Builder: Peter Bazilewich & Alex Strega, Haebler Construction
Code Equivalency: Ken Chow & Susana Chui, Pioneer Consultants
Cost: George Evans, LEC Quantity Surveyors
Parking: David Tam, Bunt & Associates
Acoustics: Bob Strachan, Brown Strachan Associates
Commissioning: Kevin May, Airmec Systems
Geotechnical/Civil Engineer: Steven Fofonoff, GeoPacific Consultants
Project Area: 30,000 sqf
Project Year: 2007
Photographs: Nic Lehoux, Ergi Bozyigit
Arena Stage at the Mead Center for American Theater doubles the company's previous facilities.  The design by Bing Tom Architects included restoring two historic theaters, Fichandler and Kreeger,  and adding a new experimental theater, Kogod Cradle.  A wood and glass structure encase all three theaters topped by a sculptural and dramatic cantilevered roof.  Bing Thom Architects thoughtful site design has turned this project into a catalyst in the SW Washington community spurring redevelopment with in the surrounding areas.
Architects: Bing Thom Architects
Location: Washington DC, United States
Principal: Bing Thom, Michael Heeney
Project Director: James Brown
Project Team: Brian Ackerman
, John Camfield, 
Venelin Kokalev, Ling Meng, Michael Motlagh, Francis Yan, Harald Merk, Berit Wooge, Bibianka Fehr, Dan Du, Nicole Hu, Robert Sandilands, Bonnie Thom
, Amirali Javidan, 
Shinobu Homma, 
Derek Kaplan, 
Marcos Hui, Rose Chung
Acoustical Engineer: Talaske
Theater Consultant: Fisher Dachs Associates
Structural Engineer: Fast & Epp
Electrical Engineers: Stantec, in association with Vanderweil Engineers
Mechanical Engineers: Yoneda & Associates
Mechanical Design/Build: Southland Industries
Code Consultant: LMDG in association with Koffel Associates
Glazing Consultant: RA Heintges & Associates
Lighting Design: William Lam
Civil Engineers: Wiles Mensch Corporation
General Contractor: Clark Construction
Construction Manager: KCM, Paeonian
Client: Arena Stage
Project Area: 200,000 sqf
Project Year: 2010
Photographs: Nic Lehoux, Courtesy of Bing Thom Architects